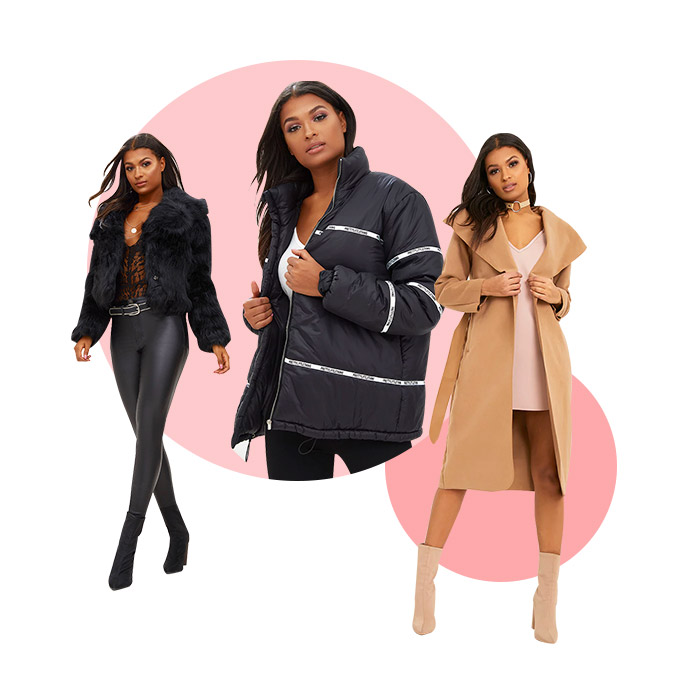 Okay, so we totally don't wanna admit that summer is over but roll on the colder months because new season means new clothes
Make sure you're super prepared now and looking extra sassy before temperatures start to drop. One thing is for sure, you need the ultimate autumn/winter wardrobe staple, a fabulous coat! Don't panic though girl, we got you covered for every occasion. We totes know how fabulous it feels to rock a brand new coat, so even on a low budget, there is a style ready for you.
Coats & Jackets
The Off-Duty
 Whoever said off-duty looks couldn't still be AHHHHMAZING! This totes cool puffer coat is the perfect add-on to any day-to-day outfit. Going down to the gym? A day out for a lovely autumn walk? Popping out to the shops? Whatever the case  you're sure to look hella cute whilst keeping super warm!
The Date Night
Got a date night with bae coming up but still wanna look glam without spending the whole night shivering? This elegant waterfall coat with pretty belt detailing is the perfect add-on to any evening look. The thick material keeps your extra warm but still shows off your figure!
The best thing about this coat is that it is totally okay to sit in your wardrobe season to season because it will defo come out again. There's also a selection of colours to suit your #OOTN!
The Party Glam
What screams glam more than faux fur? The faux fur jacket has been a complete go-to throughout the last A/W season and its here to stay. Adding extra sophistication to any outfit it's perfect for look FABULOUS without ruining your night out by being too cold. Up your game, even more, a fierce statement choker and you will be turning heads fo' sure.
The All Rounder
On a tight budget? Need a coat for all occasions? Then an aviator is the one for you! Its cool effortless style ss perfect for those off-duty looks. Its versatile PU Material and soft faux fur detailing means it can also be teamed up for a night on the town. So whatever the occasion is this A/W Season, keep warm, look fabulous and rock an Aviator.
The Smart One
Commuting to work and not wanting to get chilly? There's a Coat for that! Checks are tooooooooootes trending right now so a checked coat in a cosy double breast wool is the perfect pick. Strut into your Monday morning meeting and #SLAY girl because this coat can turn any outfit from casual to QUEEN.