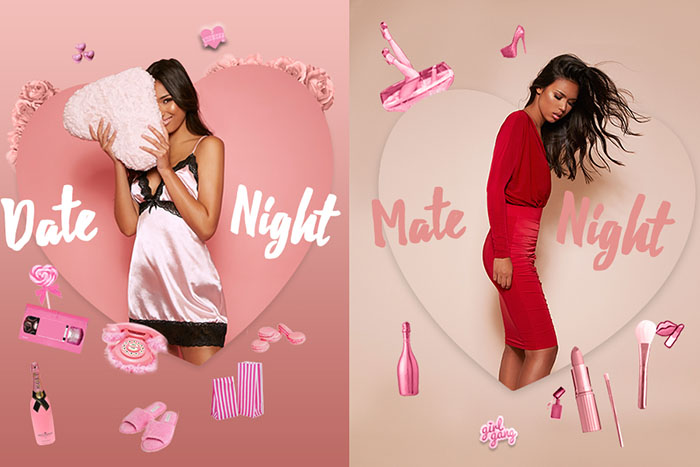 IN OR OUT?
So, Valentine's day is looming and there's two ways this can go. WHAT am I going to wear for my date night…or…WHAT am I going to wear for my mate night? We don't care whether you're a lover or a hater this V-Day, there are no excuses for bad garms. So, if it's straight chilling with your squad for your #PLTMateNight or getting dolled up and ready to go for your #PLTDateNight, here's your guide to looking killer!
#PLTDateNight
So it's you and BAE. You've got a hot date planned and you want to look on point. What's your go to? Say yes to the dress this Valentine's day, because nothing says hot like turning up in something figure-hugging. Add some killer heels, but keep the jewellery simple, because you want all eyes on you!
If you want to do something a little different then the dress, make 'em blush in some silk palazzo's and a bodysuit. Or mix it up with a pair of wide leg trousers with some extra detailing, like a hidden buckle! Don't forget your Date Night must have – HEELS!
Obviously you've got outfit choices for days, but we've gotta make sure you're looking selfie ready at all times with some babe'in hair and makeup. Thankfully Lookfantastic have all you need…A sexy red lip, power brows and lashings of mascara are the ultimate killer combination this Valentine's.
Base
Let the drama come from the brows and lip. For the base, keep it simple with a gorgeous dewy base. Choose a lightweight foundation for coverage with a natural finish. Touch up with concealer and setting powder if needed.
Eyes
For beautifully big eyes in no time at all, curl your lashes with an eyelash curler before applying your mascara in large brush strokes. Add a touch of liquid eyeliner to define the eyes if you want a bolder finish.
Brows
Power brows define the eyes and frame the face and we think no look is complete without them. The Hi Impact Brow Palette in this month's Lookfantastic Beauty Box is a beauty essential. Using the angled brush included in the palette, follow the natural arch of your brow and use the powder to define the shape and fill in any sparse areas. Lots of small strokes will give the best power brow finish.
Lips
Finish the look with a slick of bold red lipstick. Don't be scared off by the colour, just follow our simple tips.
1. Always use a lipliner before applying your lipstick to stop the colour from bleeding.
2.Following the lines of your liner, use a lip brush to apply your lipstick before gently kissing your lips together to get an even finish. Talk about a perfect pout!
#PLTMateNight
We know you don't need a date for V-Day. Forget the hype and say "see yaaaa" to romance and get cosied up with your best girls and have a giggle. Mate Nights are all about your pals whether you go out or stay in, but let's face it, there's nothing more fun than getting in your PJ's and having a gossip with your gals while you wait for your BAE to arrive…and by BAE we mean the pizza delivery guy. Duh.
It ain't a slumber party without a little pamper session. HQ Hair to the rescue…
Face
Hollywood glow? Give me some of that! The GLAMGLOW Youth Mud Face Mask is perfect for a night in with the gals. A gentle 'tinglexfoliate', the mask will leave you with that Hollywood look in just 10 minutes.
Apply a medium layer to the face and neck, leave for 1o minutes, and when you wash it off your glow will be on another level.
Nails
What's a night in without a mini mani? Nails not on fleek… fear not, we've got you covered with this step by step!
1. Tidy nails and remove any traces of old nail varnish
2. Neaten cuticles, file and shape nails to desire shape
3. Apply two coats of polish
4. Finish with a hand cream to give hands and nails that much needed TLC
Hair
Want glossy, strong and bouncy hair? Then look no further, we've got tips for gorgeous hair overnight!
The Grow Gorgeous Overnight Gorgeous Hair Masque works through the night to add oozes of moisture to the hair, leaving hair feeling enriched, healthy and lustrous.
Make sure you use a generous amount of the masque, then place a towel on your pillows and get some beauty sleep with the masque still in. Rinse the masque in the morning for those killer tresses for you and your squad!