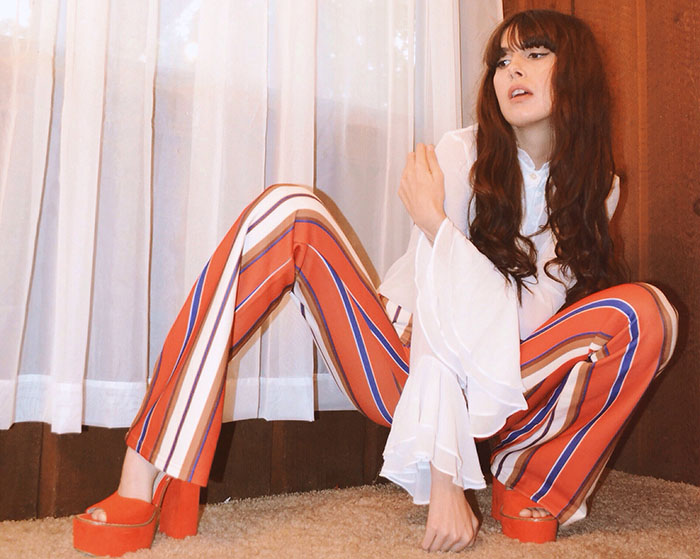 Here at PLT we're all about keeping our eyes peeled for the babes we're going to be insta-stalking on the daily. Obvs, when we find these gems we need to share them so you can get on that hype while their star's on the rise! So we're kicking off this month with Storm Calysta, the first member of our Rising Star squad who's kicking up a storm in the music industry.  We caught up with the 22-year-old, Chicago born beauty to find out what makes her tick.
Describe your style in 3 words?
Vintage, Rock n' Roll, Bohemian
Who's your ultimate girl crush?
Has to be Cher!
Guilty Pleasure?
Jalapeno Beef Jerky…Always
Must have's for SS'16?
I'd say bold matching suits – it gives me Jagger vibez.
What's the one piece of clothing you couldn't live without and why?
Probably a jacket, I am ALWAYS freezing!
Ultimate style icon?
My style is really inspired by a mix of Cher, David Bowie & Mick Jagger
Heels or flats?
Heels! I'm not very tall so I like to give the illusion I am!
Spring or Summer?
Definitely Spring. Here in Texas, summers can get pretty brutal.
Go-to lipstick shade?
Dusty Rose! It looks pretty natural but makes my lips look pigmented and healthy!
Ultimate music inspiration?
Vocally, my music inspiration has to be Cher & Stevie Nicks, because their voices are crazy powerful and unique. Instrumentally, my music inspirations are the Rolling Stones, Jimi Hendrix, David Bowie, The Beatles… the list goes on! I love that you can tell that they really felt the music they were creating and had fun with it, not generic and forced as a lot of modern music tends to sound.
Song you're currently obsessions over?
(I Can't Get No) Satisfaction – The Rolling Stones. It's my all-time-favourite.
Most-played songs on your Spotify playlist?
1. Life on Mars? – David Bowie
2. Day Tripper – The Beatles
3. (I Can't Get No) Satisfaction – The Rolling Stones.
Fun fact about yourself?
I love yodeling! It's a massive hobby of mine.
What your 2016 agenda looking like?
I'm currently recording a rock EP. I wrote every song about true events that have happened in my life, so it's pretty personal. After the EP is out, hopefully I can start playing shows with my live band and see what happens from there!
To keep up with Storm, check her out on social –