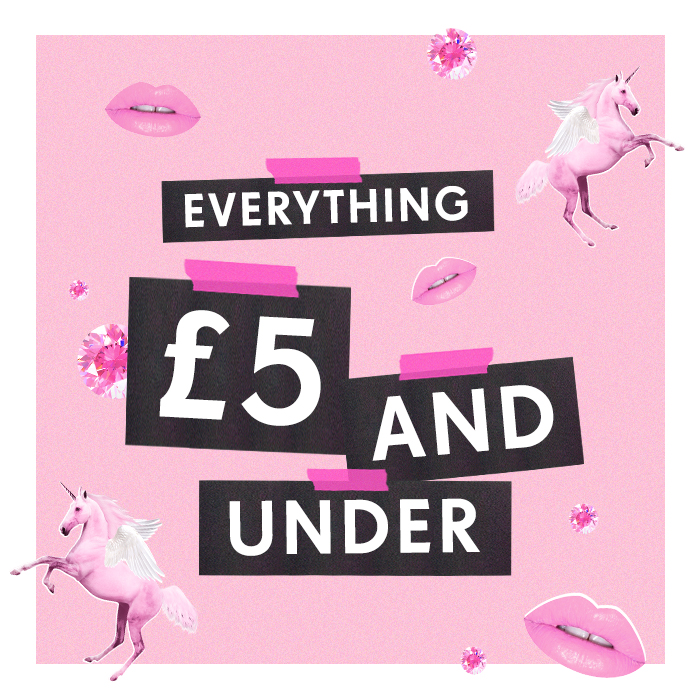 It's that time again. We're a week from payday, and if you're anything like us, you're feelin' the pinch right about now. You're facing the dilemma of being desperate to shop (online shopping addicts UNITE) but you've got little to no dolla. Fear not, fellow broke bish – we got ya.
We ain't lyin' when we tell you that everything you're about to see in this blog post costs £5 or under. That's five English pounds. A FIVER. We can't quite believe it either. For the price of a posh coffee you can afford some seriously cool garms. Coffee is for 5 mins, fash is 4ever. IDST. For more bargain bits, head on over to our Everthing 5 Pounds page.
Everything £5 & Under
Casual Cutie
Whether it's a casj lunch out with the squad, a uni lecture or maybe even a trip to the supermarket, we know you wanna slay errr'day. Elevate your everyday look, girl, because casual doesn't equal boring. Get lit with our everyday styles:
The Lazy Day Look
Master comfort and cool in laid back styles of all things jersey, relaxed fits, and activewear. Channel those effortless vibes and look babein' whilst watchin' Netflix and eating allllll the snacks. Side note: who else is ADDICTED to crisps? Ain't gonna lie, crisps are our vice. Salt & vinegar 4EVVVVVER.
Night Time Feels
Partywear – party where?! Going out-out and need to make sure your look is well and truly on point? No stress, we've got ya covered. Go big for party season and get those statement styles on lock. And for £5 and under.. you can't really go wrong.
Finishing Touches
Accessories are key in taking any look from barely basic to totally babein' or from day to night. Every gal knows sometimes an outfit just needs that lil' extra touch to make it poppin'. Amp up your style game and invest in some key outfit-changing pieces to take you through the new season. Look no further than these statement accessories.
Beauty Bae
It's a well-known fact that beauty products are one of the biggest drains on a PLT bae's bank account. Let your card heave a sigh of relief and grab some beauty essentials. After you've got your new outfit sorted, it's time to think about your all-important beauty regime. Shop our top picks below: