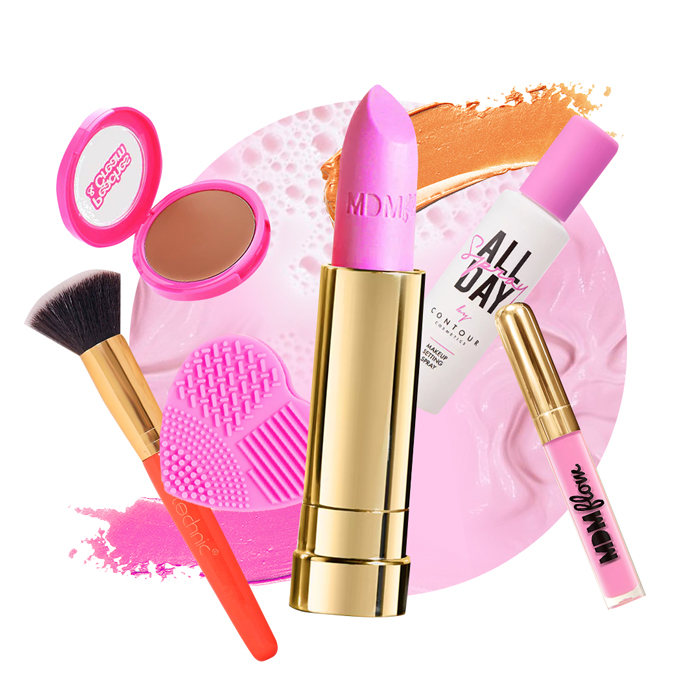 Every girl needs a fleeky makeup bag! Even if it is just the basics. So, I'm gonna give you the low down on the must haves that every girl needs for an on-point look errrrrday.
No matter how much or little you know about makeup, girl, I've got your back. There's 5 key products which we all should own and you can thank me later.
The Key Beauty Products You Need
#1 Foundation
Slay all day using High Definition Fluid Foundation, my top tip is to mix it in with some moisturiser for an everyday buildable coverage or leave it on its own for a full coverage occasion beauty look.
#2 Mascara
The ultimate life saviour! (along with concealer but we will come to that next). You'll be sure to score a few dates fluttering those killer lashes. Mascara will define, lengthen and thicken your natural lashes to keep you looking #goals. Wear on its own day-to-day or add more drama with false lashes, the Doll Lash Eva False Eye Lashes will LITerally make you look like a little doll!
#3 Eye Palette
So many killer looks in one. The Crown 35 shade Nude Eyeshadow palette is everything goals, with 35 different shades it is perfect for every girl no matter what hair colour or skin tone you have. The taupes will softly contour your eyes & add a smudge of bronze or black to take your look into the evening.
#4 Concealer
Ok now this will become your new best friend. Get rid of those dark circles after a night out or just apply every day to stay looking fresh! If you wake up with a blemish and have a date that evening, concealer is the one. Keep your skin looking UN-REAL with a light fixing of the magic cream that will be sure to sort you right out!
#5 Lips
Take your lips from low key to next level lit! Contour Cosmetics lip kit in Juju is the perfect nude keep your lips on lock down throughout the day, the formula is so creamy & smooth, it is easy to apply and lasts all day. Or if you're feeling flirty go for Vegas and vamp it up for a flawless red lip either for girls night or date night! It comes in the cutest packaging EVER and looks so pretty you wont even want to take it out of the box!
Of course we all need a boss makeup bag to keep all your beauty essentials in. I'm obsessing over this Baby Pink Reptile Embossed one online now – and for £8 you SRYSLY can't miss out!
YASSSS girl. So there you have it! Whether your fixing yourself the morning after the night before, or you're meeting the boy of your dreams, the above list will make sure you're always on form & looking fire!