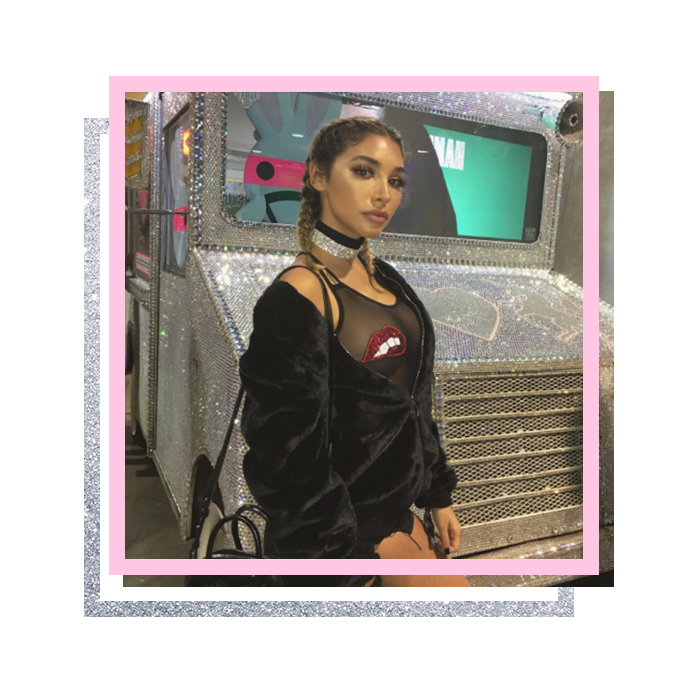 We caught up with LA influencer Chantel Jeffries with a quick Q&A and sneak peak into her life as she DJ's ComplexCon festival.
How would you describe yourself in 5 words?
I really like food so I'm going to go with food themed adjectives. I would say… hot, spicy, a little bit sweet, easy to digest – just kidding. Let's go with smooth? And you cook food with fire right and I'm always lit so…
How would you describe your aesthetic? 
My outfits are always a little bit out of the box. I like to mix and match different styles and push boundaries. I like to just have fun with what I wear. You shouldn't be afraid to take risks.
What's the best advice you've ever been given?
The best thing that you can know is that you don't know everything.
What's always in your bag?
I'm pretty minimalistic when it comes to that sort of thing. But definitely an aux cord so I can play my music when I'm Uber-ing. I carry two phones, one literally just to play music so this is super important – oh and a charger!
You're a DJ. What's one song you can always rely on to get the crowd lit?
Anything Travis Scott.
What phrase defines how you live your life?
It sounds cliche but follow your heart. Listen to your intuition and just go with that.
One key thing to buy into this season? 
I'm really into outerwear so maybe a really extravagant denim jacket that's either embellished or distressed. Or anything faux fur.
If you could only wear one thing for the rest of your life what would it be?
An all in one. Then there's no need to stress about the rest of your outfit.
Wanna hear more? Press play
Shop Chantel's style:
Follow Chantel on Instagram here:@chanteljeffries