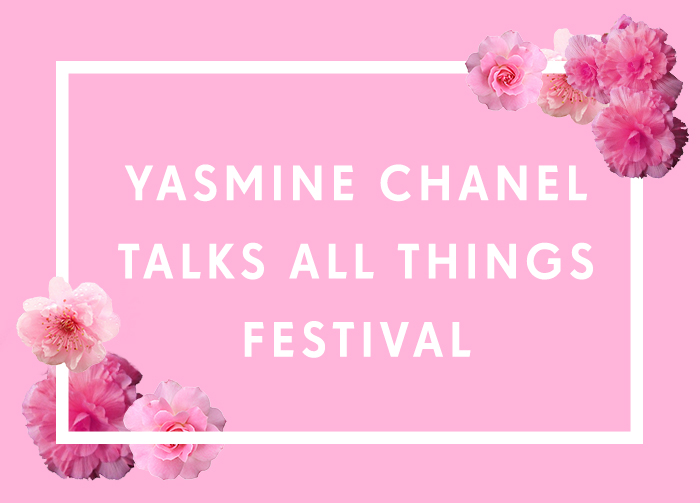 Blogger and general babe Yasmine Chanel talks us through all things festival and style.
✌️✌️✌️
Describe your typical festival style?
I love to dress like an indie hippie when I go to festivals, lots of face jewels, crochet, maybe some feathers in my hair and lots of jewellery.
What band/song gets you ready to party?
The weekend gets me feeling very festival vibes! ESPECIALLY "The Hills".
What was your inspo for your festival look? Do you have a celeb muse etc?
I think Vanessa Hudgens is the queen of festival inspo, she puts together her festival outfits so effortlessly! I love how she combines feminine and edgy into her looks, its very me!
Where are we most likely to find you hanging out at festival?
Everywhere! I love to walk around to see who's around, talking to people or taking lots of photos!
Run us through a typical festival day for you?
I would make sure I'm matching some how with my best friend, turn up to the VIP area get some drinks, head down to the main stage to hear my favourite performances, walk around and talk to people, get some good photos for Instagram, head back to the stage area and dance until the sunset.
What's your favourite festival accessory?
Def face jewellery, so usually bindis or a head piece.
Fave means of festival social media?
I'm just obsessed with Instagram but I do also love twitter! I know not everyone uses it but I think it's a great way to get your personality across! Snapchat is also amazing for people to have a look into your life and see what you get up to on a daily basis.
What are your must-have festival essentials to pack?
A camera, fix spray to keep your makeup fresh, some round sunglasses and lipgloss!
Tips to keep you looking fresh?
Keep foundation light and minimal – focus on the eyes and lips for the makeup to look good all day. Lots of highlight, glitter and face jewels. Big round shades and keep a fix spray with you at all times.
What are your hair hacks to keep the tent bed head at bay?
I personally love playing around with my bed head, I usually just add some extra curls with a wand to add to the bed head look and some dry shampoo for extra fullness from the root, people ask me all the time how my hair looks so thick all the time and this is the reason why.
What's the one thing you couldn't live without at a festival?
My best friend, a festival means nothing if you cant share the experience!
What's in your festival beauty kit?
Face jewels, temporary tattoos, henna tattoos, face glitter, corner fake eyelashes and a highlighter.
Dream festival squad?
Lana Del Rey, Kylie Jenner, Rihanna, Jared Leto and Miley Cyrus
Have you had any festival mishaps or disasters?
Not yet! And I hope it stays that way haha.
Best festival memory?
Last year I got to chill in the VIP booth at wireless and Jourdan Dunn was there which was amazing. Also hearing Kendrick Lamar perform "Money Weed" live was insane!
Best festival hangover cure?
Drink lots of water after every festival, it makes you feel so much better the next day! Coffee first thing in the morning helps and keeps you feeling awake and re-energised. I like to detox with lots of fresh juices, salmon and quinoa salads and herbal tea
Dream festival to attend?
Coachella of course! I hope I get to go next year it looks amazing. Its everything a festival should be.. Insane artists, amazing people, the best outfits and in n out burgers!
Who's your best Festi-Friend?
Usually my best friend, I love going with people who make me feel most like myself! Last year I went to a festival with some of my closest blogger friends which was always amazing!
Best band you ever saw live?
I've not seen many bands live, but I saw Lana del rey live and she blew me away. Her music is so inspiring.
Ultimate festival headliner?
I would have loved to have seen Michael Jackson and Prince live, they were such incredible performers. But also I would do anything to see Rihanna and Drake.
Favourite festival vibes PLT piece of clothing and why?
I'm obsessed with your Arrabella suede ankle boots, you have them in so many shades and can pair them with jeans or a cute mini dress or skirt. They are the best festival boot I have seen yet.
✌️✌️✌️
Follow Yasmine on Instagram @yasminechanel
Got those festi feels? Shop Festival
Images sourced from: Pinterest