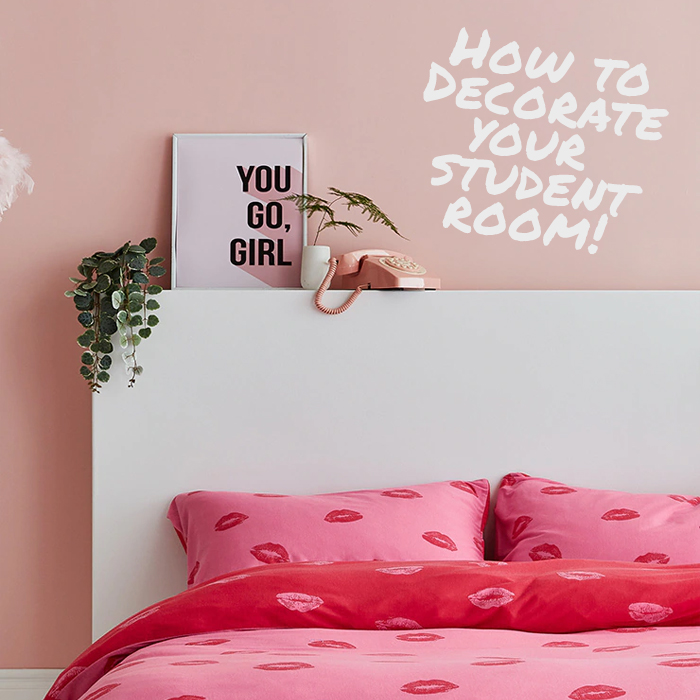 Stuck on how to decorate your uni room? We're bringing you the best student homeware ideas!
From what to pack for uni to uni room décor – don't miss this.
Whether you're heading to uni for first year or are prepping to go back after none stop summer plans, creating a uni room/space you love is key.
Not only will this mean you have a home away from home but you'll be more likely to actually study if loving the space you're in (or atleast your bedroom, we can't banish the endless pile up of dirty dishes in the kitchen, sorry).
Before we get onto the homeware, let's start with the packing essentials, this is what to pack for uni!
Bedroom
Duvet, duvet cover and sheets (a couple of each will be perfect)
Mattess protector
Pillows (and pillowcases)
A washing basket (you could also take a washing maiden/airer if wanting to be super organised)
Any books/stationary you'll need
Bathroom 
Your usual toiletries (shampoo, toothpaste etc.)
Hand soap
Toilet cleaner/bleach, toilet brush & toilet rolls
Towels, hand towels and flannels
Bath mat
Kitchen 
A couple of mugs and glasses
2-3 saucepans (different sizes) as well as a frying pan
1 chopping board with knives
Plates and bowls
Any other utensils you may need/like to use (wooden spoons, pizza cutters etc.)
Baking trays
Big bags, cling film, foil etc. anything you use when cooking/food prepping
Tea towels
Tupperware (zero chance we're wasting any of those homemade meals)
A few cupboard essentials such a teabags, beans, pasta etc. (a few bits to get you through the fist few days, anything like milk & bread can be bought once you arrive)
Not so much an essential but packing a game could be a great way to intro yourself to your new roommates.
Perfect for the pre-drinks before fresher parties!
Ok, now we have the basics covered it's time for the fun bit – uni room décor!
How to decorate student study room?
It's important to remember you only need temporary touches for your student room, mainly as you'll only be here for a while and obvs we don't want to loose that deposit!
Ensure any décor is only temporary and leaves zero trace once you move out for example opt for free standing photo frames rather than hanging any photos on walls etc.
Here's 5 ways to decorate your uni room as a student:
Prints & Photos
Think cute, feel-good and empowering quotes.
Photos from home, print outs of all your family, friends, pets and loved ones in your life.
Why not print out your vision board too? Manifest that degree (and work hard, obvs).
Sagittarius Bright Astrology A4 Print
Aquarius Bright Astrology A4 Print
Ornaments & Books
Yes to ALL the cute décor, thanks!
These bear ornaments are such a must-have right now, plus fashion books will never let you down.
Aesthetic and educational – sold.
Shop Ornaments | Shop Coffee Table Books
Blankets & Throws
If in need of extra cosy feels, we got you.
How do I make my student room cosy?
Opt for super snug blankets and cushions to level up your laidback student room vibe.
Relaxed lighting will also have you feeling as chilled as can be, bedside lamps over the 'big light' always!
Diffusers
How can I make my uni room feel homely?
Similar to above, it's all about the little additions to make your uni halls feel like home.
Of course candles are a no go but why not add a cute diffusers?
Maybe you have a fave scent that you have at home? Say yes to ALL the home comforts as it will make the transition easier.
Plants
Add a hint of greenery or floral feels to your student room.
Of course we'd recommend artificial, or if wanting something really low maintenance, cacti are the one.
What are good fake flowers?
We love peonies and pampas as they are perfect for all year round.
What are the most natural looking artificial plants?
We'd say green artificial plants. Small succulents are super cute too.
Finally, a few cute additions that we couldn't not include…
In need of student meal inspo?