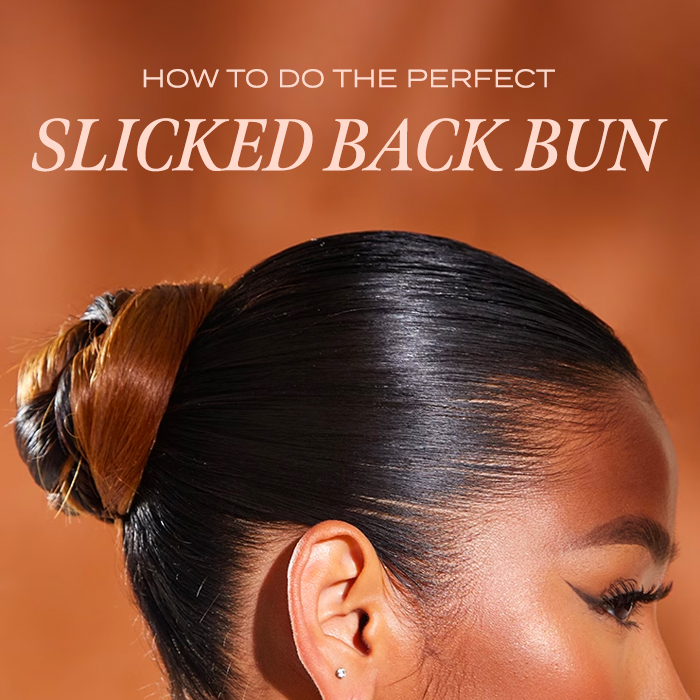 Want to achieve the perfect slick bun? This is the PLT tutorial for you.
Major hair inspo incoming thanks to this sleek bun tutorial!
If the clean girl aesthetic proved anything, it was just how incred a sleek slick bun can be.
Perfect for those days when you want a put together look without the hassle of actually doing your hair.
So, how do you get the slicked-back hair bun?
Whilst you can achieve the look with fresh clean hair, this hairstyle is a go-to for those in-between hair wash days.
We'd say day 2 or day 3 hair is perfect for this look, plus your fly aways will be more likely to hold on less fresh hair.
Start by creating a clean middle parting (if desired), then apply a few pumps of product.
It could be a serum, gel, oil, leave-in conditioner or pomade – it's completely up to you.
Lullabellz Sleek Style & Set Mousse 250ml
Beauty Works Pearl Nourishing Mask 250ml
Olaplex No.8 Bond Intense Moisture Mask 100ml
Beauty Works Argan Oil Serum 90ml
Once applied from root to tip, take a brush or comb and gather your hair into a ponytail at the back of your head.
The height of your pony will be where your sleek bun will sit so this is the time to decide if you'd prefer a high or low bun.
Once in place, secure with a hair band.
Now it's time to ensure your pony is super sleek. For this, take a soft bristle brush and smooth your hair from your parting all the way into the ponytail ensuring any bumps are evened out.
The goal is for all hair to be sitting completely flat as this will ensure a super slick finish. Retie your ponytail if needed as any rough areas brushed will gather.
Lullabellz Snatch It Up Hair Brush
Sleek pony in place, how do you do the perfect slick back bun?
Take your ponytail in one hand and hold it at the base around the hair band, then use your other hand to twist the length of the ponytail around itself to create the perfect doughnut shape.
Once happy with the shape, be sure to secure this in place with either another hair tie or clips.
Finally, smooth any baby hairs or fly aways, we love using a smaller (almost mascara like) brush to do this.
Lullabellz Slick Back Down Baby Hair Styler
Lullabellz Slick & Fix Styling Glue
Schwarzkopf Got2b Glued 2in1 16ml For Brows And Fly Aways
Then there you have it, the perfect sleek bun and the question of how to do a sleek bun? Banished.
Love the Y2K vibes and wondering, how do you do a Y2K spiky bun?
Instead of securing your bun (during the doughnut phase of the above steps), tie your hair off with another bobble but ensure the tips of your hair are left out.
Then simply fan them out to create the desired spiky effect.
Once 100% happy with your sleek hair bun, apply plenty of hairspray to hold in place.
Perfection!
Beauty Works Mirror Shine Spray
Schwarzkopf Got2b Glued Spray 300ml
Gifting a hair lover this Christmas?
Lullabellz Holy Grail Hair Styling Gift Set (Worth £51)
Lullabellz Pull It Together Slick Hair Gift Set
All about hair trends this AW23?