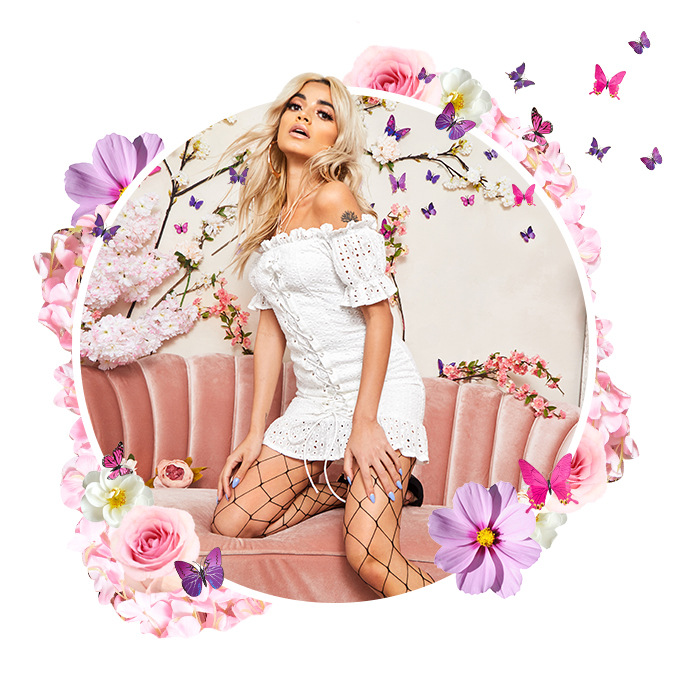 We're currently in the season which we like to call spring, but the weather says otherwise. We're usually ditching the big winter coats for lightweight denim jackets but right now we would probably catch a cold. Regardless of the weather, we DGAF and we are switching our attire and bringing in fresh new pieces that suit both season and climate.
How To Dress For When It's Spring But Still Cold AF
Prepare to break all of the rules and put a spring in your step by updating your wardrobe with the freshest garms we are crushing on right now.
#1 The Spring Knit
Knits are just for winter… said no one EVER. Switch up your knit game and opt for a knitted dress. Why not add some bold and bright colour to bring in the fresh new season feels?  This dress is a must-have, Its long sleeves and high keep you toasty and warm but show a cheeky hint of leg, which makes this the closest thing you can wear to a summer dress RN.
#2 The White Denim

It's time to ditch the jet black jeans and start introducing bright whites into your wardrobe. Mom jeans are supporting the 90s revival in fashion as its strong silhouette can be worn day to night. With all things neutrally toned being a top trend this season, you're sure to pull off a killer look with some white denim.
#3 The Sleeveless Coat
When it comes down to the commute to work between seasons, you can't win. It's either wear your coat and sweat like hell or take it off and literally freeze to death. We got this problem covered, the sleeveless coat will have you winning at life. The point of the sleeveless coat is to layer, layer, layer. If its chilly outside, style it over a long sleeve top and you got 9-5 dressing nailed to a T.
#4 The Cute Crop
Forget all of the irrelevant drama this season because basic is the new boujee. When days get slightly warmer, our attire gets somewhat shorter. A simple crop top with a subtle frill hem is the getting the OK from us. To create a feminine, flirty look, style a crop with distressed denim to show the right amount of skin for a flawless finish.
#5 The Western Boot
Forget what you heard, cowboy boots are a thing. We've gone to town with all things western this season and these boots are a game changer. With cute star detailing, what's not to love? When styled with denim jeans these boots give off a fierce look.