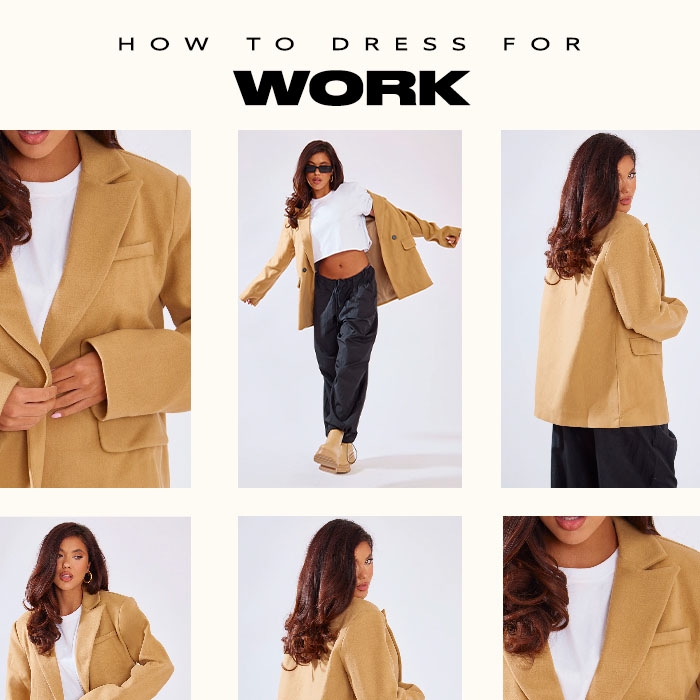 Looking to bring outfit goals to your daily workwear wardrobe? We got you!
Here at PrettyLittleThing we have the work outfits you're going to want to add to bag ASAP.
Outfit prepping on top of that never ending to-do list? No thanks!
With these office approved looks – getting dressed in the AM will feel literally effortless.
Hit that snooze button, you've just bagged yourself an extra 10 mins in bed.
Feeling unsure on what is considered workwear? Let's start by talking office outfit essentials.
Whether where you work is more laidback or you need a top to toe all black outfit – these staples will be perfect when it comes to switching up your style to suit the situation.
First up, a crisp shirt in both black and white.
Black Woven Cotton Oversized Button Up Shirt
What is the best shirt for work?
If wanting a work shirt you can wear all day, ensure to check your fabric blend first.
We've all been there, perfectly ironed shirt on the way into work, then you guessed it, none stop creasing by 10am.
Try to opt for a cotton or polyester blend, cya creases!
Tailored trousers are a must-have in your weekly wardrobe rotation.
PLT Label Cream Woven Wide Leg Tailored Trousers
A timeless oversized blazer and trench coat.
Perfect not only for the office but more than weekend-worthy too!
Black Longline Oversized Curved Hem Blazer
PLT Label Plus Khaki Woven Hooded Oversized Trench Coat
A next level suit is the one for those days when you need to show up.
This charcoal blazer and matching trouser set is a look you'll want to wear time and time again.
From first interview to meeting pitch – you're sorted with this suit.
Charcoal Woven Structured Cinched Waist Longline Blazer
Charcoal Woven Tailored Split Hem Straight Leg Trousers
Have a go-to office outfit and just want to add some new pieces? We got you!
Here are our top picks when it comes to work shirts and work trousers.
Charcoal Textured Oversized Cuff Shirt
Taupe Woven Oversized Button Up Shirt
Chocolate Woven Oversized Button Up Shirt
Black Rib Low Rise Wide Leg Trousers
Tall Charcoal Basic Flare Leg Trousers
Oatmeal Wide Leg Split Hem Trousers
Have a meeting with your boss at 4pm but then heading out for after work drinks? No stress!
Not only are wide leg trousers trending right now but teamed with a oversized blazer means you can bring the style factor without having to swap your outfit (usually in the office toilet come 5pm).
Camel Wool Look Double Breasted Blazer
Brown Check Oversized Single Breasted Flap Pocket Blazer
Black Woven Turn Up Hem Wide Leg Trousers
Bottle Green Faux Leather Pleat Detail Wide Leg Trousers
Chocolate Textured Wool Look Oversized Blazer
Forget the question of are pencil skirts appropriate for work?
It's 2023 and you can wear whatever makes you feel your very best self!
Here are three PLT approved pencil skirts for work.
Black Textured Jersey High Waist Midaxi Skirt
Tall Black Knitted Bodycon Midi Skirt
Loving the look but not sure on pencil skirts?
Why not style luxe fabrics or trending denim midi skirts – the work skirt options are endless.
Black Satin Bias Cut Midi Skirt
Basic Plus Black Jersey Midi Skirt
Feel like you're slightly loosing your personal style when it comes to office outfits?
These new in pieces will be sure to bring the confidence whilst still looking anything but casual.
Keep up the clean girl aesthetic by adding gold hoops and a statement bag to your everyday work outfit. Coffee to go please!
Black Woven Cropped Shoulder Padded Blazer
Monochrome Houndstooth Oversized Curved Hem Boxy Blazer
Taupe Boxy Oversized Dad Blazer
Brown Houndstooth Covered Button Single Breasted Blazer
If jeans are a no go for your office attire then simply switch them out for black or grey trousers.
Black Twill High Waist Side Pocket Wide Leg Trousers
Grey Woven High Waist Tailored Trousers
Finally, don't forget the finishing touches! Desk essentials but make it PLT (of course).
Unicorn Coffee Club Black Coffee Cup
PRETTYLITTLETHING Goals And Dreams Gold Foil Notebook
PRETTYLITTLETHING Embossed Pencil Case
PRETTYLITTLETHING Set of 3 Pencils
And, that's a wrap! So, what you waiting for?
Go tick off those to-do's all whilst knowing you're serving serious looks!
Ready for something new? Better prep that CV!