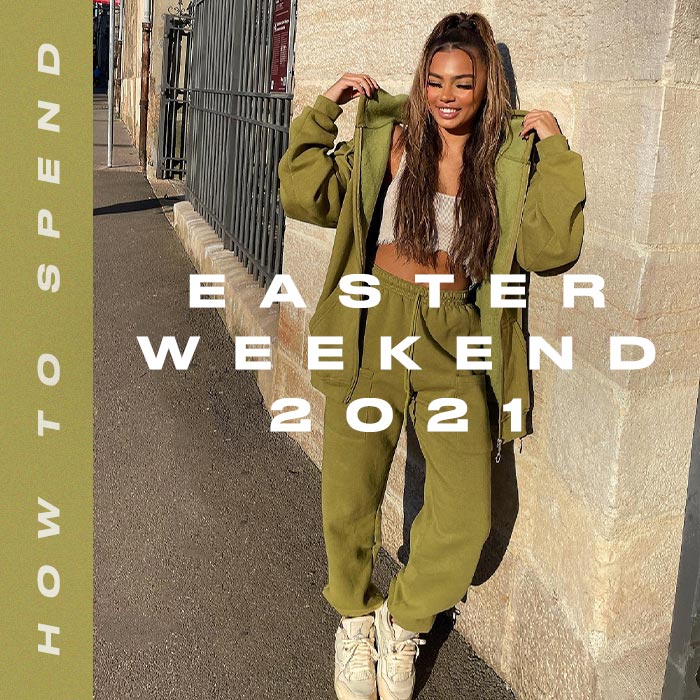 Bank Holiday Weekend is on it's way, the sun is shining and we are feelin' it!
Prepare to prep for the plans you actually want to attend this Easter Weekend.
How To Spend Your Easter Weekend 2021
BBQ In The Park
If there's one smell that defines the warmer weather, it's a barbecue.
So grab your five pals, head to your local supermarket or garden centre and get yourselves a disposable barby!
They're super affordable, can be used on a wide array of food (inc veggie and vegan) and smell unreal.
Whether you're just cooking up a few bites or going the whole hog, you really can't beat good food and good friends in the sunshine!
Picnic
Maybe a disposable BBQ is a bit too much effort, so why not host a picnic!
Whether it's you and your bubble or just you and your bestie, pack up some of your fave finger food and head to your local park.
We're talking a cute blanket to sit on, your beverage of choice, your sunnies, the works.
Whether its sandwiches, hummus, even a fruit salad – you can have the cutest afternoon with minimal mess – stunning.

Garden Drinks
Private gardens are also now on the OK list, so best believe we'll be having some garden drinks this Easter weekend!
Gardens are perfect for a much more private catch-up, as well as keeping you super isolated if you're not wanting to be out in public.
No matter if you want to keep it chill with a few bottles of wine or go all out making DIY cocktails, we can guarantee you'll have an amazing time!
Get your speakers, SPF and bevs at the ready – what better way can you spend your days off?!
Easter Egg Walk
If you're all about those chocolate vibes, then we got you.
Why not head on a walk in the sunshine, with some of your fave chocolate eggs in a bag (these can be gifted or what you've bought yourself…)
This could be with your family, friends, partner, dog – anyone you'd actually enjoy spending time talking and exercising with lol.
Whether you want to indulge on the way down or wait until you get to your destination, choose a route and get walking!