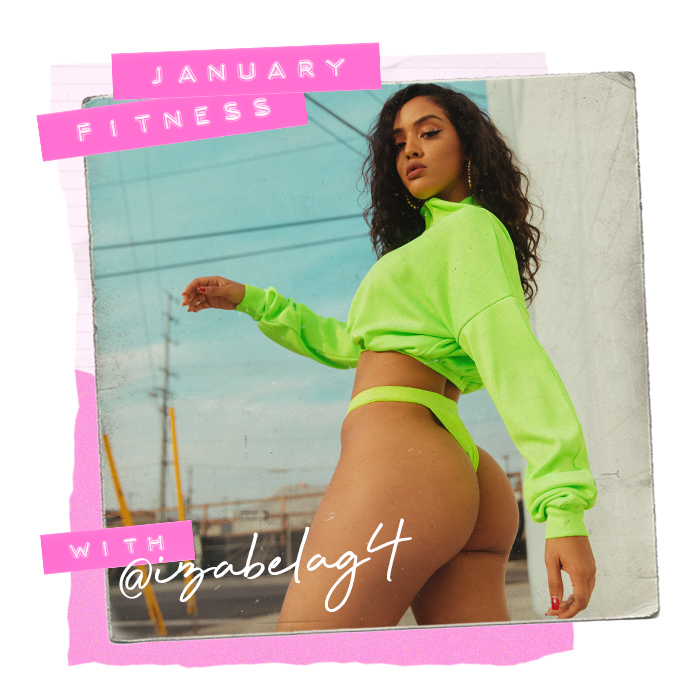 On that new year, new improved you hype?
To kickstart our January health kick we've been catching up with some of our fave influencers to talk all things fitness and health for the new year.
January Fitness With Izabela Guedes
We caught up with brand ambassador Izabela Guedes to talk motivations and that all workout style.
What does a typical week in workouts look like to you?
I actually workout 3 to times a week. I currently do 2 leg days, 1 upper body and 1 cardio.
How do you stay motivated when working out is the last thing you wanna do?
I know this can sound narcissistic but I look at pictures that I think my body looks the best so I can remind myself of how hard I've been working.
What's one song you always need on your workout playlist?
Jay Rock – WIN.
What's your typical workout look?
Black leggings and a black top. Simple but you can never go wrong.
What foods are always in your kitchen?
Avocado, salmon, eggs, chicken and bananas always.
Are there any Instagrammers you follow for fitness/motivational inspo?
YES! @massy.arias and @kelseywell
What fitness resolutions or goals do you have for the New Year?
I really want to lose some lbs that I've gained after the holidays (lol) and go back to my Muay Thai classes.
What's on your 2019 hitlist to try?
I wanna try yoga and Pilates.
What motivational mantra will you be living by for 2019?
If you don't do it for yourself nobody else will so GET IT DONE GIRL!!!!!!!!