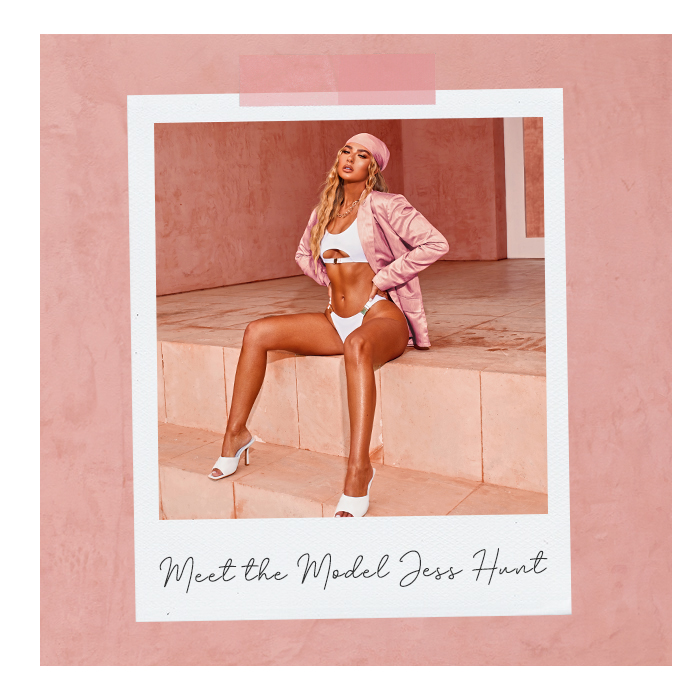 Meet The Model Jess Hunt
Get to know our girl Jess Hunt as she spills the deets on her recent clothing edit with PLT, how she became an influencer and tips for taking the perfect selfie…
View this post on Instagram
We're obsessed with the Jess Hunt Edit! What was the inspiration behind your collection?
Thank you! I was definitely inspired by the Jacquemus SS 20 runway, I loved the colours so much so I wanted to try and incorporate those summer vibes into the collection. I also always go to Pinterest for my inspiration, I can spend hours scrolling on there! But summer is my favourite time of year for fashion so I was able to think about styles and fits that I love for that time of year.
What are your favourite picks from the edit?
I really have so many faves! Definitely the blue asymmetric dress, that has to be my fave colour right now. The 3 piece pint print suit is also up there because the fit is insane. And then there are way too many swim faves, but the waffle material swimwear is so beautiful and I see myself wearing those pieces for many summers!
How did you break on to the influencer scene?
I have always loved fashion and styling so my favourite thing to do and still is, is to put looks together and then take photos of them. I just started posting outfits I'd wear, my friends and family would help take my pictures. It started off as a hobby for me and I feel so grateful to have been able to grow my Instagram and to turn it into my full time job. It's something I'm so passionate about and I love what I do.
What's your favourite thing about modelling and influencer life?
So many things! The best thing would probably be, being able to work with brands that I absolutely love and have always shopped with, I still can't get my head around that. Also you get to meet so many amazing people, and I really have made friends for life from being in this industry. Lastly, it would have to be having the opportunity to travel and to experience so many incredible things.
What does a regular day look like for you?
My days vary so much. I travel a lot due to living down south and I spend a lot of my time in Manchester working with my faves at PLT! But on an average day, I would workout in the morning and then either go to a shoot for the day or shoot my own content for my Instagram. I also love watching Friends back to back so I have to factor that into my day! Any spare time I have, I spend it with my loved ones, but since lockdown my days have been very different to this!
The influencer/social media world can be overwhelming sometimes, what are your tips for maintaining a positive mindset?
I think it's very important to remember that Instagram isn't real life and you only see the best parts of peoples lives. It's important to remember who you are and take time for the things that make you truly happy. I just make sure I follow people who inspire me and who I love to keep up with, anything that makes me feel negatively I block or choose not to follow that person. Social media should be a place that you can go to and feel positive.
How do you like to relax and unwind?
Since lockdown started I decided I would try and walk more. So going for a half an hour / hour walk and getting some fresh air really helps me to unwind. I also love Friends so that is my switch off, I could watch it for hours!
Modelling and social media is your full-time job, what advice would you give to someone trying to get into the industry?
I would say you definitely need to find what you're passionate about and to post regularly on your Instagram. I find brands are always looking on social media for new faces or people who really reflect what the brand is about so being consistent and being excited about what you post on your social media will really help.
What are your top tips for taking the perfect IG shot?
Lighting! Lighting is everything, I've learnt this. I always do test shots before I shoot my photos to make sure the lighting is the best that it can be.
Beauty items you couldn't live without?
I absolutely could not live without my brow gel, I love having that brushed up brow look so my brow gel is my fave product! I also love lip balm and have this on me at all times!
What has been your favourite thing about lockdown?
I travel a lot, so it's been really nice to just stay in one place for a while and to have a bit of routine! It's also been so nice having more time to shoot content, I've felt a lot more creative surprisingly!
And finally, any post-lockdown plans?
I'm really just taking everyday as it comes, I'm usually such a planner but it's been so nice to go with the flow! But I cannot wait to be able to travel again, I have a long list of places I want to visit so I'm excited for when I can plan some trips!