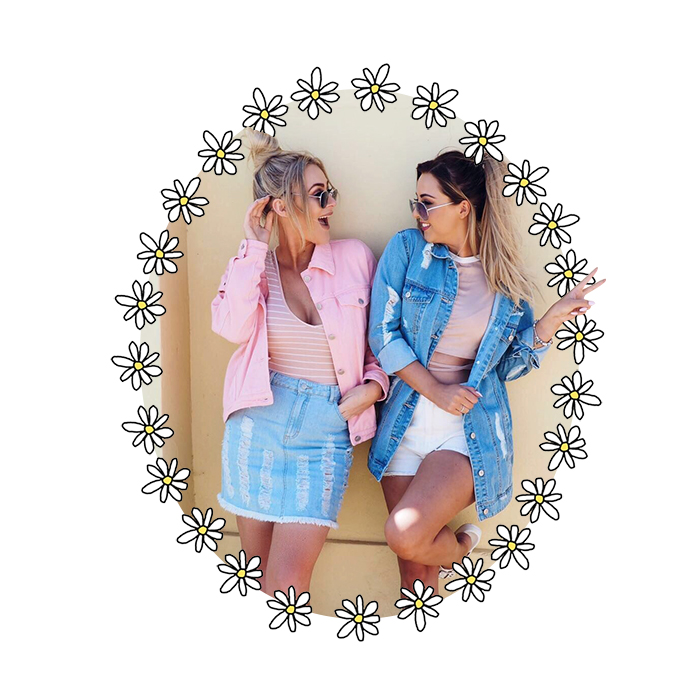 To get in the spirit of National Bests Friend Day we caught up with blogger BFF's Victoria Hearn and Kayleigh Couture to quiz them on their best friend status and talk style, Instagram stalking and sh*t they'd never wear. Forget boys, what's life without your best girl right?
Ok let's get down to it. If she wasn't a blogger what would she be?
Victoria: I'm pretty sure Kay would be a Criminal Psychologist that's her dream job outside of blogging.
Kayleigh: I have no idea but I know it wouldn't be an office job… Probably something that involves going on lots of holidays… An air hostess?
What's her most overused emoji?
Victoria: Literally whenever Kay and I chat on WhatsApp the laughing/crying emoji is always used to excess haha.
Kayleigh: Definitely this one.
Describe her style in 5 words?
Victoria: Cute, chic, classy, sophisticated, pretty.
Kayleigh: Laid-back with a glam edge!
One trend she would never wear?
Victoria: An overly poofy or fluffy dress (I think anyway haha)
Kayleigh: Crocs.
How would she describe you?
Victoria: Special.
Kayleigh: Ditzy, forgetful & caring!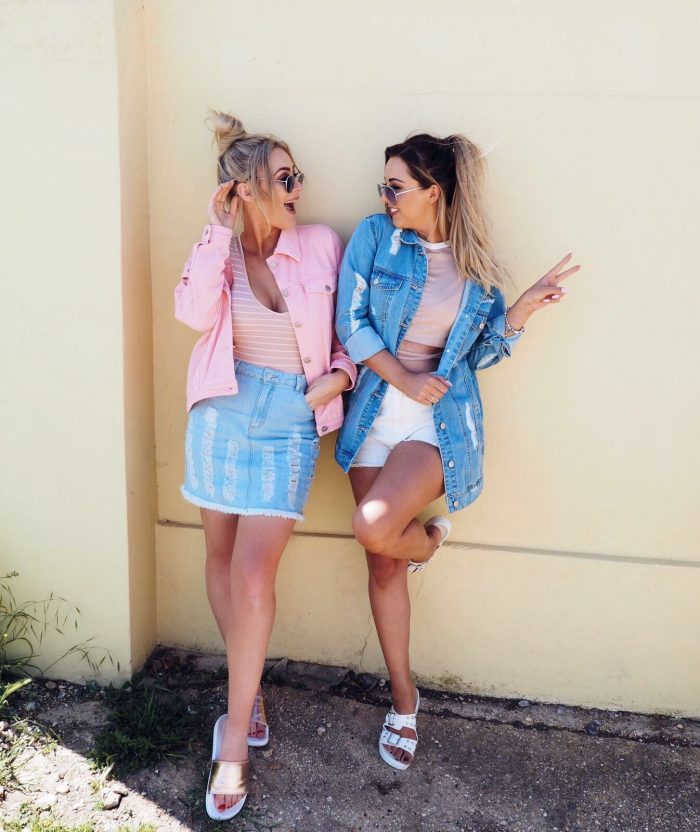 If you could have any celebrity BFF who would it be?
Victoria: My BFF celeb bestie would probs have to be Kim K cos she is just goals lol
Kayleigh: Beyonce! I love her music & having seen her live a few times, she seems like the most lovely caring lady! Not to mention sassy as hell!
If she were shipped off to a desert island and could only take one thing with her, what would it be?
Victoria: Defo a bikini
Kayleigh: Coffee – she's addicted!
Who is her celebrity crush?
Victoria: Harry Styles
Kayleigh: David Beckham!
What song best represents her?
Victoria: Absolutely no idea to this one "I'm a Barbie girl" is all I could think of haha soz Kay!
Kayleigh: This one is so hard. How about "ITS FRIDAY, ITS FRIDAY, GOTTA GET DOWN ON FRIDAY!" as Victoria loves to party.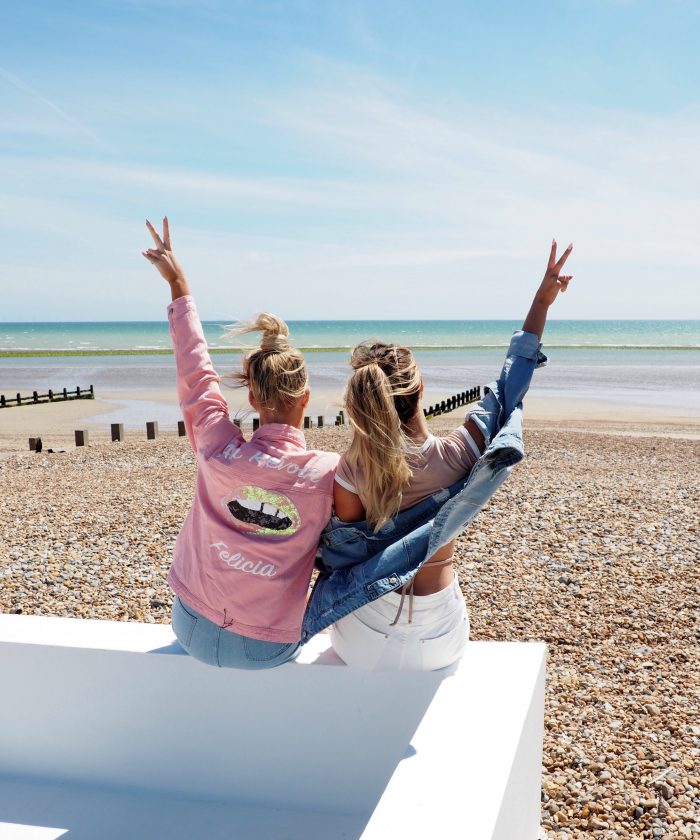 If you could only live in one place/country forever where would you choose?
Victoria: Marbella 100000000000% it's just amazing!
Kayleigh: Australia
First thing you do when you wake up in the morning?
Victoria: Drink coffee
Kayleigh: Check social media (guilty!)
Last thing you do before going to sleep at night?
Victoria: Think about my morning coffee haha
Kayleigh: Take my makeup off and give my fiance a kiss goodnight – aww!
How many attempts does it take you to get the perfect selfie?
Victoria: About 100 images and I usually manage to find one shot I like lol
Kayleigh: I'm not a selfie kinda girl to be honest. I'm so self-critical so it would probably take me over 100 attempts haha.
Last thing you watched on Netflix?
Victoria: Pretty Little Liars
Kayleigh: The new episode of Pretty Little Liars!
Beauty tip you swear by?
Victoria: Superdrug own brand Tea Tree face scrub and make up wipes are just the best for problematic skin!! Clears my spots up so well!
Kayleigh: Highlight, everything! I'm obsessed with being glowy – I use it on my brow bone, inner corner of my eyes, cheek bones and collar bones.
Who are you currently stalking on Instagram?
Victoria: Angelica Blick, she is my blogging inspiration and literally always kills it!
Kayleigh: I'm loving Lorna Luxe at the moment. I think we have similar taste in clothes and her outfit shots are always giving me outfit inspo! I also love @bybrookelle for flawless makeup!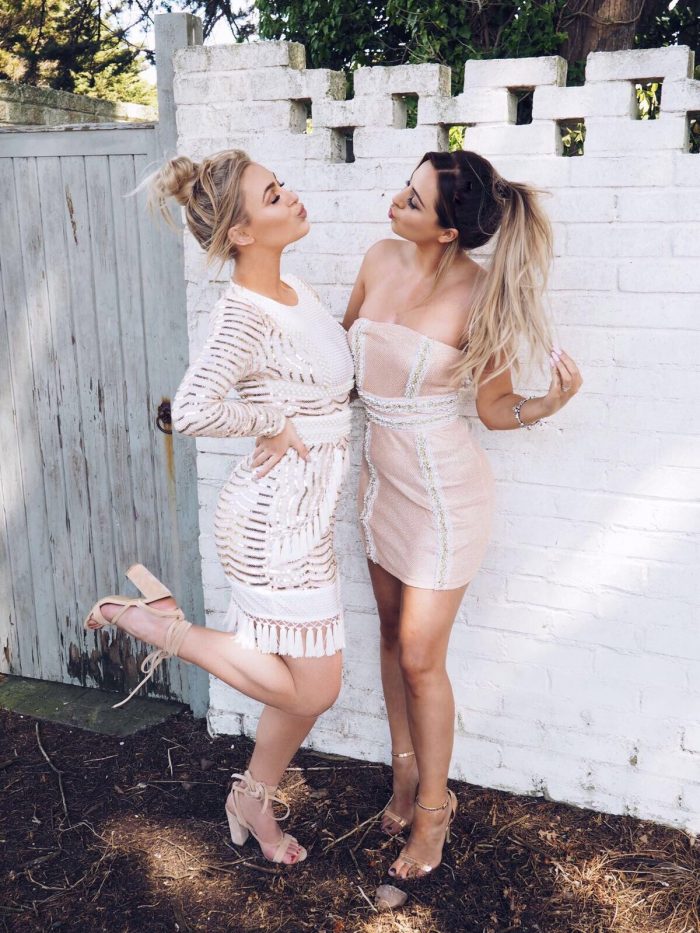 Follow Victoria:
Follow Kayleigh: