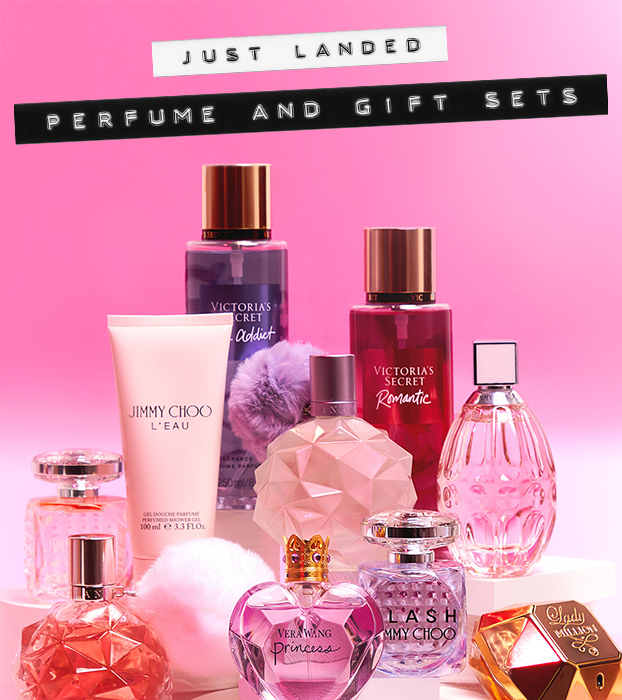 This is not a drill, we now stock perfume and fragrances.
Perfume & Gift Sets
Whether you're hitting refresh on your signature sent or looking for the perfect gift, we've got you. Treat someone to a dreamy gift set or treat yourself.
Peep below our BEAUT fragrances and sets from Jimmy Choo, Gucci, Vera Wang and more!
Jimmy Choo – L'eau Perfume
This set is perfect for anyone who loves  fruity and floral fragrances!
Coming with a 90ml eau de toilette, 100ml perfumed body lotion and 100ml perfumed shower gel, this set is the ultimate treat.
Vera Wang – Princess Duo
For the princess in your life!
This duo is SO cute, consisting of a 30ml eau de toilette and 118ml hair and body mist.
Adorbs.
Jimmy Choo – Blossom
A colourful bouquet of crisp pear, pink freesia and white musk, this is a gorg everyday scent leaving a sexy trace on the skin.
Not only does it smell amazing, but this perfume on display looks unreal!
Jimmy Choo – Flash
Get ready to dazzle with this beaut bottle.
With notes of pink pepper, tangerine and powdery woods this scent is intoxicating and dangerously sexy!
YSL – Black Opium
This fragrance is INFAMOUS and we know why!
With notes of bergamot, jasmine, vanilla and patchouli, you've never smelt a sexier perfume!
Marc Jacobs – Daisy
If you've got floral scents in mind, then this is the one for you!
A light and sophisticated perfume, with scents of wild strawberry, gardenia, violet petals and white woods.
Ariana Grande – Ari
Mega vocals isn't the only talent Miss Grande has, this fragrance is a dream!
A floral-fruity mixture is the perfect feminine yet musky combo, with a hint of marshmallow cos Ari is just so sweet!
Ariana Grande – Moonlight
She doesn't stop there, Ariana's 'Moonlight' fragrance is also DELISH.
With notes of sparkling rich blackcurrant and juicy plum, with her iconic marshmallow and peony undertones.