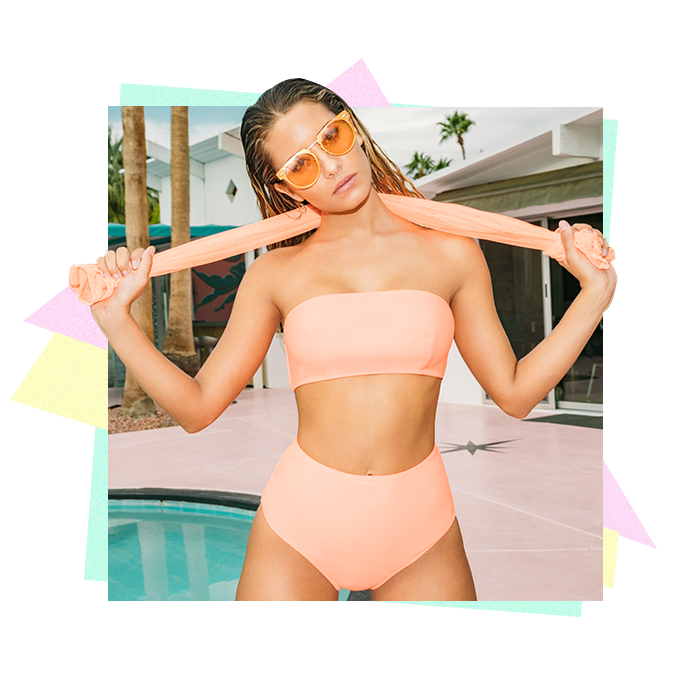 Can't wait for that long anticipated summer vacay but what to pack when it comes to your swimwear hit list filling you with dread? No sweat. We're about to clue you up on the swimsuits you need to know about this season to maximize the fit to best flatter your body type. Every babe is beach body ready but whether you're wanting to hide an area you're not feeling so confident about, let us guide you with the best swimsuits for all body types.
Your Guide To Swimwear To Suit Your Body Type
Not So Busty
If your bust is slightly on the smaller side and you're not looking to overly shout about it, one of these options when it comes to your holiday packing essentials should do the trick. A swimsuit with it all going on up top will add distraction if you're trying to flatter a small bust. This Shop Swimwear pink one with heavy frill detailing to the top will be ideal to best suit this body shape – what's more, ruffles are super on-trend right now. Failing that, opt for a more covered up approach and layer a sheer top over your swimwear like the Therese fishnet crop top . It'll also offer you a little more protection form the sun for all your pale girls out there who burn too easily. Bonus.
The Juicy Pear
Pear shaped? No shame there. The trick to dressing to best suit a pear shaped bod is to balance out your ample booty. Mix and match bikinis will be your go-to here. Only wearing a heavy print on top will distract from your bottom half and give the illusion of a more balanced shape. More fabric on top like the halter neck style of this red number compared to the smaller tie waist bikini bottoms also keeps the eye drawn to the top whilst elongating the legs and making your bottom half seem smaller. Cut outs are also key when it comes to disguising a pear shape. The clever positioning of the cut outs on this nude piece show off your body to its best whilst distracting the eye from the bits you're not so confident about.
Top Heavy
Carrying all that love on top? Built in bras and firmer underwire detailing to cups provides support where you need it most for all you girls with an ample chest. Opt for two pieces with more fabric going on up top like this black and white halterneck style. Avoid ruffles or heavy embellishment up top if you're trying to minimise attention on your chest and create a more balanced look.
Instant Tummy Tuck
Not so confident about those abs? Don't sweat it. We've got you covered with these more covered up options to keep you tucked in in all the right places. A one piece swimsuit like this orange plunge swimsuit is of course a fail safe go-to option here when it comes to hiding problem areas on your midriff, but if a bikini is more your thing (and why shouldn't it be), opt for high waisted styles – a no brainer of course when it comes to hiding your tummy. We love the Adira PLT strap bikini featuring hick piping detailing that sits high up on your hips.
Straight Up
Body more straight up and down but babein' all over? Create the illusion of curves with these stand out styles for all you beach babes that like to make a statement with their pool side #OOTD and don't give a F about the risk of unsavory tan lines. Opt for more "out there" styles featuring killer plunging necklines, tie around styles and harness detailing. The Ava multi strap bikini tie around waist detailing of this orange piece will draw the eye across the body, whilst the side cut out detailing of the Charline plunge swimsuit emphasises the hips to give you a more curvy illusion.