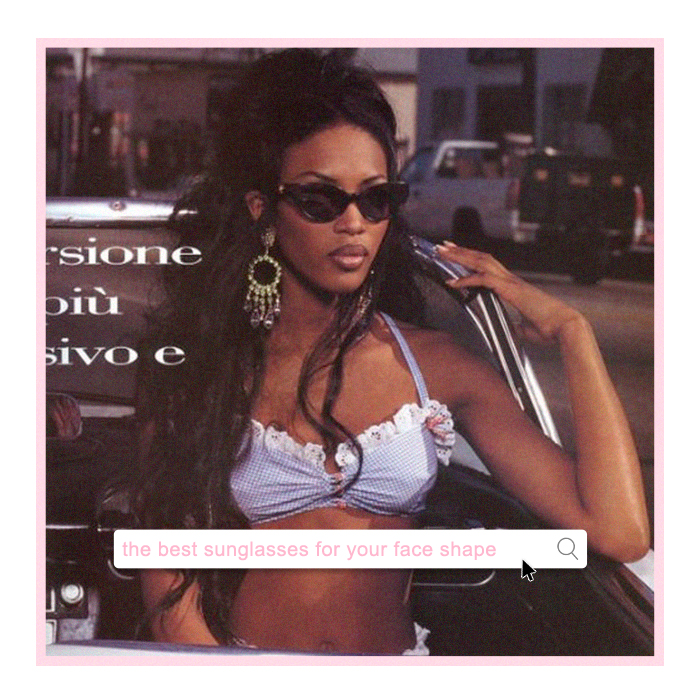 With the warmer months well and truly en route now is the time to start thinking about hitting refresh on your ultimate must-have accessory; your sunnies. Your go-to throughout spring/summer having a pair of sunglasses to hand is about to become nothing short of essential. When it comes to choosing the right pair for you, however, there may be a few dos and don'ts to live by.
THE BEST SUNGLASSES FOR YOUR FACE SHAPE
From round to heart-shaped to everything in between, we've got your back to clue you up on the best sunglasses for your face shape.
ROUND FACE
If you have a round face, the general rule is to stray away from over accentuating the round shape of your face further. With this in mind, circular shades are often said to be a no, no. To work some angles into an otherwise more rounded face, the cat eye sunnie is ideal. With everything from classic tortoiseshell cat eye sunglasses to this season's statement micro mini pair, these shades will inject style and plenty of attitude into your everyday look.



OVAL FACE
To be honest it's hard to go wrong with an oval face when it comes to pairing you up with the right pair of sunnies. Since you're lucky enough to suit any shade, we say go for the more out-there sunnies with our edit of retro sunglasses. From statement winged frame styles to sunnies featuring coloured lenses to inject a pop of colour into your look, our range of retro shades will have the perfect pair to suit every style.



ANGULAR FACE
If your face is all about those angles, sunglasses with rounded corners are the key to success if you've got a stronger, square shaped jaw line. Aviator style shades will be the perfect choice to balance your striking face, with the strong design but rounded edges of this style of sunglasses being nothing but complimentary. Opt for a retro inspired style with tinted lenses in the colour hue of your choice, or ease yourself into this sunglasses trend with a half lens style.



HEART SHAPED FACE
A pair of round sunglasses is the perfect complimentary accessory to offset a sweet heart shaped face. The perfect sunglasses style to best suit and accentuate the curves on your face to achieve the perfect balance of rounded and more angular lines. From classic all-black styles, to sunnies featuring a gold rim finish and those statement pairs with colour lenses, there's a pair of round sunglasses to suit you and your style needs.



Wanna see all our sunglasses? Shop all style here.