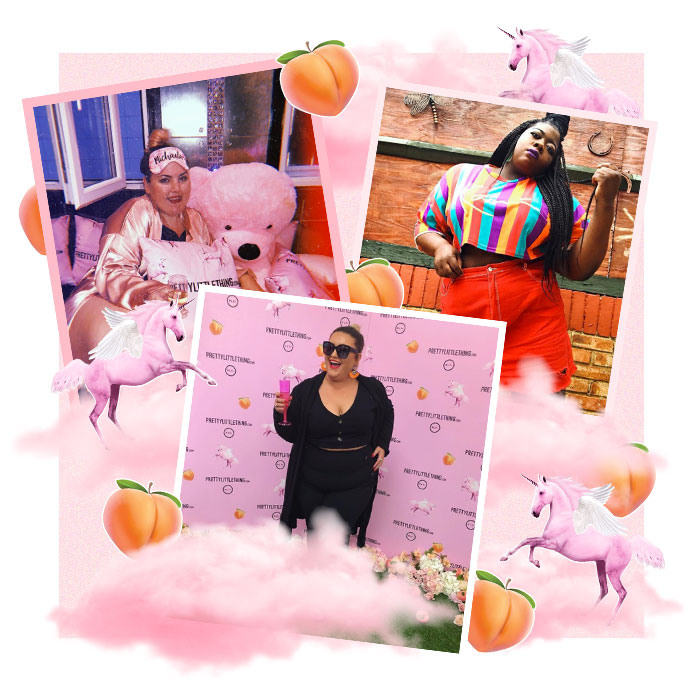 Wanna know what a plus influencer really things of the industry? Us too.
What A Plus Influencer Really Thinks About The Plus Industry
We recently caught up with babes Jess Millichamp, Stephanie Yeboah and Michaela Gingell to talk all things industry, where they find their inspiration and what they're still waiting on to change in 2018.
How has the world of plus-size modelling changed since you started out?
Jess: The range of plus size models featured has definitely improved but there is more that should be done in the industry. It's amazing to see models with a pot belly and stretch marks, pear-shaped and all the other things that we are seeing but it's mainly a token feature and predominantly the models are an athletic size 16 (washboard stomach, curves in all the right places).
Steph: It's amazing that we can now see a variety of sizes within the plus size modelling industry, however, I do feel a lot more can be done in regards to using 'true' plus size bodies (size 22/24+) and ethnicities. I think it's important for plus size consumers to see women who look like them in the clothes that they would want to purchase, and it's in this way that I feel representation and diversity is imperative.
Mic: There's still a way to go, but using models who are plus (size 18 +), who have visible curves and stretch marks etc. and who are a person of size definitely helps a consumer. Having an understanding of the industry I know curve departments take anything from a UK size 12 as a plus, but I think it's up to companies to sample bigger and push and scout for models who are true representatives of the plus customer. A VBO, or back roll never hurt anybody.
What do you feel PLT Plus's clothing offers you that other brands don't?
Jess: PLT are offering the same clothes that are sold in straight sizes. Brands presume plus size women wouldn't wear things like crop tops and cycling shorts but PLT have no boundaries, they are super inclusive and very fashion forward.
Steph: PLT offers cutting edge and current trends where a lot of other brands don't. I feel it's a very 'millennial' brand where young women who are embracing their bodies can come to find outfits that are an extension of their personalities.
Mic: Style, edge and an overall lifestyle to aspire to. It's my go-to to know I can pick up something my smaller friends would and do wear.
What do you think about the Plus Size market and where it's going?
Jess: The plus-size market is expanding every day. Brands that never offered plus sizes have eventually realised that we exist and there is a huge market to tap in to.
Steph: It's come such a long way in the last 5 years and I believe this is down to the rise in plus size influencers. It's incredibly long overdue, as plus size women and our needs in fashion have been ignored for many years. It's great to finally be able to buy the same outfits as smaller women!
Mic: Being plus all my life, the choice and options are incredible today, there really is a choice. There's so much out there. But it truly comes down to the fit. This is still an issue and something not all brands are understanding or getting right. And there's nothing worse finding your dream dress and even sizing to the biggest size and it not fitting you :(.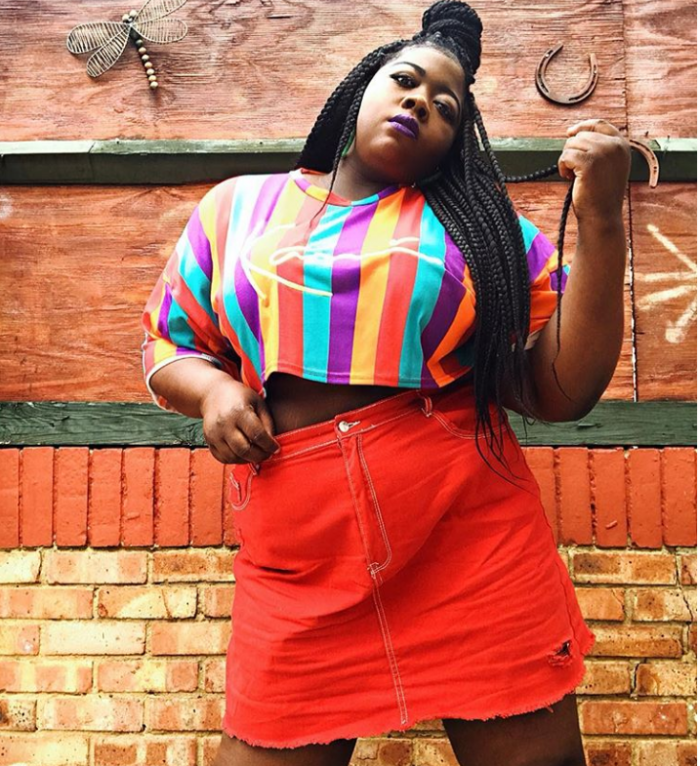 What's most important to you in terms of how you feel when it comes to getting dressed?
Jess: I want to feel comfortable and confident when I'm getting dressed. Comfortable as in the clothes fit nicely and I'm not going to be adjusting all day and confident in the fact that I look smoking hot, haha!
Steph: Confidence is definitely important when it comes to choosing pieces for me. I have to feel secure, comfortable and confident in my body and how the piece adjusts to, and compliments my curves.
Mic: Wearing something that allows my confidence to shine through, whilst also grabbing a little bit of attention. I like to experiment with what I wear, with the hope it inspires others to do the same.
Describe PLT in 5 words.
Jess: Fun, Trendy, Exciting, Modern, Sick (in a good way).
Steph: Fun. Sexy. Accessible. Trendy. Confident.
Mic: Fierce, Fresh, Exciting, Inspirational and Peachy haha.
Who inspires you?
Jess: I'm very inspired by other plus size bloggers, especially Danielle Vanier.
Steph: As a darker skinned black plus size woman, I've never had anyone within the public forum who I could look up to, as we were never given the platform, so I'd have to say that I inspire me! I have been in love with fashion since the age of 11 and have worked hard to overcome my insecurities about my body, self-esteem and other issues to get where I am today, and I am very proud of myself! I hope that I can one day be an inspiration to others!
Mic: Cliche but I'm inspired by most things around me. This includes my incredible bunch of girl boss friends, watching reality tv, and following brands and influencers on social media. There are so many places to pull inspo, and my favourite thing is to see trends and looks and make them into my own.
Who would you love to see us do a Plus collaboration with?
Jess: Me!!! Haha I'm joking (no seriously, let's talk). I would love to see a collab with someone like Gabi Fresh. What she and Nicolette Mason have done with Premme is exactly what I want us to have in the UK.
Steph: Gabourey Sidibe, Amber Riley, Missy Elliot, La Shawnay… ME!
Mic: Ugh Cardifforniagurl of course, but I'd love to see a collab with powerful, strong, passionate women who aren't afraid to rock their style, and also be proud and confident with their size, so their message, discussion and understanding truly reflects the plus community.
What's your most memorable career moment so far?
Jess: My most memorable career moment would be filming a piece with the BBC, I'm very proud of the video and the fact I said saggy tits and they kept it in haha!
Steph: Attending the Houses of Parliament to speak about social media and its impact on young children, as well as online bullying.
Mic: Honestly, it has to be the Curve Fashion Fest 2018 Bloggers day. And actually being at the PLT HQ. You guys pulled out the stops for the slumber party and our visit and it truly was EVERYTHING.
Finish this sentence; don't ever…
Jess: "Don't ever let other people's opinions hold you back from being yourself and living your best life."
Steph: Don't ever make yourself feel uncomfortable for the comfort of others."
Mic: "Don't ever doubt your strength and self. You are stronger than you'll ever know."