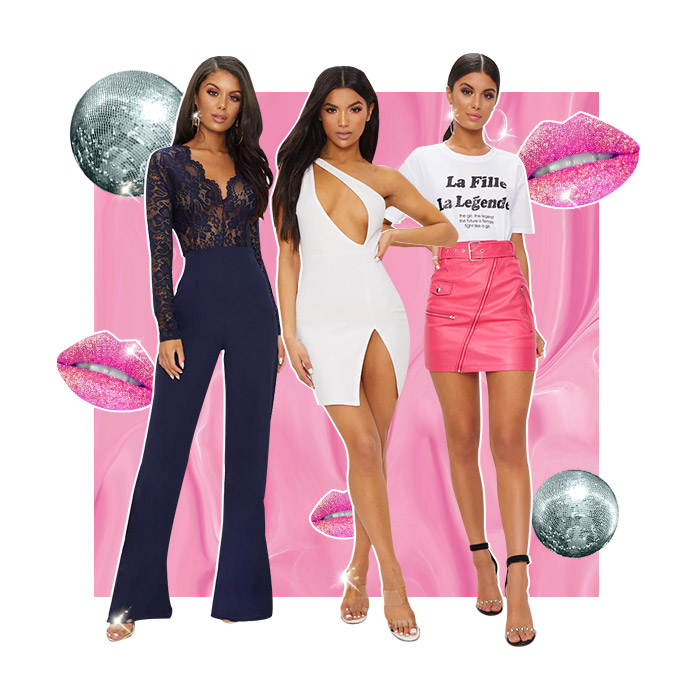 We are 100% sure you've got lots of night outs with your besties on the cards and sourcing a killer outfit is essential. Finding an ultimate perfect outfit is sometimes a task with so many different nights to attend, so we are here to give you the 411 on some serious fire looks for every club occasion.
What To Wear On A Night Out
Prepare to break all of the rules because these looks are everything but basic.
The Classic Go-To
We've said it before and we are gonna say it again and again,  a little black dress is THE utmost essential in every girl's going out wardrobe. Its simple, it's sassy and it can be styled with literally ANYTHING. You don't have to play it safe here, there are all kinds of styles that step away from the norm. This season we're loving bandage fabrics, so this style is a must have. The fabric is figure slimming and the lace up detail is gonna cause a serious stir on the gram' when you post a smokin' selfie.
Head-to-toe Woah
It's always time for a jumpsuit. Sophisticated and playful, literally slip it on and go. The thing we love about jumpsuits is that they compliment almost every body shape, with it's cinched in waist and voluminous wide leg design. When it comes to club dressing, go for an all-in-one style with an edge. This lace style is perfect for club occasions, the lace detailing shows off some attitude, but the sleek silhouette keeps the look classy. Compliment this look with high heels and statement earrings.
Faux Leather Wins

Nights are getting warmer so you can now brave a mini skirt without almost crying from the cold. Shorter hemlines are perfect for nights on the town and you don't need to have legs like a supermodel to pull this look off. Go vinyl with this feminine pink mini skirt, it's all kinds of fierce and will make you stand out in the flashing club lights. Style it with a crop top and heels and you're ready to strut your stuff for real.
Less is More
Less is always more and if your here to make a statement, opt for a killer cut out dress. This is a fuss-free way to get dolled up with very little effort at all. The cut out detailing creates enough impact to be able to keep the accessories to a minimum without going OTT.
Jeans and a Nice Top
If you're heading out for drinks with the girls and wanna keep your look on the DL,  the infamous' jeans and a 'nice top ' combo is the answer. You can't go wrong with this classic duo because you can get more wear out of them both throughout the season by mixing and matching. If you're aiming for a fierce look with an edge, distressed denim is always a  good idea. The choice of top is down to you and your vibe, but we are loving this simple one tone style.
Bold and Bright
Make getting dressed for your night out easy with a killer co-ord. Forget sitting in the shadows and put yourself in the spotlight with something in your face, like this tangerine co-ord. You will probably have noticed bloggers rocking this colour this season and we are crushing on it. It screams summer vibes and is definitely a statement maker.
Whether you've hired a booth at your fave nightclub for your besties birthday or have last minute plans to hit your local town, your gonna have club dressing nailed to a T.