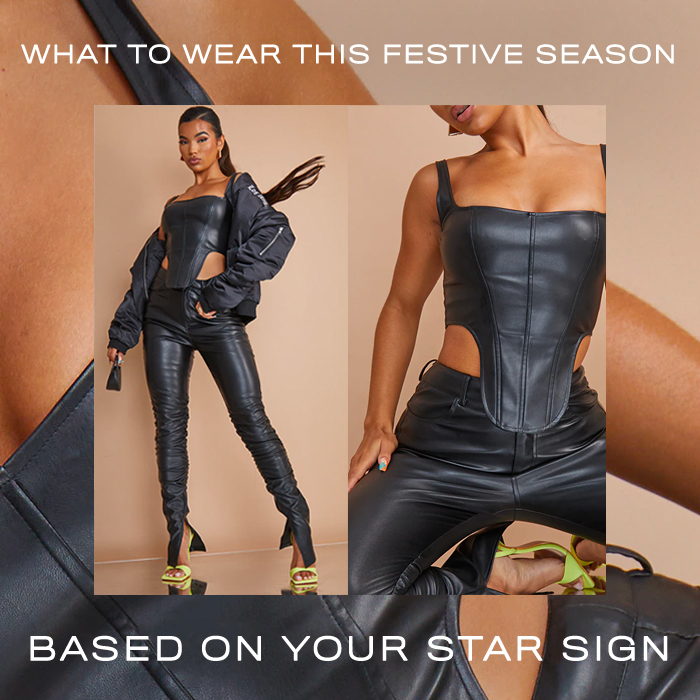 A major mood…
What To Wear This Festive Season Based On Your Star Sign
With just days to go, outfit prep is in full force.
From what to wear on Christmas day to NYE's plans, whatever is on your agenda you can guarantee to sleigh the season with a next level look thanks to your zodiac.
Match your mood with PLT partywear that will have all eyes on you!
CAPRICORN (DECEMBER 22-JANUARY 19)
Yessss, Capricorn! January is all about you so feel your very best self with this unreal red velvet midi dress.
Such a vibe!
Burgundy Velvet Corset Detail Bardot Ruched Midi Dress
AQUARIUS (JANUARY 20-FEBRUARY 18)
Ok Aquarius, we know you love to be the first to do things so why not get ahead of the trends with this glove detail bodycon.
Seriously, you'll be servin' looks all season with this new take on the classic LBD.
Black Velvet Bandeau Glove Detail Bodycon Dress
PISCES (FEBRUARY 19-MARCH 20)
Ready to get glam Pisces? We got you. Add next level deets to the big day with this open back detail dress.
The bigger the bow the better babe, ready for all eyes on you?
White Bow Detail Open Back Blazer Dress
ARIES (MARCH 21-APRIL19)
Next level luxe. Aries, this month is about making yourself priority.
Self love comes first, you've just got to start believing!
This figure hugging velvet bodycon is going to give you instant confidence.
2022 is looking good for you.
Plus Black V Bar Velvet Bodycon Dress
TAURUS (APRIL 20-MAY20)
You've got the plans, we've got the outfits Taurus!
Your social calendar is looking busy AF babe. Make the most of each and every plan whilst we provide the perfect piece to suit every mood.
Statement sleeves? Champagne (satin)? Yes please!
Champagne Structured Extreme Shoulder Satin Bodysuit
GEMINI (MAY 21-JUNE 20)
Trust us, this is the look you've been waiting for, Gemini!
You'll be ready for anything with this trending hot pink co-ord. Get it girl.
Hot Pink Structured Satin Ruched Bralet & Hot Pink Structured Satin Mini Split Side Skirt
CANCER (JUNE 21-JULY 22)
We see you making moves, Cancer – best believe this faux leather co-ord should be top of your wish list.
Date night OOTD with your new match, sorted. Oh and NYE's too obvs.
Black Faux Leather Boned Cup Detail Corset &Â Black Faux Leather V Shape Hem Mini Skirt
LEO (JULY 23-AUGUST 22)
Easy 'fits for the win! We know things are feeling a little overwhelming recently Leo.
Ditch the outfit stress by opting for an oversized blazer! With added diamante deets (it is party season after all).
Catch up with your besties and know that it's okay to speak out when you don't quite feel yourself.
Black Fringe Trim Pocket Detail Woven Blazer
VIRGO (AUGUST 23-SEPTEMBER 22)
Sparkle szn. Make the most of your new found self, Virgo.
Sure things have not gone quite to plan this year but we predict big things for you in 2022.
See in the new year with sequins and understand you are more than worthy of everything you desire!
LIBRA (SEPTEMBER 23-OCTOBER 22)
What's not to love, Libra? Take your look from day to night with this cream corset top that is anything but basic.
You're thriving this month so why not make em' stare?
Cream Woven Bardot Extreme Ruched Mesh Panelled Corset
SCORPIO (OCTOBER 23-NOVEMBER 21)
Feel flawless Scorpio! Be bold. Be you.
Reset your routine and understand you are able to cope with anything that comes your way.
Lean on the ones who love you most and know that it's ok to ask for help (you're still an independent queen even when asking for a helping hand).
Plus Bright Blue Ruched Sleeve Oversized Blazer Dress
SAGITTARIUS (NOVEMBER 22-DECEMBER 21)
Sag, this is your social calendar comeback so ensure your look is just as on-point as you are feeling.
Seriously, this faux leather co-ord is major goals. So what you waiting for doll? Let's glow!
Black Faux Leather Curved Hem Corset Top & Black Faux Leather Ruched Leg Skinny Split Hem Trousers
Shop all partywear here!
Want to see what the remainder of 2021 has instore for you? Check out your December horoscope here.