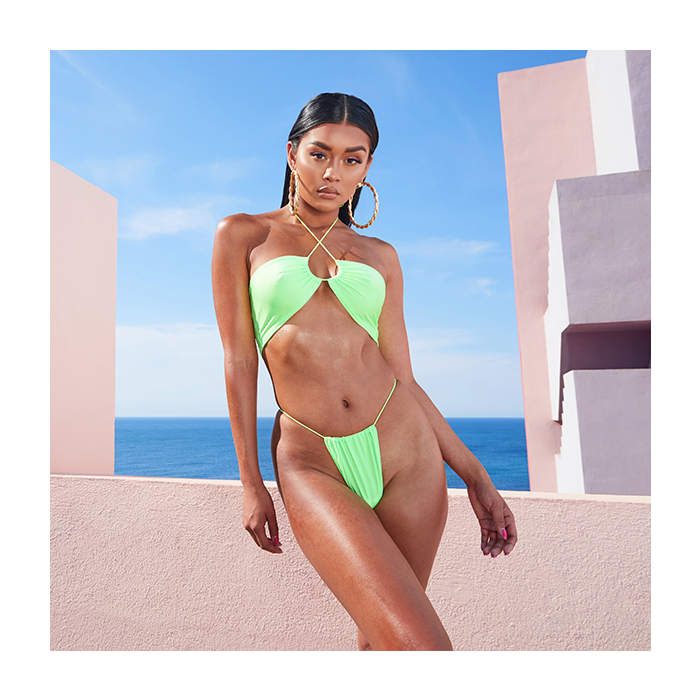 Ibiza season is well and truly underway. The home of pool parties and AM to PM raving, we know planning what to wear is just as much of a task as sorting out your weekly raving rota. To save you the 'what to wear' stress, we've scrolled through our site to find you the perfect party looks.
WHAT TO WEAR TO THE BEST IBIZA PARTIES
Keep scrolling for some killer Ibiza outfits. From pool to party looks, we've planned a whole weeks worth of outfits so you don't have to.
Monday: DC-10 – Circoloco
Start off your week strong with Circoloco at DC-10.
The no-frills no-fuss no-nonsense vibe is perfect for this all-black ensemble.
Tuesday: Ocean Beach – Kisstory
Home of old-school tunes and dance music anthems. Kisstory is the perfect opportunity to wear that statement swimsuit and heeled wedges combo. PLT tip: bring a bobble, you will get wet.
Wednesday: Ibiza rocks – Bongo's Bingo pool party
Switch up your rave mid-week with Bongo's Bingo. Known for competitive dance-offs, weird and wonderful prizes, and nostalgic tracks, keep your look fuss-free so you can enjoy the madness.
Thursday: Destino/Pacha – Music on
Get ready for the ultimate party marathon. From Destino to Pacha, Music on is the way to go for true party animals. Tackle the 12+ hours of raving with this fishnet combo and chunky footwear.
Friday: Eden – Defected Ibiza
Defected has been an island-favourite for decades. Promoting back-to-basics style clubbing and classic house music, keep your usual Friday glam to a minimum and get ready to grunge down.
Saturday: Ushuaia – Antz
Join the colony at biggest the open-air club in Ibiza. Take your Antz look from day-to-night with some simple swimwear and lightweight knitted flares that you can easily fold away in your bag.
Sunday: HÏ Ibiza – Glitterbox
Glitterbox is the perfect opportunity to go all out. We're talking glitter on glitter and sequins on sequins, the goal is to be a walking talking disco ball.