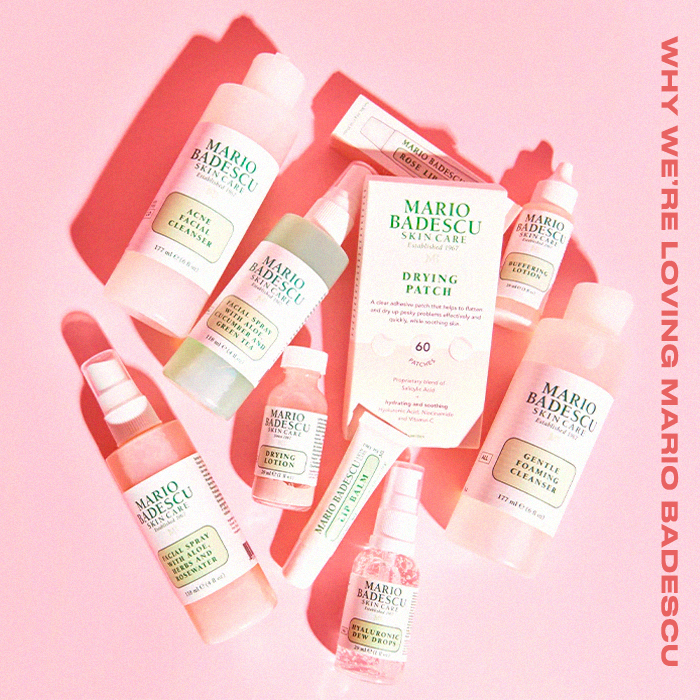 Make way for Mario Badescu!
Why We're Loving Mario Badescu RN
Make every day a good skin day with bestseller Mario Badescu.
Seriously, these skincare essentials are a must-have when it comes to your skincare routine.
Today we're sharing the Mario Badescu products we are loving right now, how to use them and top tips that are guaranteed to make you want to haul them all.
Ready to refresh your skincare regime?
Start scrolling now!
MARIO BADESCU DRYING LOTION 29ML
A major must-have when it comes to your makeup bag.
Perfect for when unwanted breakouts make a unexpected appearance!
Simply target blemishes with the original and iconic, on-the-spot solution.
The time-tested formula of Salicylic Acid, Sulfur, Calamine, and Zinc Oxide helps to dry up blemishes overnight by drawing out impurities. Cya spots!
MARIO BADESCU DRYING PATCHES 60 PIECES
Banish blemishes any place, any time with the all new Mario Badescu Drying Patches.
Designed to flatten and dry up surface blemishes effectively and quickly, while calming irritation.
These clear adhesive spot patches treat, soothe and clarify blemishes thanks to a blend of salicylic acid, niacinamide, vitamin C, sodium hyaluronate and tea tree leaf extract, each of which work to reduce inflammation and bacteria around the area.
MARIO BADESCU ACNE FACIAL CLEANSER 177ML
The perfect starting point for acne prone skin.
This gentle and effective, Acne Facial Cleanser is designed to be used twice daily as part of both a morning and evening skincare routine.
Formulated with a blend of botanical extracts, this soothing cleanser removes makeup, dirt, and impurities without stripping of essential oils and moisture.
MARIO BADESCU GENTLE FOAMING CLEANSER 177ML
A go-to cleanser for all skin types!
The Gentle Foaming Cleanser lathers into a deep, but gentle clean, washing away lightweight makeup, excess oil and skin surface impurities.
MARIO BADESCU GLYCOLIC ACID TONER 236ML
A serious skin saviour!
This is a mild resurfacing toner that brightens and balances skin post-cleanse.
Glycolic Acid, Grapefruit, and Aloe combine in a rejuvenating formula that works to refine pores and diminish the appearance of fine lines, wrinkles, and uneven skin tone.
Get set for a more radiant and youthful-looking complexion.
MARIO BADESCU WITCH HAZEL & ROSEWATER TONER 236ML
Restore clarity and radiance to skin after every cleanse.
Trust us, this step in your beauty routine is a gamechanger!
Use twice daily after cleansing:
Apply to skin with a cotton ball or pad.
Wipe in sweeping, outward motions until the cotton comes up clean.
Avoid eye area.
MARIO BADESCU FACIAL SPRAY WITH ALOE, HERBS & ROSEWATER 118ML
A serious favorite is the multi-purpose face hydrating mist with Rosewater and Aloe Vera reviving dehydrated skin.
With a healthy, dewy glow and revealing radiant, this is your ultimate go-to.
Simply spritz onto face, neck, or hair as needed.
Use to infuse more hydration before or after applying moisturizer, as a pick-me-up on the go, or post-makeup application to give skin a dewy finish.
MB Skin Tip
To give your makeup a dewy finish, spritz your favorite brush or sponge before blending in foundation or concealer.
Once you're done, mist your face as a final step to add radiance.
For an extra refreshing and cooling boost, store the bottle in your refrigerator.
MARIO BADESCU HYALURONIC DEW DROPS 29ML
Ready to revamp your skincare even further? Then meet the Mario Badescu Dew Drops!
This unique formula is made to replenish and refine creating dewy, petal-soft skin.
Water-light to the touch and weightless in finish, this gel serum is formulated with two molecular weights of Sodium Hyaluronate for supreme yet seamless hydration.
Niacinamide helps re-balance as Lactic Acid and Thyme Extract boost clarity — giving skin a glass-like glow.
Simply apply 3-4 drops to the face and neck after cleansing and toning (avoiding the eye area).
Follow with moisturiser or night cream.
MB Skin Tip
Maximize your glow by misting with any Mario Badescu Facial Spray first.
The trick is to apply the serum immediately after misting—while your skin is still dewy—to allow the humectants in the formula to draw additional moisture into the skin.
The final finishing touch in your reimagined skincare routine!
Nourish dry lips with a blend of nutrient-dense butters and moisturizing oils.
Formulated with Cocoa Butter, Coconut Oil, Shea Butter, Sweet Almond Oil, and antioxidant Vitamin E, our ultra-rich balm melts into the skin to replenish and renew lips.
Lips are guaranteed to be left feeling soft, smooth, and supple.
Shop all Mario Badescu products onsite here.
Want to learn more about skincare? Check out our previous posts here.