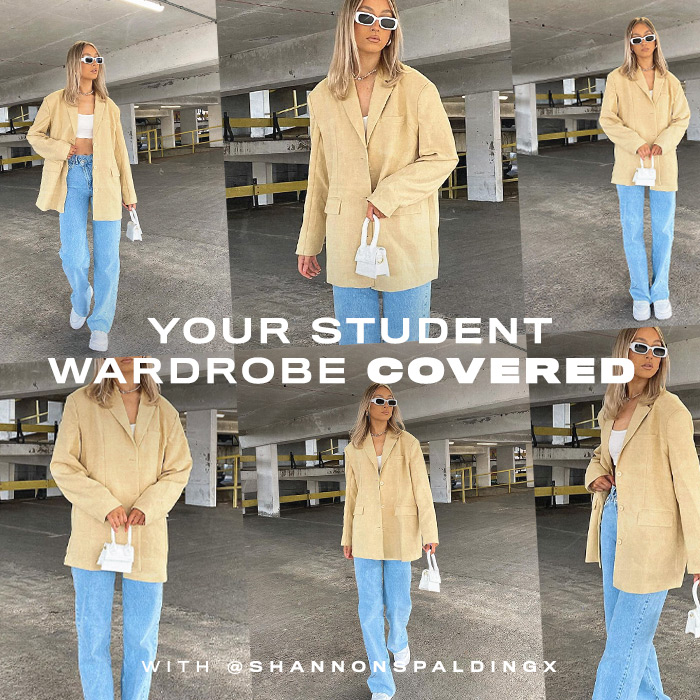 Looks that won't let you down.
Your Student Wardrobe Covered
Today we are catching up with student influencer Shannon Spalding. From uni 'fits for when you're just not feeling it to what to wear for pre-drinks – we have your student wardrobe covered.
Whether you're a fresher or are returning back to uni after the summer off, these are the must-have looks to add to bag (with student discount obvs).
Hey Shannon, could you start by telling us a bit about yourself please?
Heyy, so I'm 20 years old and a fashion management student at Nottingham Trent university. I'm about to go into my 2nd year here!
I would probably go as far to say that fashion is my life haha, I absolutely love putting outfits together and creating content for all my platforms. As well as filming life vlogs for my YouTube channel.
I am such a foodie and will never turn down going out for dinner and drinks.
Being a uni student I love going out out especially as that involves getting glam, I kind of love the stress of picking an outfit.
If you had to describe your student style in three words what would they be?
Trying to pick 3 words to describe my student style is a hard one because I have so many different vibes.
I would probably have to say edgy, statement-making and trend-led.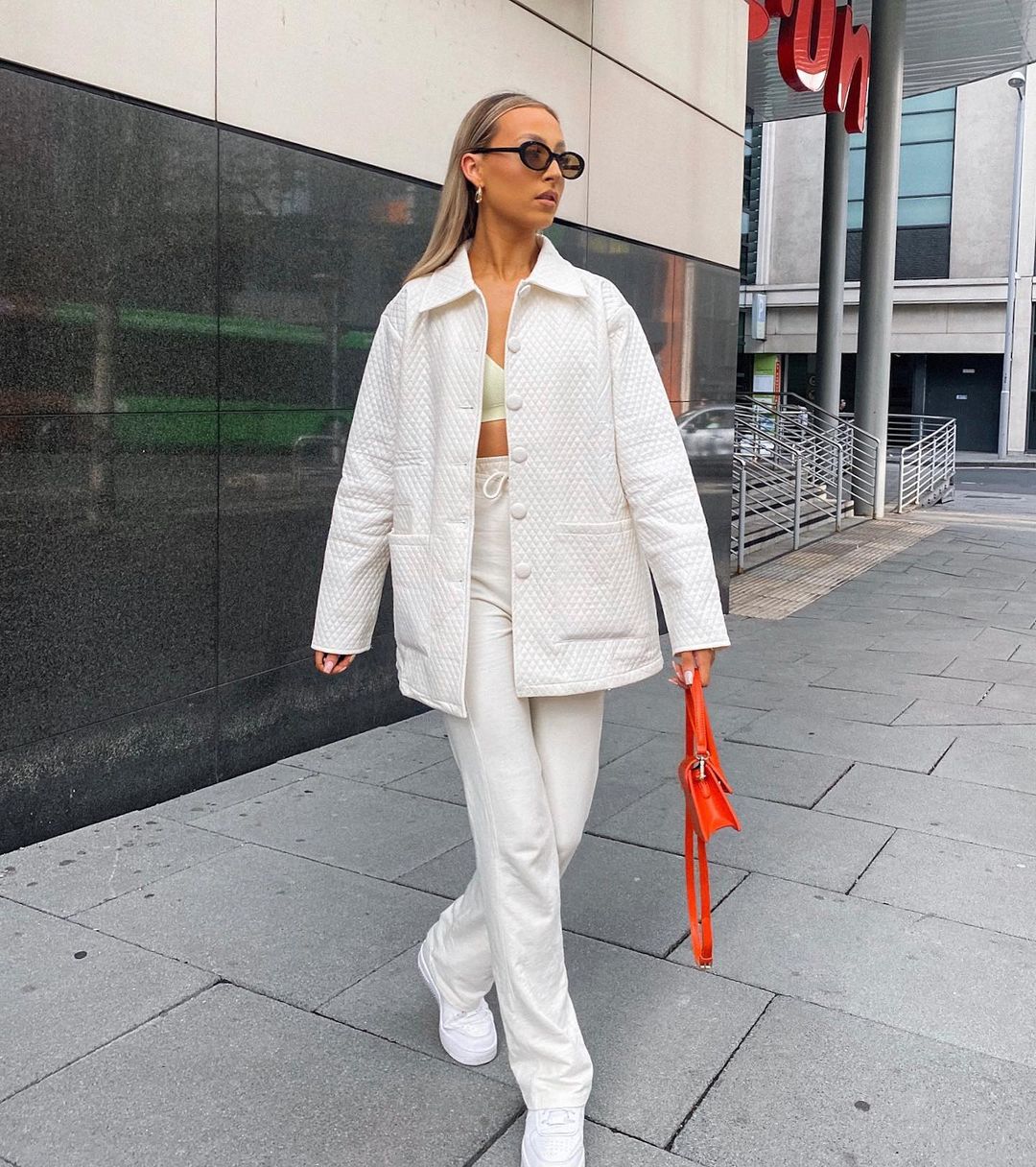 Any tips when it comes to making new friends/meeting new people at uni?
As cliché as it sounds just be yourself! Remember everyone is in the same situation as you so don't be afraid to go up and talk to people as they will want to make friends too.
I also joined a group chat for my course before I started and that's how I met one of my closest friends, we are now going to be living together in second year!
Do you have an ultimate study tip?
If I'm honest I am the worst when it comes to studying, I feel like my brain doesn't work unless I'm doing it last minute. That said, my main advice would be to stay on top of your lectures and go to all your seminars. It will help so much when doing your assignments.
Anything in particular that keeps you motived?
Something that keeps me motivated is thinking about the end grade I want to achieve when I graduate.
What are the main fashion pieces you're loving right now?
My current fashion faves, there are so many!
Most definitely blazers, they're such a wardrobe staple. Baggy jeans & trousers are very much my vibe, tbh anything oversized.
Colours are a must-have, especially pink, orange & green. Last year I actually only ever wore black and now it's my least favourite colour to wear!
Finally, all the cut out details on dresses and tops etc. I love how it adds something more to an outfit. All about the deets.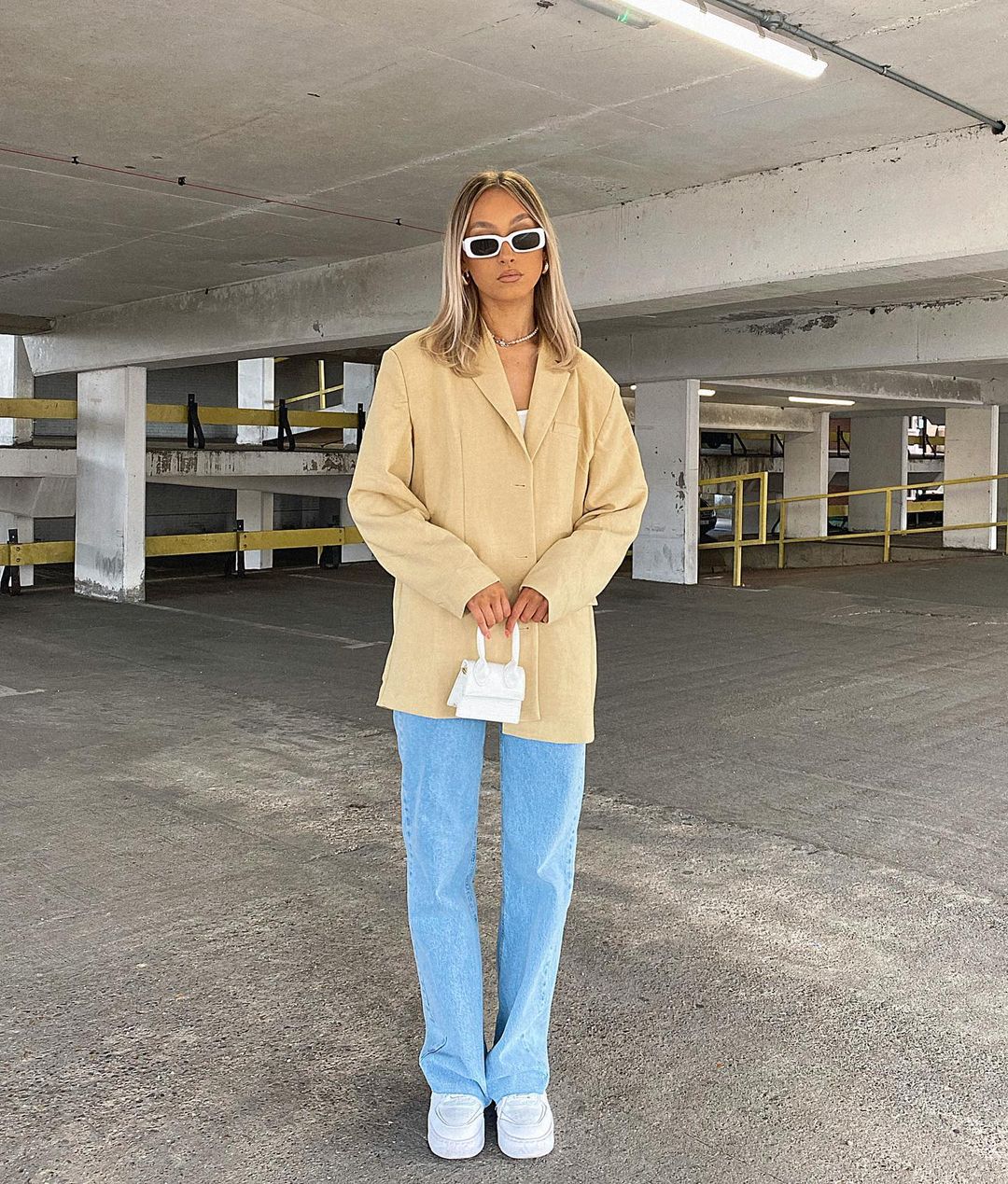 Let's talk looks!
A daytime look for lectures when CBA
Comfy vibes always! A tracksuit is a must as you can style it up so many ways.
Of course I would have to include gold hoops, no outfit is complete without the accessories.

Oversized Green Hoodie | Green Joggers | Sliders | Gold Hoops | PLT Socks | Quilted Tote Bag
Out out vibes, from pre-drinks to bar
Dress and blazer moment. During my first year here at uni I didn't wear heels once, everyone pretty much just wore dresses and trainers whilst out.

White Blazer | Green Dress | White High Tops | Gold Hoops | Gold Necklace
Next level 'fits for when a presentation is due and you need to own the room
I always feel like a Boss B in a suit.
These trousers are the best, I already own a pair! Oversized blazers make me feel cool too haha. Of course can't forget the accessories!

Straight Leg Trousers | Gold Hoops | White Blazer | Gold Necklace | White Bodysuit
Shop more student 'fits here!
Don't forget, we offer student discount all year round. Find out more here.