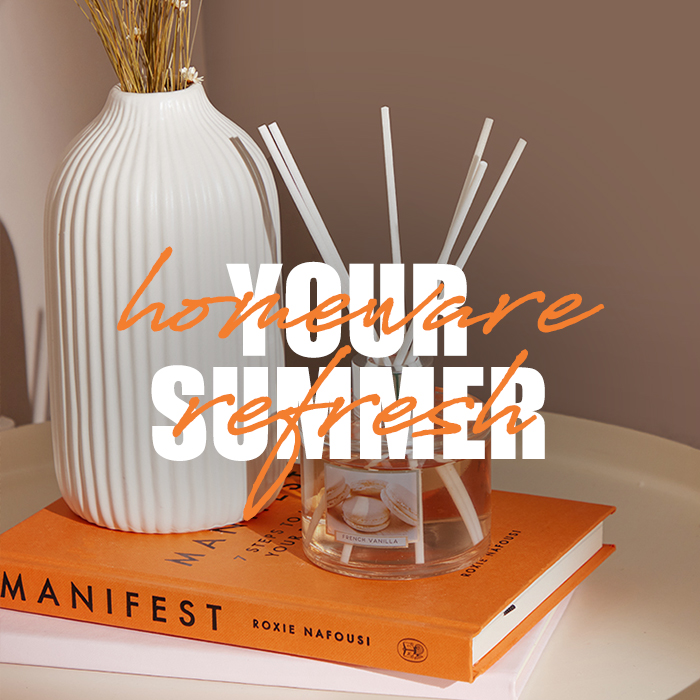 Here for the home goals.
Your Summer Homeware Refresh
Summer has arrived so why not revamp your living space?
Whether you're all about colour popping brights, tonal texture or just want to update your candle collection.
Here at PrettyLittleThing we have endless homeware accessories to choose from.
Start scrolling now to find the perfect piece to match your summer mood.
New Season Scents
Citrus and fruity, fresh linen or floral? Which will you opt for?
Mix and match your new scents with on trend photo frames, rattan, succulents and coffee table books for a next level look.
Starlytes Fresh Linen Wax Melts | Gold Wire Photo Frame
Reactive Glaze Diffuser | White Statue Head Vase With Succulent
Rattan Storage Box | Black Waterfall Incense Burner
Revamp The Room
Andddddd, relax! Tranquil vibes only.
Create ultimate relaxation with pinstripe bedding, cosy daisy throw and calming salt lamp.
*cancels plans to stay home snug AF*
PRETTYLITTLETHING Grey Pinstripe Double Duvet Set | Grey Calm Ultrasonic Diffuser
Pink Moon Salt Lamp | Clear Glass Lamp With Linen Shade
Typo Daisy Throw | Clear Ribbed Glass Drink 3 Piece Set
Sunshine Season
Trending colourways and chic candles – it's a yes from us!
Add a pop of pink to your Insta approved dining set up – perfect for when the girls are round for a catch up.
White Peace Hand Shape Candle | PRETTYLITTLETHING Pink Dinner Candlesticks Set Of 4
Bright Pink Pampas | Blue Bunny Tails
Heading Out Out?
Make the most of the feel-good weather and head outside.
Serve up in style with oversized picnic basket that will have you covered for none stop snacking.
Outdoor games obvs! A must-have on your Summer hit list.
Giant Toppling Tower Outdoor Game
Shop all homeware onsite here.
Looking for more summer inspo? We got you!