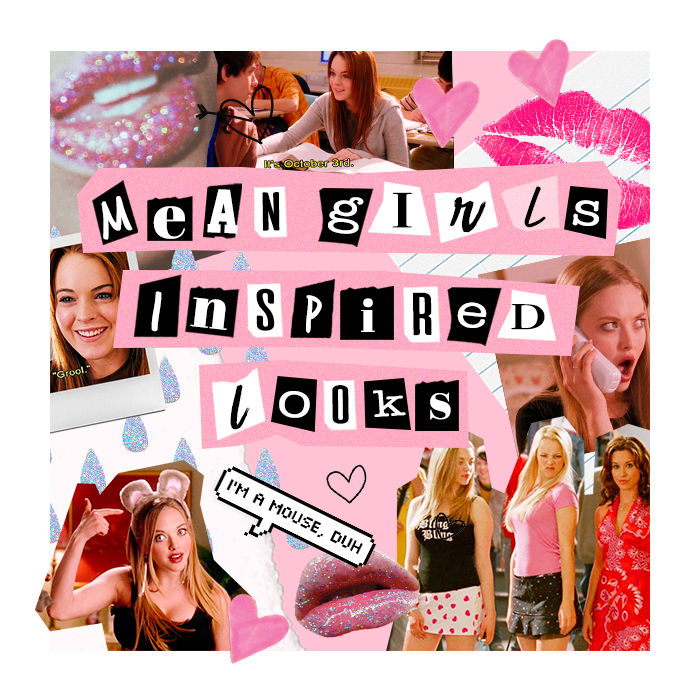 On October 3rd, he asked me what day it was…
"It's October 3rd."
If you don't get that reference – gal, where have you BEEN?!
Every year on the 3rd October, Plastics and Band Geeks alike join together in honour of celebrating the timeless cinematic classic that is Mean Girls.
Mean Girls Inspired Looks
This film gave us some of the most iconic scenes, quotes and story lines of the 21st century, as well as some of the best fashion choices.
Whether it's for Halloween or you just fancy channeling your inner Plastic, we've made recreating some of their most iconic looks so easy!
Prepare to look SO fetch x
#1 Regina
Is butter a carb?
The Queen Bee of Northshore High and the girl we hate to love and love to hate.
From the sexy bunny to her velour tracksuit, Regina sports so many memorable looks but this is our fave.
The classic Miss George, sporting a pink cardigan, skirt, white graphic tee and hot pink heels.

#2 Gretchen
That's why her hair is so big, it's full of secrets…
Poor Gretchen may feel lost behind Regina's shadow, but there's no doubt she's one of the MOST fashionable characters.
Pair a hot pink jumper with a cute tartan mini skirt, some strappy black heels and of COURSE, the classic white-gold hoops.
Don't worry Gretchen babes, they're your thing x
 

#3 Karen
I can't go out *cough* I'm sick x
Undoubtedly one of the funniest characters with the best one liners, it's like she has ESPN or something???
Channel your inner Karen with a pink jumper, matching pink skirt and some pink heels.
If you're going for the 'I'm a mouse, duh' Karen, then these mouse ears will be right up your street – just make sure you know the difference between your cousins and first cousins…

#4 Cady
Do you own anything pink?
Oh Cady (it's pronounced Caty)
She goes through so many outfits changes as she tries to reinvent and figure out who she is outside of the African savanna.
You could rock classic checkered shirt, jeans and low pony Cady, or over-sized pink polo shirt Cady, but we've gone for Plastic Cady because those BOOTS!
Style with a long sleeve red top and dark tartan mini skirt and you'll look, like, really pretty.
#5 Regina's Mom
I'm not a regular mom, I'm a cool mom!
The icon that stole the whole movie (soz not soz), Regina's very own mother is known for her cringe-worthy lines and this iconic pink tracksuit.
Recreate it with a matching pink hoodie and bottoms, with a white lace bodysuit underneath – just make sure to keep any little dogs at a distance…

Grab our merch!
She doesn't even go here!
Maybe you're not dressing up for Halloween or October 3rd, but it doesn't mean you can't still represent.
Shop some of our fave PLT  bits, including the 'The Plastics' tee, 'On Wednesday's We Wear Pink' tee, and this adorable Halloween nightie!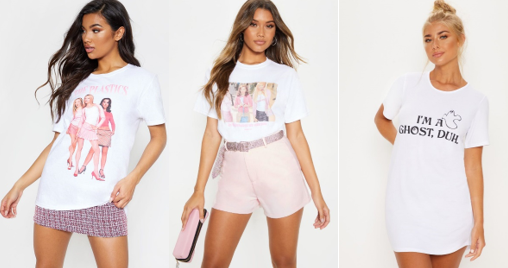 However you're spending this infamous holiday, we hope you have a totally fetch time.
Remember, it's not your fault people are so jealous of you – you can't help that you're popular xo