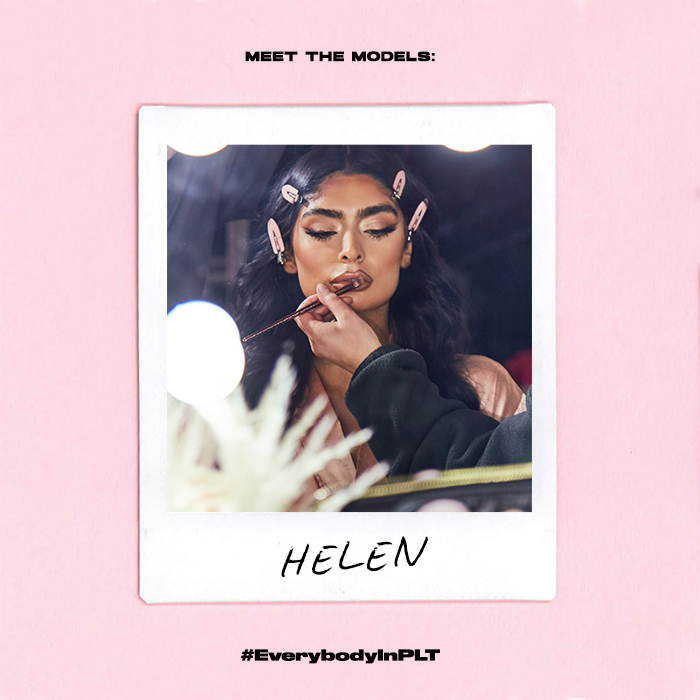 For PLT's 2021 International Women's Day campaign, we teamed with The FOUR Model Management to showcase fierce females who are taking the modeling world by storm.
Each day this week we are going to be introducing you to the women reppin' the #EveryBODYinPLT movement. Absolute mega babes that embody all things strength, positivity and girl power.
#EVERYBODYINPLT MEET THE MODELS: Helen
Today we are catching up with triple threat Helen.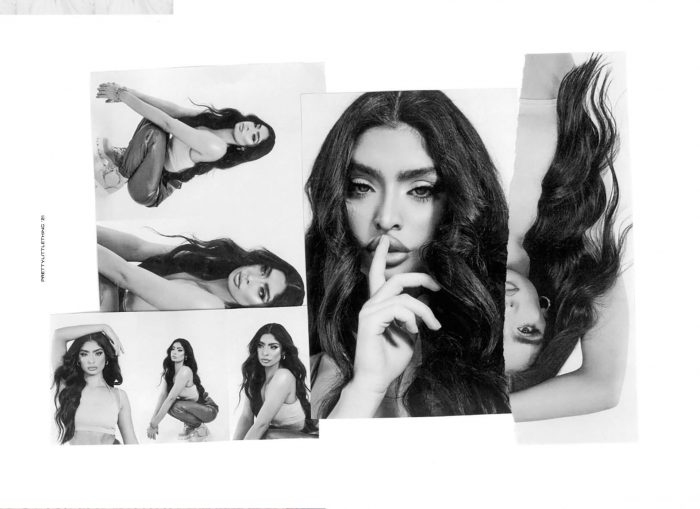 Hey Helen, could you start by telling us a bit about yourself please?
I'm Helen. I love sports and I aspire to make positive impacts on as many individuals possible.
What are you most excited about with this collaboration?
Everything! I'm excited to work with crazy talented people; the PLT family, makeup artists, creative directors, stylists, the agents and team at The Four Models.
Along with everyone behind the scenes of this campaign.
Tell us 3 things you stand for?
You determine your own success.
Life's unpredictable, so keep a it is what it is attitude and move on.
Forever stay grateful.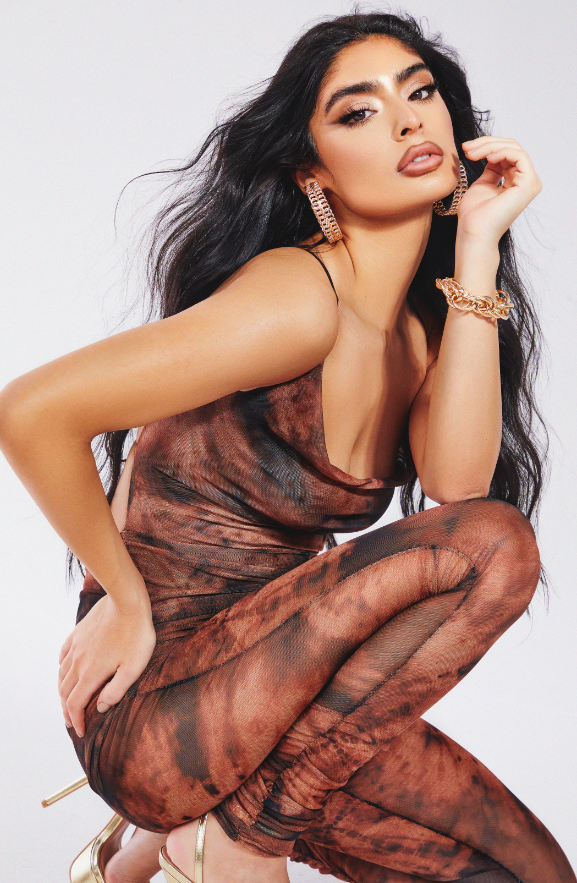 Why do you think championing body confidence is so important?
It's so important because all our bodies are perfectttt! On a reals, our bodies do so much for us and you only have one body that you'll live in.
Whatever you think or say about your body, it will become your reality, so be nice to yourself.
Who are your biggest role models?
I don't really have one specific role model but I have a lot of people I look up to. If someone is the most caring and understanding person I've met, I'll look up to how kind their heart is. Someone else may have been through tougher situations than I have, so I will look up to their resilience and mental strength. I think you can learn something from everyone.
What is happiness to you?
Finding your passion and purpose in life, the reason you can wake up early in the morning and rather than feeling tired and drained, you're excited because you can't wait to do what you love. I find happiness in helping people in the sport and fitness industry. When athletes I coach learn a new skill or achieve a goal with my help, that's happiness to me; knowing I'm helping people by doing what I love.
At what age did you feel most at peace with your body image?
As long as I remember, I've always been at peace with my body image. As a lot of people do, I've had many insecurities and even now, I have days where I feel insecure but even though I can appreciate good looks, I don't put much value to it. Your body is what keeps you alive and I think that's cool enough.
When do you feel your most confident?
I'm really that girl who puts on high heels just to walk down the street and feel fierce like I'm on a runway.
Turning on loud music, dancing and trying gymnastics skills in heels, in my living room, is deffo an unbeatable vibe. You'll feel empowered and unlock a whole new level of sass.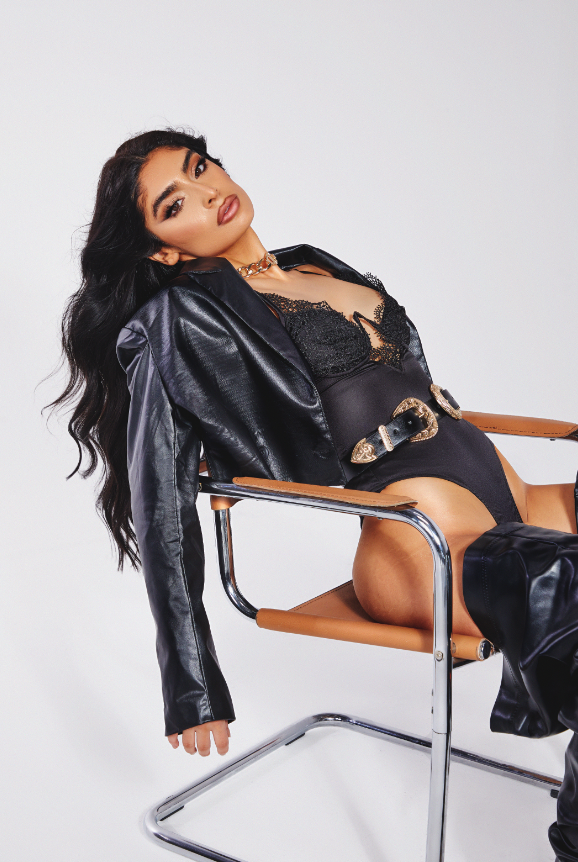 How do you practice self-love?
I love going on walks, watching the sky change colour, nature and working out.
Dressing up to go out by myself makes me feel empowered. When I would go to restaurants I would be like "table for one please". My friends honestly thought I was weird for taking myself out but I think they got used to it after. It's so relaxing and you feel at peace in solitude. But yeah, once you're comfortable with chilling by yourself occasionally, you feel so much more confident.
If you could tell your younger self anything, what would it be?
I don't think I would tell my younger self anything. Every "mistake" I've made, insecurities I've had and moments of hitting rock-bottom was what made me appreciate everything today. Life will forever be beautifully messy for everyone but what will lead you to greatness is being grateful for the lessons that you learn from the mess. Looking at the beauty the mess brings.
What would you like to see happen in the modelling/fashion industry in the next 5 years?
I'm tryna see some more unique faces. I want everyone to feel represented.
I want someone to see their biggest insecurity on billboards or on the runway and think, omg she looks like me and she's gorgeous. Models with features that are not conventionally considered beautiful. Models of different ethnicities. More models that are inspiring and not just a pretty face.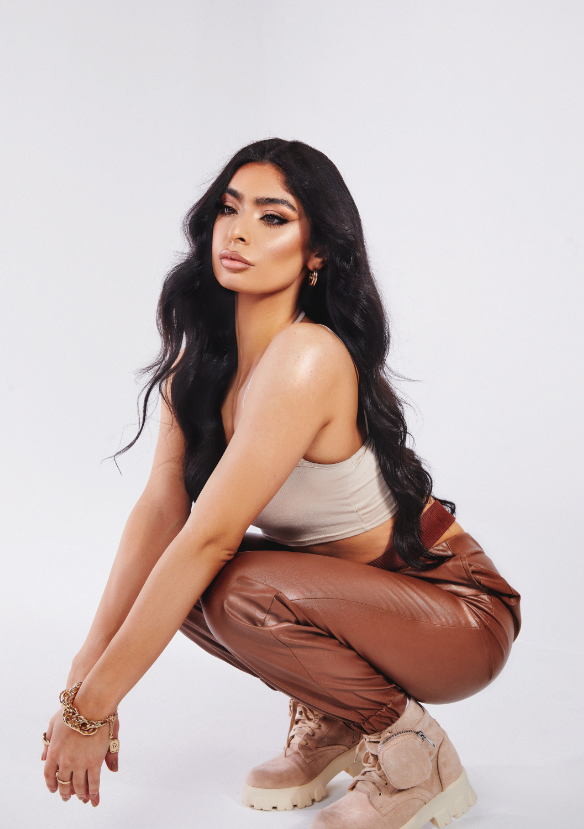 What do you want people to know about you?
I write poems and speeches on mental health, mindset and motivation. I wouldn't really consider myself as a creative but this is kinda creative I guess.
And finally, what does the hashtag #EveryBODYinPLT mean to you?
A diverse group of bodies, doesn't have to only be about someone's dress size but can also be different body types and structures.
Unique faces. A range of races and ethnicities being represented.