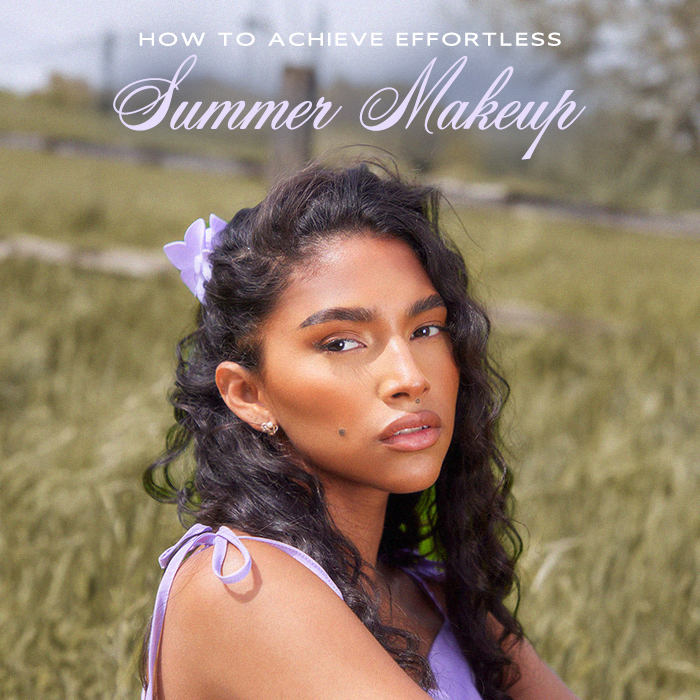 We're sharing everything you need to know when it comes to the best summer makeup.
From sweat-proof makeup to summer makeup looks – all whilst answering your most searched beauty questions of course.
This is the PLT guide on achieving effortless summer makeup!
Let's start with beauty trends.
What is the makeup trend for summer 2023?
Y2K Continues
Think metallics, glitter and pastel colour palettes.
The HB glazed doughnut trend has truly levelled up for summer '23.
Morphe 18CT Matte Essentials Artistry Eyeshadow Palette
Additional trends you'll see throughout the summer season will include:
Face jewels and gems, festival season – we're looking at you!
Lime Crime Venus Liquid Liner Butterfly
NYX PMU Smooth Whip Matte Lip Cream Blankie
Now we know what's trending, let's discuss how to actually keep these beauty looks flawless all day, everyday!
Which type of makeup is best in summer?
Whilst the clean girl inspo is starting to slow down in terms of fashion, it's most definitely at it's peak in terms of beauty.
The simple bushy brow and light skin tint finish is where it's at this summer season.
You can read all about this style of makeup inspo here.
Overall you're aiming for lightweight beauty products that deliver a fresh everyday face.
How do you wear makeup in the summer?
The key to wearing and also ensuring your makeup stays all day during in summer is both your beauty prep and of course, setting spray.
You'll want to use a lightweight primer alongside your daily SPF to allow your makeup to last throughout the heat.
It's also good to use a setting spray as this will help hold your makeup all day.
Safe summer skin plus a flawless face? It's a yes from us!
Revolution Pro Protect Soft Focus Primer SPF 50
PRETTYLITTLETHING Glossy Setting Spray
Fake tan is another easy option when wanting an effortless summer makeup routine.
You guessed it, our girl Molly-Mae and her iconic tanning drops!
Simply add a few drops to your regular moisturiser for a hint of colour.
This also brings us to the question of, should you wear foundation in the summer?
Overall it's up to you and whichever makeup option you prefer/feel most comfortable with.
Whilst a skin tint or just fresh faced with a hint of tan can work for some, we know it's not possible for all.
Maybe it's a case of waking up with a breakout (which most definitely wasn't on the agenda) or wanting to cover up acne scars.
Here are our top three summer picks when it comes to the best foundation for coverage during the warmer months!
Makeup Revolution IRL Filter Longwear Foundation F12
L'Oreal Paris Infallible 24hr Matte Cover Foundation 175 Sand
Morphe Filter Effect Soft Foundation Light 3
Let's Talk Lashes
If natural lashes are where it's at then you'll of 100% searched, what helps eyelashes grow faster?
Let's face it, who hasn't? We are all dreaming of our natural lashes looking like a fresh set of lash extensions.
We'd recommend starting with a lash serum – whilst this is no quick fix as it usually takes around 3 months until you notice any difference.
But! You'll know your taking care of your lashes and hopefully the daily applications will pay off.
Long longgggg lashes please!
Makeup Revolution Rehab Lash Care Serum
For those days when you do want a long luxe fluttery lash, false lashes are going to be your BFF!
Check out this post for tips on how to apply false eyelashes (every single time).
Oh My Lash Faux Mink Lashes New Me
Iconic London False lashes Booked & Busy
Last But Never Least, Lips! 
Just like skin, we loveeee a glossy finish during the summer, especially when it defines and give a freshly plumed look but, which plumping lip gloss is best?
When it comes to the best lip plumping gloss it's more about personal preference, do you love the tingling feeling or just prefer a high pigment gloss that gives the illusion of fuller lips?
Either way, here at PLT the lip gloss options are endless!
Barry M That's Swell Lip Plump and Prime
Plump It Hyaluronic Lip Plumper
Lime Crime Wet Cherry Lip Gloss Disco Cherry
So, that's a wrap on the best summer beauty for summer 2023!
Be sure to check out all beauty products onsite here.
Don't forget the ultimate must-have for your flawless makeup base, SPF!