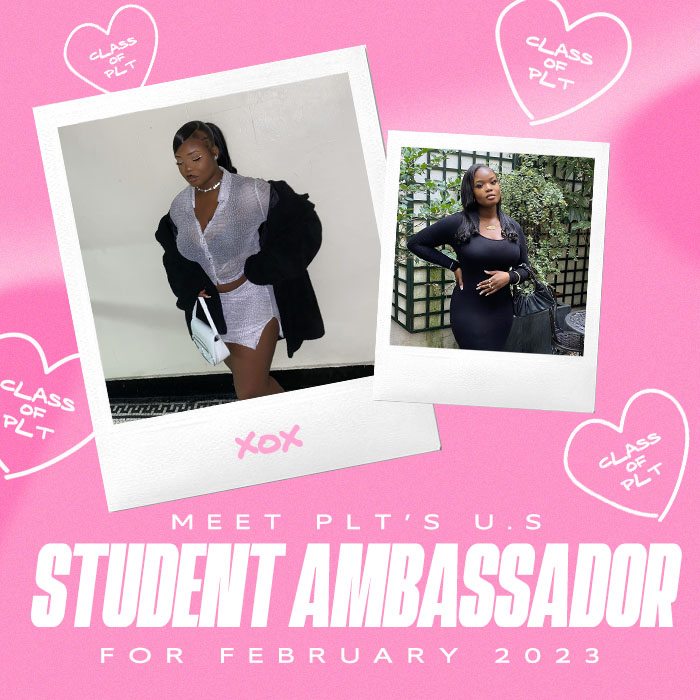 Each month we'll be catching up with our student ambassadors to talk all things student style, study tips and overall student life.
Today we're catching up with US based, Alissa Valentine.
Hey Alissa, could you start by telling us a bit about yourself please?
I'm Alissa, I'm 24, I'm from NYC, and I study law at Vanderbilt Law School in Nashville, Tennessee.
I studied English in undergrad, so I have a huge writing background. In my free time, I write short stories or articles for two online literary magazines.
I love fashion, art, travel, history, architecture, and good food.
Do you have a 5 year plan al all? Or, are you more of a "see what happens" kind of vibe?
I'm definitely more of a planner and Type A Personality.
In 5 years, I'd like to be a practicing intellectual property lawyer.
Combining my passions and working as in-house counsel for a fashion house would be an absolute dream!
How do you find the study/life balance? Is there a way you prioritize one or the other?
Finding a good study/life balance is always a challenge when there's a lot grabbing your attention, but I find that keeping a good calendar or planner is a great place to start.
Mapping out your study time by week or by month and making sure that you stick to your schedule is necessary.
Careful planning and discipline are how I make sure I get work done, while still being able to enjoy social events.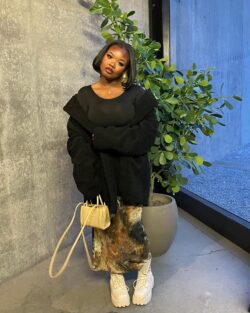 Do you have any advice on meeting new people/making new friends?
Honestly, I've just started getting the hang of making new friends in my 20's, and I've realized that nothing works better than just being genuine.
I think a lot of 20-somethings feel like everyone around them has it all together, so it's hard to approach new friendships with confidence.
In reality, none of us have it all together, and most people feel the same anxieties and fears that you do. Once I realized this, I began using it to connect with people.
I've gotten more comfortable going out on a limb and expressing interest, usually starting out with a compliment or finding a common interest to talk about, and letting my personality do the rest.
Bottom line, reluctance and doubt don't create friendships, courage and confidence do.
Take a risk and put yourself out there–you might be surprised to find that you have more in common with the people around you than you thought.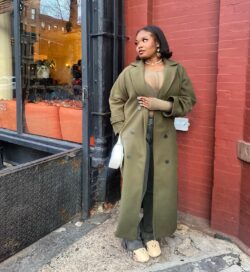 Are there any study tips you'd love to share with our blog readers? 
One of my biggest study tips is to do the readings.
I know it seems obvious, but skimming and scanning don't always cut it. In order to understand something in and out, you must read details carefully.
Make notes along the way of things you don't understand or have questions about, so that you can use valuable class time to get the answers to your questions instead of using it to grasp the reading material.
My second tip is don't be afraid to ask the professor for help. In my first year of undergrad, I was so nervous to ask my professors for help, and it only made my life harder.
If you are too nervous to ask questions during class, go to their office hours and ask there. Write all your questions or concerns down and take it with you so you can ask everything you'd like.
Not only does it help your academic journey, it shows your professor you have interest and you care about doing well in the class.
Final tip: make a friend in every class.
On the first day of every class, I like to introduce myself to at least one or two people.
This turns out to be a great help if you ever miss class and need notes, or need study partners to help for exams.
Don't go through your classes like a ghost–make your presence known to both your classmates and your professor!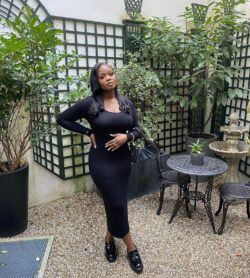 Now for fashion, of course with February being the month of Valentine's we've got to talk date night looks! 
Do you have a go-to date night outfit?
My go-to outfit for date night is usually a spaghetti strap maxi dress with matching mules and a statement purse. Since it's a little colder now, sometimes I layer the dress with a long sleeve mesh top underneath and pair it with a faux fur trim jacket.
Is there a fashion trend you're loving at the moment?
I am completely living for maxi skirts, all things crochet, faux fur trim, and any utility streetwear inspired pieces.
I love a good fashion + function moment.
If you were to describe your student style in 3 words, what would they be?
Utility. Streetwear. Chic.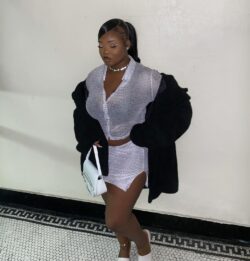 Ok, you're heading to class (think Monday morning vibes), what you wearing?
On Monday, I'd wear a basic black crop top, layered with a long-sleeved white collared shirt, light wash mom jeans, sneakers, and of course a huge tote bag.
On a colder day, I'd wear a statement varsity jacket on top to add some color. Simple, classic, chic, and comfortable.
How about an ultimate fave 'fit? Something you could repeatedly restyle and not get bored of?
I could never get tired of styling a maxi skirt with chunky boots. It's sort of become my signature look.
I love the silhouette, you can style it up or down, and take it in a lot of different directions with accessories.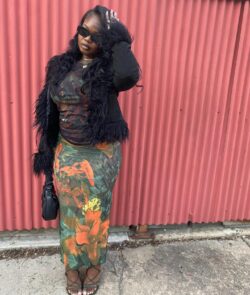 Let's talk location, is there a student spot that you'd recommend to go?
My favorite Nashville tourist attraction is the Parthenon, which is a full-scale replica of the Parthenon in Athens.
In addition to a lot of Tennessee history and gallery shows for local artists, the Parthenon has a 42-foot statue of Athena that is absolutely breathtaking.
Finally, what are your top PrettyLittleThing picks right now? 
Right now I'm loving these three pieces!
Cream Curly Faux Fur Trim Borg Jacket
Mid Blue Wash Cross Print Long Leg Straight Leg Jeans
PRETTYLITTLETHING Shape Pine Green Buckle Detail Cargo Wide Leg Pants
*adds all to bag*
You can keep up to date with Alissa on Instagram here.
Check out more student content onsite here.
Loving cargos ATM?