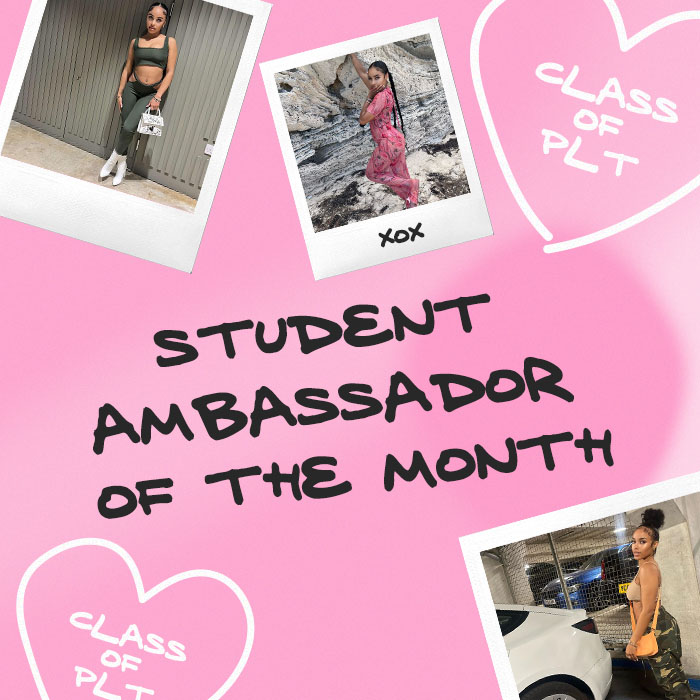 #ClassOfPLT
Student Ambassador Of The Month
De-Nias Infinity Caines
Each month we'll be catching up with our student ambassadors to talk all things student style, study tips and overall student life!
Today we're catching up with De-Nias on everything from studying dance to meeting new people and of course, the PrettyLittleThing pieces she's loving right now.
So, let's get into it…
Hey De-Nias, could you start by telling us a bit about yourself please?
My name is De-Nias Infinity Caines, I am a Libra, born on October 13th, 2001!
I am originally born and raised in a small island in the middle of the Atlantic Ocean called Bermuda.
I moved to the UK about 2 years ago to further my studies in dance and am currently studying Performing Arts at Shockout Arts in Manchester, UK.
I have always had a passion for dance and I've been dancing since the age of 3 years old.
Once I turned 16/17, I became more interested in social media and influencing. I also do a bit of modeling and I really would like to make that a full time career as well.
I am now a full time influencer and full time university dance student.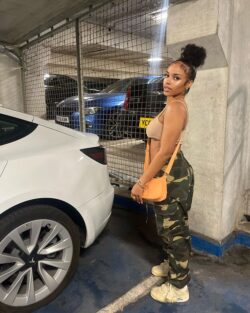 Do you have a 5 year plan, if so we'd love to hear all about it?
Yes, I do have a 5 year plan.
After I've finished my university course, I would like to take on another year getting my teaching degree in dance, so that I can become a dance teacher.
I would also like to open up my own dance school back home in Bermuda or possibly one in the UK.
Performing with celebrities as a back up dancer is also a goal of mine.
Building a business in eyebrow lamination is also something I'd love to do.
All whilst still working on my social media skills, management and modeling/influencing.
How do you find the study/life balance?
To be honest balancing a full time university schedule and a personal social life is hard but it can work.
I tend to just keep going, by doing that I listen to motivational quotes and podcast on YouTube to keep me motivated.
The most important thing in this, is to get rest, get as much rest as you can!
Try to make plans on the weekend rather than weekly after uni because you will over do yourself.
Although it's hard, try not to make plans every weekend because you need to rest and recover yourself and have those important self-care days.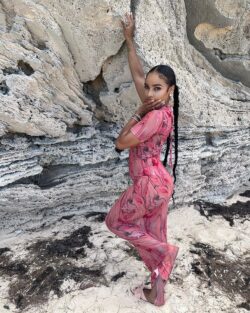 Do you have any tips when it comes to meeting new people at uni?
For me I'm a very shy and to myself type of person but I am very friendly when I meet new people.
It's a bit hard to explain but I would definitely say try to come out of being in your own bubble and open up and speak to everyone in your classes.
It's best to reach out and be open to chat to new people on that first day of uni because if not, it will be harder to connect with them than if you did on the first day.
Be friendly to everyone, show kindness to others and it will always come back to you.
Let's talk study skills, are there any hacks you find helpful when revising?
I would say when it comes to studying for exams or just revising over your work from lessons that week, find a quite space away from any distractions (friends, family, siblings, pets) because the less you're distracted the better you can focus.
For me I like to light a candle and put on soft background music on low and get to studying.
Be sure to keep your phone on do not disturb so you don't get distracted from messages.
It always helps me focus by doing it this way!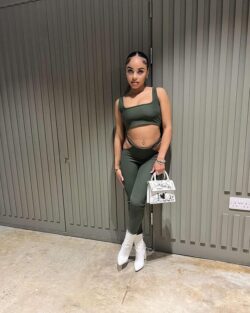 When it comes to student loan, are there any budgeting tips you've found extra helpful and think might help someone else?
I am a very heavy spender and don't know if I'm the best at saving if I'm being honest.
But from the two years I've been out in the UK living on my own I've learnt how to budget and spend money on the right things and the most necessary things.
I would say get all things needed for university first, whether it's books, stationary essentials, uniforms etc. and then once you've got all the important things, budget your daily/weekly/monthly food spend. Eating at home will save loads of money rather than spending money on takeout everyday.
Yes, it's nice to treat yourself to a takeout meal once or twice a week but definitely get into meal prepping, if you go grocery shopping on a Sunday and meal prep for that week lunches and dinners it will save you quite a lot.
Also, save enough money for entertainment purposes because you need that social life to keep you going.
Being able to hang out with friends at the weekend is key when it comes to taking your mind off uni/studying and is a great way to keep you sociable too.
I'd say it's all about balance!
If you had to describe your student style in three words, what would they be?
Trendy, comfortable & feminine.
As I'm in dance uni we have to wear all black clothing, but I try to make it look nice by having a colourful trainer to go with my tracksuit.
When it comes to the weekends, I tend to wear more bright colourful clothing.
I am a very feminine and girly as a person so I love wearing skirts and dresses but, I do also love the comfy look as well.
I always think what you wear defines you and your personality, so wear whatever you feel is right for you and what you love best!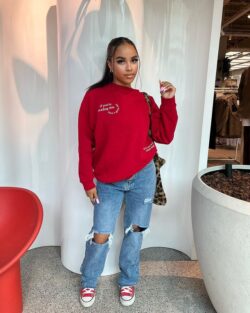 Let's talk looks!
With Halloween on the horizon, have you decided your costume yet?
Yes I absolutely love Halloween as it's also my birth month, so Halloween is one of my favorite times of the year along with Christmas.
This year I've got two costumes that I've ordered from PLT.
One is a playboy bunny and the other a cheerleader.
I want to spice it up by adding some fake blood and creating that zombie cheerleader look!
PRETTYLITTLETHING Black Sexy Cheerleader Costume
Black Bardot Sexy Rabbit Costume
Are there any Autumn trends you're seriously loving right now?
I'm absolutely loving thigh boots and cropped puffer coats!
As a petite person I've never been into long coats because I feel that it makes me look even more shorter so, cropped is a go-to for me.
I have been loving nudes, neutrals and brown tones lately, especially for autumn!
I feel it's the perfect time to go tonal.
Orange Point Toe Stretch High Stiletto Thigh High Sock Boots
Chocolate Faux Leather Elastic Hem Bubble Puffer
Black Faux Leather Pointed High Heel Over The Knee Boots
Do you have a throw on and go outfit?
Maybe for those early morning lectures or chilled out days.
My throw on outfit would definitely be baggy joggers and a crop top.
I'd wear them with a oversized hoodie and crocs or if needed, I would throw on my white air-forces – you can't go wrong with white air-forces.
I love the comfy look!
Sand Sweat Cuffed High Waist Joggers
PRETTYLITTLETHING Logo Cream Badge Detail Straight Leg Joggers
Ash Grey Sweat Cuffed High Waist Joggers
Is there a ride or die look you love for out out vibes?
An outfit that could take you from pre-drinks to bar effortlessly?
I would say a cute fitted mini dress or a corset top and mini skirt with some cute heels to go with.
Mid Blue Wash Belted Stretch Denim Micro Mini Dress
White Slinky Basic Low Rise Extreme Micro Mini Skirt
Do you have an ultimate fave 'fit?
Something you re-wear and re-style endlessly?
Baggy boyfriend jeans and a crop top is something I always re-style in many different ways.
I can style one pair of denim blue jeans a million times with different tops and coats!
Mid Blue Wash Split Hem Straight Leg Jeans
PRETTYLITTLETHING Light Wash Acid Mom Jeans
Mid Blue Wash Cargo Jeans Joggers
Be sure to keep a look out for October's student ambassador!
Check out more student content onsite here!
All about student style? We got you!