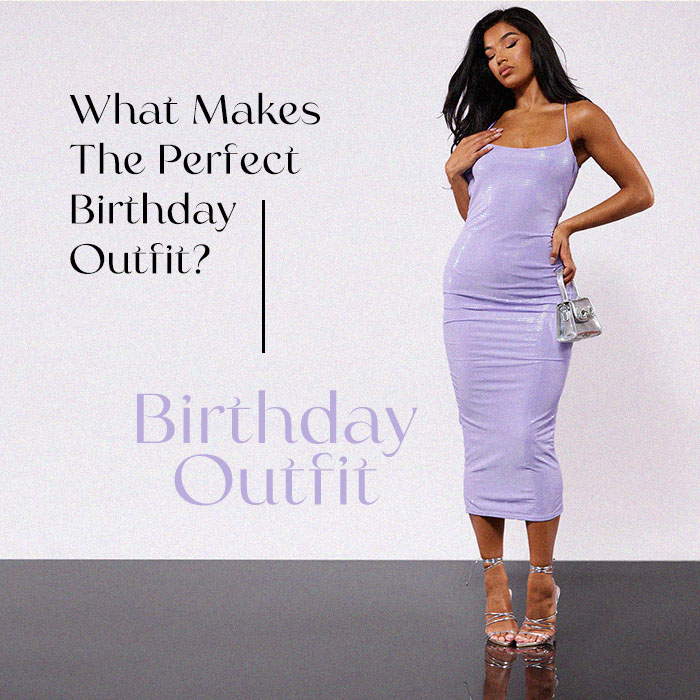 All eyes on you!
What Makes The Perfect Birthday Outfit?
No matter where you're heading or what you're doing, birthdays are the time to celebrate YOU!
Today we're sharing everything that makes THE perfect birthday OOTD as well as birthday outfits that'll leave you spoilt for choice.
The first step of finding the perfect birthday 'fit is finding an outfit to suit (we hate to say it) the season.
Although we hateeee to depend on the weather when planning celebrations it's important to know if a particular piece is going to be a key moment of your birthday look.
For example, you plan your entire birthday outfit around a dreamy trend-led faux fur coat – perfect for you AW birthday babes but a sudden sunny day and is all that outfit prep ruined?
Quite honestly, it depends how committed to the outfit (and Insta post) you are but why not prep in advance and avoid any last minute next day deliveries.
Autumn Birthday Outfits
Bright Blue Stretch Woven Split Hem Corset
Black Cinched Waist Panel Blazer
Winter Birthday Outfits
Black Velvet Bandeau Glove Detail Bodycon Dress
Black Sequin High Neck Long Sleeve Cut Out Split Hem Bodycon Dress
Spring Birthday Outfits
Lime Faux Leather Corset Top & Lime Faux Leather Split Hem Skirt
Lilac Glitter Cowl Back Halterneck Midaxi Dress
Summer Birthday Outfits
White Overlay Detail Pintuck Sleeve Oversized Blazer Dress
White Poplin Bardot Twist Front Crop Blouse
Similar to seasonal birthday dressing, birthday plans are a huge factor when it comes to finding the perfect birthday outfit.
Stilettos for bowling? Maybe not but bottomless brunching with the girls – the higher the heel, the better.
We've rounded up some of the go-to brithday plans and done the outfit planning for you (you're welcome).
Simply add to bag and prep to show up in style come your birthday!
Lime Slinky Side Cut Out Strappy Maxi Dress
Black Faux Leather Seam Detail Split Hem Trousers
Black Split Hem Fold Over Waist Skinny Trousers
PRETTYLITTLETHING Green New Vibe Embroidered Acid Wash Sweatshirt
Charcoal Fleece Binding Crop Sweatshirt
Rust Textured Strappy One Shoulder Wrap Midi Dress
Blue Satin Draped Bardot Midi Dress
Charcoal Grey Pocket Side Coated Wide Leg Cargo's
Black Twill Buckle Detail Straight Leg Cargo's
Cream Sheer Ribbed O Ring Bikini Top
Black Crinkle Rib Cut Out Side Bandeau Crop Top & Black Crinkle Rib Cut Out Side Flared Trousers
Mid Blue Wash Belted Stretch Denim Micro Mini Dress
Finally, if you're all about fashion trends then of course you're going to want to add a trend aspect to your look.
Whilst we see some trends reappear each season (faux leather we're looking at you), some trends are not as predicable.
Good news is, here at PrettyLittleThing we have you covered when it comes to the hottest trends of the season.
Chocolate Brown Faux Leather Seam Detail Sleeveless Mini Dress
Shape Black Embossed Cut Out Faux Leather Bodycon Dress
Black Woven Multi Lace Up Corset
Dark Green Woven Oversized Suit Jacket & Dark Green Woven Double Belt Loop Suit Trousers
Blue 5 Pocket Stretch Flared Jeans
PRETTYLITTLETHING Black Faux Leather Oversized Bomber Jacket
Plus Green Stripe Trim Contrast Sleeve Satin Cropped Varsity Bomber
Chocolate Satin Corset Detail Cargo Pocket Jumpsuit
Mocha Pocket Detail Cargo Shorts
For you Spring/Summer birthdays, the NYFW trends will give you a preview of the looks we'll be loving during SS23. Think pastel faux leather, loud neon's and next level textures!
Feeling inspired? Check out more birthday outfit inspo here.
Love all things zodiac? We got you!