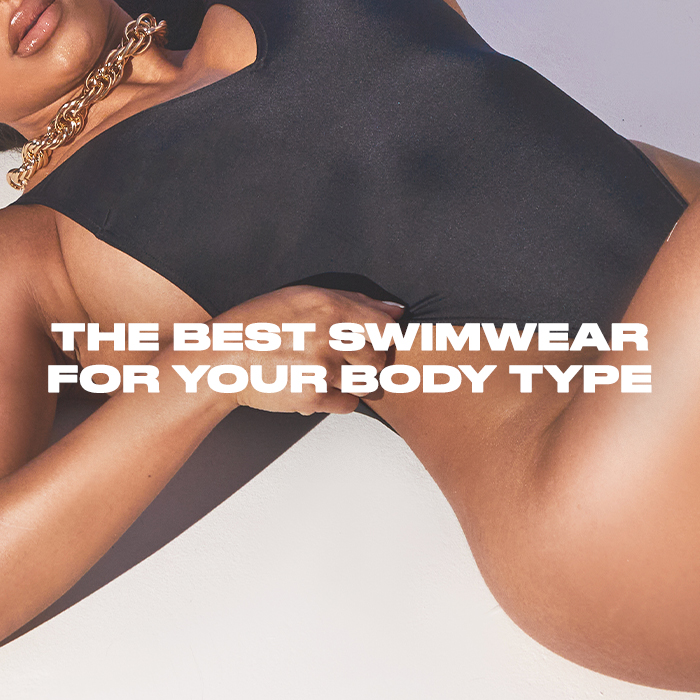 Reminder: Doll, your body is always beach ready.
The Best Swimwear For Your Body Type
With the warmer weather fast approaching (manifest, manifest, manifest) and the girls holiday plans being bounced around the group chat, swimwear planning can be both exciting and a little daunting. This post is dedicated to taking away the frustration of finding your perfect fit and aims to get you out of your lockdown-funk. Want to know the best swimwear fit for you – read on doll.
How to get a bikini body: 1. Put a bikini on
Lockdown hasn't been easy, and some of us have forgotten how to embrace our figures due to the endless stream of loungewear we've all been fashioning over the past few months. When it comes to body confidence and relationships with ourselves it can be tough and confusing, and, sometimes we can all be our own worst enemy. Here at PrettyLittleThing we stand for #EveryBODYinPLT and an important quote you need to remember is:
"In a world where you can be anything, be kind to yourself."
No one has time for body-shaming and you best believe 2021 is the year of female empowerment. Don't forget, in the words of the queen herself – "If you've got it flaunt it".  From athletic frames to curvy body types, it's time to embrace your favourite assets and we've got you covered.
Pear Shapes
If you have a beautiful pear-shaped figure, your hips are wider than your upper body. One of the best ways to create balance for a pear shape with swimwear is to take a standout top – think block colours, ruffles, cut-out designs – and some simpler high waisted bottoms. The idea is to draw attention around your mid-section to help emphasise your stunning curves. This two-piece peach bikini is perfect for you doll, team with some statement sunnies and sandals for a look that is sure to steal all the poolside stares.
Peach Tie Front Frill Plunge Bikini Top
Apple Shapes
Another fruit comparison, really? We move. Having an apple-shaped body type means you have a less defined waist and narrower hips with a larger bust and broader shoulders. Our aim is to elevate your confidence in a swimwear style you adore. Statement prints and ruched detailing help to accentuate your waist. Tip: try a thicker strap for additional bust-support. Turn-heads with our pick in this swimsuit with high-waisted bottoms and bust detailing in a black hue to show-off what your mama gave you. Add a tie-waist kimono and heeled sandals for a fiercely-feminine vibe. This 'fit is perfect for your next vacay – or staycay – we're easy!
Plus Black Frill Edge Ring Detail Swimsuit
Fuller Bust
Doll, we are so over sacrificing style for support. So, this new season get ready to amp up your vacay wardrobe and feel confident this summer knowing we've got you covered (no pun intended – honestly). This yellow hue bikini combo offers an underwired fuller-bust design and cup detailing and is the perfect poolside companion. As well as earning yourself some serious style points, you can step out onto the beach feeling confident knowing you've nailed the fuller-bust look.
Yellow Underwired Fuller Bust Cup Bikini Top
Small Boobs
Whether you're looking to give your bust a boost or take inspo from an iconic *teeny tiny* Victoria's Secret number – you're in the right place. A smaller bust requires less support, this makes you a versatile queen and gives you the luxury to play about with different styles and designs. Add a pop of dreamy pastels and make the most of a bandeau style with our pink two-tone bikini pick, or wanting to add an illusion of a fuller-bust? Add a little oomph with this on-point olive padded bikini. Either way, just add some statement sunnies to look #GOALS.
Pink Two Tone Crinkle Bow Bandeau Bikini Top
Olive Ruched Cup Padded Triangle Bikini Top
Hourglass Shapes
Get ready to flaunt those curves doll. Blessed with an hourglass figure? You know the one. An hourglass shape involves small waists with fuller busts and wider hips, a dream right? Whether it's a silhouette-enhancing swimsuit or high-waisted bottoms to show off your waistline, you are sure to find the perfect fit for your stunning figure. Try a ruched detailed swimsuit with a side high rise and a splash of colour for a statement poolside look we are obsessed with.
Shape Aqua Ruched Side High Rise Swimsuit
Bigger Bums
It's time to show off your ass – sets. I'm going to keep it short and simple here dolls – high. rise. bottoms. These are sure to give your peach a fuller, rounder look with a lifting effect.  Less is definitely more, right? We've got your back *wink wink*.
Athletic Figure
The 'straight up and down' athletic body type is a dream to style as the possibilities are endless. This is because the even proportions make achieving balance simple. From waist accentuating styles to comfy fits, you have the ability to play around with different styles to find the must-have look for you. Team some high waisted bottoms to snatch in your waist with a ruched detail bandeau bikini top for added definition and be at the top of our new-season swimwear hit list.
Brown Tortoise Print Ring Centre Bandeau Bikini Top