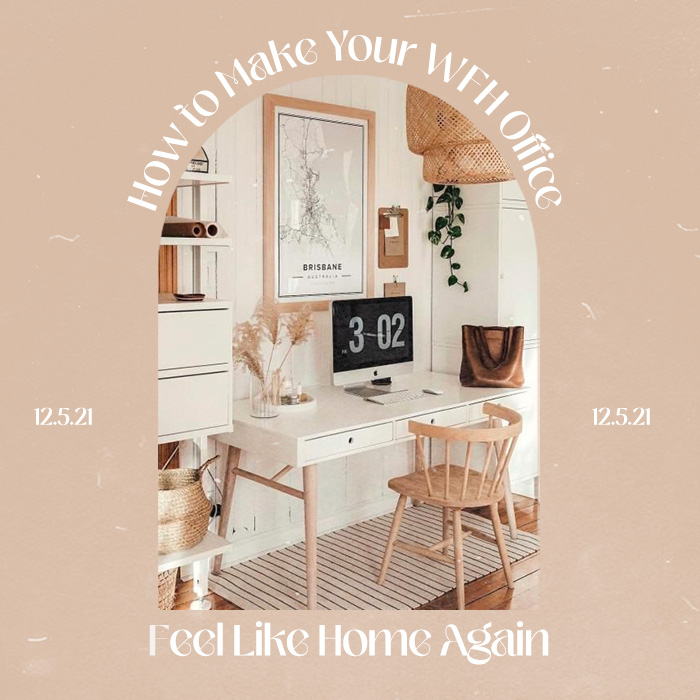 After the craziest year of our lives, we've had to adjust our norm from heading into work everyday to now switching up our homes into makeshift offices. However, with lockdown restrictions lifting and normality rearing it's beautiful head, it's time to reclaim your space and make it feel like home again!
Whether you're one of the lucky ones who has a study/home office, or if you've been hunched over the kitchen table, an overdue spruce up is needed on the spaces we've been referring to as 'work' for a solid 12 months.
Tips To Make Your WFH Office Feel Like Home Again
If you're struggling for inspo or just want freshen up your home, PLT Homeware is here to the rescue!
Peep below some of our top tips on reclaiming back your WFH office and creating a space you're able to relax in again.
Unless you've been living under a rock then you'll have seen the incredible candle trends that have taken the 'gram by storm and we 100% get why!
A statement candle is the perf addition to reclaiming your home back – they smell amazing (whether you burn them or not), come in countless styles and colours and they look AMAZING.
Whether you're opting for a single design or a collection of unique styles, these candles are a must-have to dress up your old work space and add a seriously chic touch!
Peep below some of our fave statement candles or shop the whole collection HERE.
SHOP WHITE FULL BODY LARGE CANDLE
SHOP BLACK FLOWER PILLAR VANILLA SCENTED CANDLE

Simple but so effective, artwork and prints are our go-to for any room transformation!
No matter if you're after a quote or pun, a pop of colour or neutral – prints add so much character to a home and are a lovely way of reflecting your personality!
Not only that, but choosing a frame to compliment your print is also key and can completely transform a previously drab wall – you're welcome x
We're obsessed with the below pieces, but check out our collection of prints HERE.
SHOP DARLING A4 REC YCLED PEECHY PRINT
SHOP SKETCH FEMALE BOOTY A4 PEECHY PRINT

Similarly to prints, adding statement accessories to your make-shift office are a fab way of reclaiming your space and making it feel homey.
Whether you're opting for a statement mirror, some gorg display storage or even treating yourself to a brand new vase, home accessories are a GAME CHANGER.
Accessories are also the perf way to upgrade your space without the huge price tag of repainting the walls and wanting to buy all new furniture which we love.
If you haven't already, check some of our fave home accessories out below or shop the entire range HERE.
SHOP BLACK RATTAN STARBURST MIRROR

Level up your comfort game by swapping your old, office pillow for something fresh and new!
If you're anything like us, our once fave cushions have turned into back support after hours sat at the kitchen table WFH and babes, it's time for an upgrade.
Treat yourself to some new cushions to add a fresh take on your space as we approach the summer months, lighter tones are amazing for this!
Rugs and throws are another perf soft furnishing addition and will help break up your space from a DIY office to a cosy room to wind down in.
Whether you're wanting the odd item or a complete upgrade, our collection of cushion and throws will have you adding to bag in seconds – shop HERE!
SHOP WHITE SILHOUETTE REPEAT CUSHION
SHOP GREY FAXU FUR RECTANGLE RUG
SHOP BLANCA TUFTED DIAMOND CUSHION
SHOP GREY DIAMOND TASSEL THROW

Can you ever have too many plants? No, no you can't tysm x
Whether you're opting for the artificial vibes or not, a touch of nature brings so much life to any room and buying fake means no upkeep – WIN!
There's so many options when it comes to plants, from pampas to petunias, hyacinths to hydrangeas you can do so much to a room by simply adding a bunch of faux flowers.
Vases and planters are also a super fun way to add character to your space and the options are literally endless! Shop our range or artificial plants HERE.
SHOP ARTIFICIAL FLOWER SINGLE GYPSOPHILA
SHOP ARTIFICIAL FLOWER SINGLE STEM CHRYSANTHEMUM
SHOP ARTIFICIAL FLOWER SINGLE HEADED VIBURNMUM
SHOP WHITE ARTIFICIAL SINGLE FAUX PAMPAS GRASS
Is there anything that can switch up the vibes of a room like a gorg fragrance?!
From candles to diffusers, room fragrance can completely transform your space and make it whatever you want it to be!
Whether you're switching up your fragrances based on the seasons or repurchasing the same scent you've been obsessed with forever, there really is nothing like a beaut scent to reclaim your space.
Maybe you want the largest candle with as many wicks as possible or need something pet friendly and slightly less of a fire hazard, we have all the options to add a fresh touch to your home without having to spend all your coin! Shop our range of home fragrances HERE.
SHOP WOODWICK THREE WICK TUMBLER SMOKED VANILLA
SHOP PLT BLACK OUD SCENTED GLASS CANDLE
SHOP YANKEE CANDLE HOME INSPIRATION REED DIFFUSER COSY UP
SHOP GREY PURIFY BALANCE ESSENTIAL OIL DIFFUSER

Shop all homeware here.