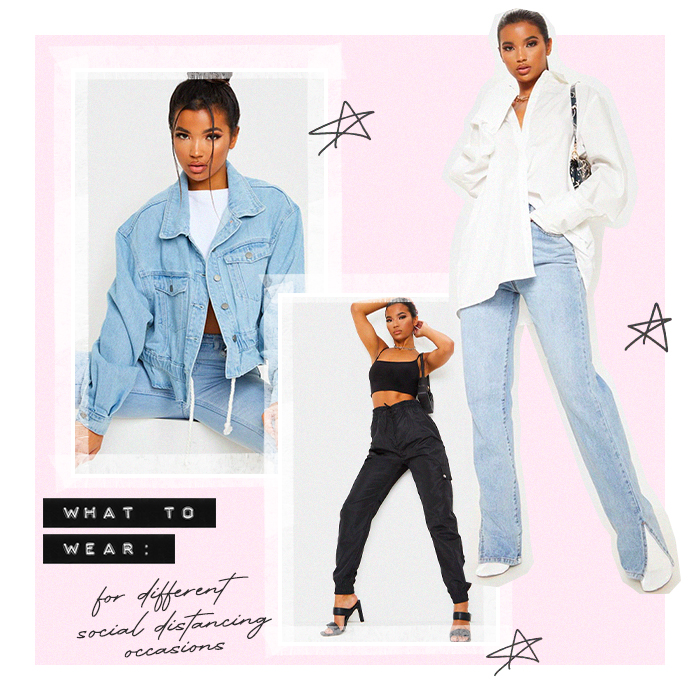 All dressed up with no place to go? We feel you. It's safe to say, this is not how we thought 2020 was going to go for any of us. With the majority of plans and social occasions well and truly on pause for the foreseeable future, we're seriously missing getting all dressed up. But hey, hear us out. Social distancing measures under lockdown can still come with a variation of dress codes as we adapt to this new routine.
WHAT TO WEAR FOR DIFFERENT SOCIAL DISTANCING OCCASIONS
From working from home to working out, we're here to serve you up some inspiration on how you can bring a little joy to life right now with what you wear. To keep your outfit rotation feeling fresh, we've put together our favourite looks for all the different social distancing occasions you've got going on right now.
WORKING FROM HOME
If you have the luxury of working from home right now, what you wear plays a big part in keeping you productive and feeling motivated throughout the day. Whilst comfort is still key here, it's good to keep a little bit of a sleek business vibe going on to help you feel more put together. Opt for an easy to wear, oversized shirt to throw on over your casual loungewear pants and consider the job well done.
Shop The Shirt Shop The Trousers Shop Trainers



THE SUPERMARKET RUN
Let's face it, any trip to the supermarket these days is likely to involve a whole lot of queuing. With this spring weather being as temperamental as our own moods right now as we get through this lockdown – layering will be key here. Dress up your loungewear with an effortless knit to keep you cosy, accompanied with a longline coat you can throw on and go is an easy combo when it comes to nailing this social distancing look.
Shop Coats & Jackets  Shop Jumpers Shop The Joggers



QUIZ NIGHT
Ain't no party like a virtual party, are we right? It's safe to say the only social hangouts we're getting involved in right now are all taking place virtually. For these must RSVP social distancing occasions, we're feeling party on the top and business (of the lounging nature) on the bottom. Introducing the joggers and a nice top concept; a key hybrid of comfort whilst still looking on-point.
Shop The Bodysuit  Shop All Joggers  Shop The Earrings



THE DAILY WALK
Possibly the new favourite time of the day for most of us, when it comes to getting that much needed dose of fresh air from the daily walk around the block. Whether your neighbourhood walk is suburban, a cityscape or country, we're feeling this breezy outfit choice to unleash all those spring feels. Never have we appreciated the simple things in life, such as fresh air and the April sun on our skin, more.
Shop Denim Jackets Shop Jumpsuits Shop Flat Sandals



WORKING OUT
Whether you're usually a die-hard gym goer or not, getting your body moving by injecting some much welcome exercise into your new routine will be essential right now. Helping to quieten anxiety and lift your mood, any form of working out will be crucial in these current stressful times. We're feeling this tie dye set to bring good vibes to our activewear attire, while we work on releasing those happy endorphins.
Shop Activwear Shop Leggings Shop The Trainers



Want to create your own social distancing looks? Shop new in.