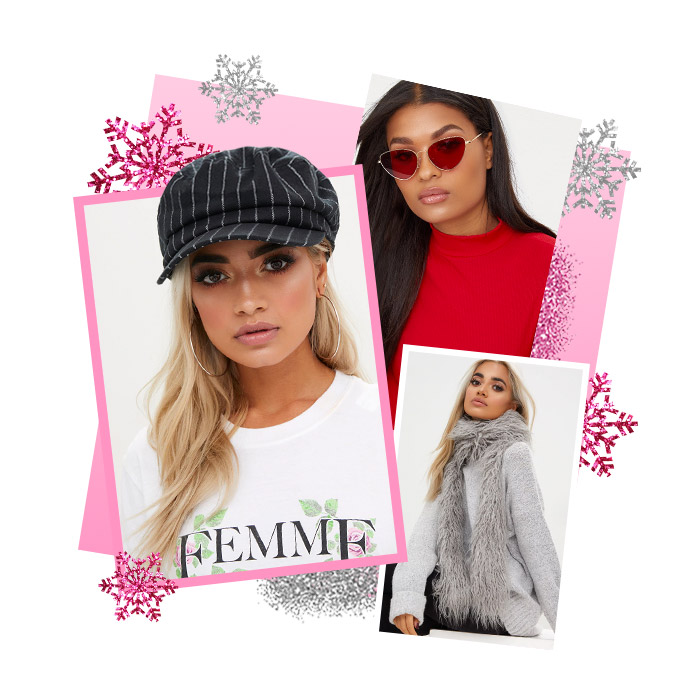 Winter is upon us girl, so it's time to start thinking about switching up our wardrobes and investing in some hella cute accessories for some extra warmth. Let's face it, that new puffer jacket you just spent last months wage on ain't gonna be helpin' you escape the bitter cold all over.
Winter Accessories To Transform Your #OOTD
It is totes essential to layer up with accessories and we sure don't believe in sacrificing major style points because a little ice layin' around. So get ready to brave the cold in style because your outfit gonna be on-point fo' sure.
Whether you're getting ready for your daily commute to the office or going brunchin' with the gals, a scarf is a total essential for keeping your neck warm. We are crushin' on this faux fur scarf right now, it's soft grey faux fur is sure gonna keep you feelin' cosy and warm. This scarf is a tradish staple for everyday use, with its versatile colour you can team it with anything. Get ready to flick that scarf around like the sass queen you are.
The hottest accessory of the fall season and the one all those insta bloggers are wearing; The Baker Boy hat. I can promise you, add a baker boy to your minimal AW winter outfit and it will make a WHOLE lotta difference. It can turn a basic bae outfit into edgy chic & picture perfect in seconds. This striped baker boy is everything we're lovin' and more, it's a style that all those IT girls are currently strutting their stuff in. Trust me on this, a Baker Boy gon' change your life for the better. I mean, we love that Peaky Blinders 20th Century look right?
Whoever said sunglasses were just for the summer? We're lovin' them in the winter too for blocking out those haters. Yaass, these retro sunglasses are perfect for any season and this red tinted lens adds a little extra to any off-duty look. Ain't nothin' subtle about these sunnies and we still gotta keep protected from those UV rays when that snow decides to fall (we're hoping for a white Christmas).
The beanie is a necessity for those colder days but who said it had to be basic? This not-so-basic beanie is gonna keep your head warm whilst your feelin' boujee. Have some fun girl, mix and match your styles and play around to create a boss girl look. Maybe pop on for your commute to the office? A shopping trip with the girls? Or simply lookin' for that little extra for your day-to-day outfit… The ways to slay are endless.