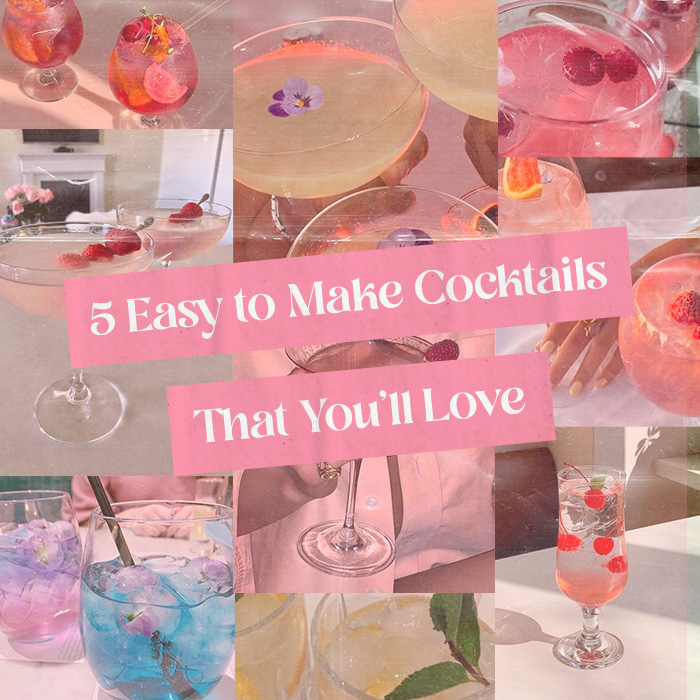 With the promise of a heatwave on the way, now is the perfect time to prep those summer cocktail recipes!
5 Easy To Make Cocktails That You'll Love
We all love a cocktail or two with the besties, but your go-to bar orders are probably much easier to make at home than you think. Today we are sharing five easy cocktails to try at home.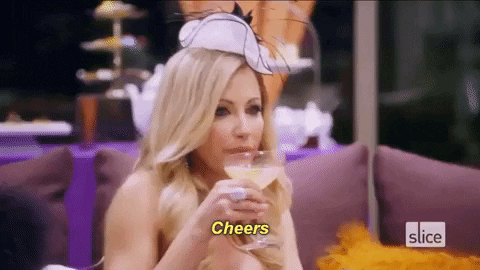 Passion Fruit Martini
A classic, a passion fruit martini is such a go-to drink! Plus, good news as they are SO easy to make at home.
You'll need:
2 ripe passion fruits (they should have a crinkly appearance), halved
60ml vanilla vodka
30ml passoa
1 tbsp lime juice
1 tbsp sugar syrup
prosecco, to serve
Scoop out the seeds from one of the passion fruits into a cocktail shaker, add the vodka, passoa, lime juice and sugar syrup. Add a handful of ice and shake well, strain into 2 martini glasses, top up with prosecco, then add half a passion fruit to each. Next step.. Serve it up!
All the aesthetics with a Pink Lady!
If you're a gin lover then keep on scrollin'.
You'll need:
100ml London Dry gin
4 tsp grenadine
ice
1 large egg white
2 strips of pared lemon zest and 2 maraschino cherries, to garnish (optional)
Start your prep by putting your cocktail glasses in the fridge to chill. Pour the gin and grenadine into a cocktail shaker, then fill with ice. Shake until the outside of the shaker feels ice-cold. Strain the mixture into a jug, discarding the ice.
Tip the egg white into the shaker and pour in the gin mixture. Shake well until the egg white is frothy, you can also do this in a food processor or using a hand blender. Pour the cocktail into the prepared glasses. Skewer the cherries onto cocktail sticks, if using, then use to garnish the glasses along with the lemon zest.
For extra deets why not opt for the addition of edible flowers? Insta goals at home.
Bloody Mary
Well known for being the ultimate hangover cure! Brunch vibes at home, we're in.
You'll need:
large handful of ice
100ml vodka
500ml tomato juice
1 tbsp lemon juice, plus 2 slices to serve
few shakes of Worcestershire sauce
few shakes of Tabasco (smoked Tabasco is a good option)
pinch celery salt
pinch black pepper
2 celery sticks, to serve
Begin by placing the ice into a large jug. Measure the vodka, tomato juice and lemon juice and pour it straight onto the ice.
Add 3 shakes of Worcestershire sauce and Tabasco (or more if you like it very spicy) and a pinch of celery salt and pepper. Stir until the outside of the jug feels cold, then strain the cocktail into 2 tall glasses.
Top up with fresh ice, add a celery stick and lemon slice to both glasses and simply get sippin'.
Rumberry Punch
A summer garden party essential!
You'll need:
350ml dark rum
1l cranberry juice
1l ginger ale
Chill the rum, juice and ginger ale until nice and cold. Pour everything into a punch bowl, or divide into jugs, top up with lots of ice and serve.
Simple yet stunning!
Mojito
A true summer vibe!
You'll need:
juice of 1 lime
1 tsp granulated sugar
small handful of mint leaves, plus extra to serve
60ml white rum
soda water, to taste
Start by mixing the lime juice, sugar and mint leaves in a small jug, crushing the mint as you go, you can use the end of a rolling pin for this. Pour into a tall glass and add a handful of ice.
Next simply pour over the rum, stirring with a long-handled spoon. Top up with soda water, garnish with mint and serve.
All recipes via. BBC Good Food with even more cocktail inspo here.