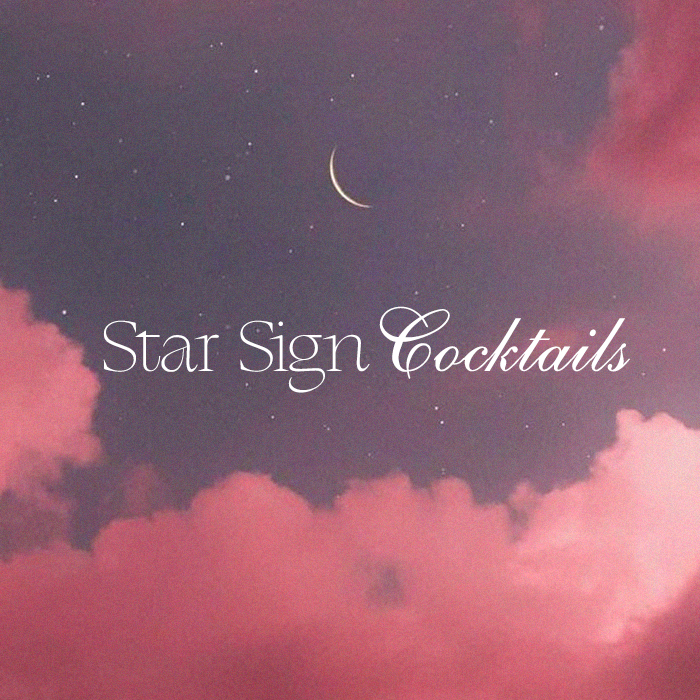 Cheers to bank holiday Monday!
Your Summer Cocktail Based On Star Sign
Summer cocktails are officially on order and what better way to decide a new fave flavour than based on star sign? Hint of spice for you Scorpio's. Floral and fruity for the IG obsessed Taurus…
Whether you're wondering what your own would be, want to save the recipes for your next party or bank the idea for your next themed get together – here are 12 delicious cocktail recipes as based on zodiac.
VIRGO (AUGUST 23-SEPTEMBER 22)
Pink Gin Spritz
Practical and perfect for al fresco plans.
• handful of ice
• 50ml rose-flavoured gin
• 35ml lychee liqueur
• sparkling water, for topping up
Start by filling a highball glass with ice.
Pour over the gin and lychee liqueur, then top up with sparkling water.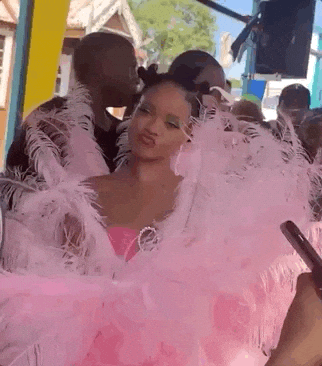 LIBRA (SEPTEMBER 23-OCTOBER 22)
Watermelon Daiquiri
You love making a statement Libra so go all in with this dreamy daiquiri.
• ice
• 50ml white rum
• 25ml watermelon liqueur or watermelon-flavoured spirit, such as gin
• 10ml lime juice
• 100g watermelon, plus a wedge to garnish
Put a handful of ice in a blender suitable for crushing ice, along with the rum, watermelon liqueur, lime juice and watermelon. Blend until just smooth.
Fill a glass with ice, pour over the daiquiri and garnish with a wedge of watermelon.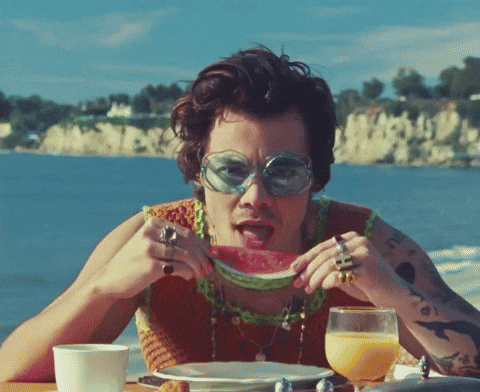 SCORPIO (OCTOBER 23-NOVEMBER 21)
Spicy Margarita
Something with abit of a kick for you feisty Scorpio's!
• 150ml tequila
• 75ml triple sec
• 25ml chilli syrup
• 25ml mango juice
• 25ml lime juice
• handful of ice
For the salt rim
• small handful coriander, leaves picked and finely chopped
• ½ lime, zested
• 2 tsp sea salt flakes
• 2 tsp golden caster sugar
• ½ tsp chipotle chilli flakes
Start by putting the sliced chilli and sugar in a saucepan with 50ml water.
Bring to a simmer over a low- medium heat, stirring until the sugar has dissolved. Turn off the heat and leave to cool completely.
For the salt rim garnish, mix all the ingredients together and tip onto a shallow plate.
Brush the rims of four glasses with a little water, then dip the rims in the chilli-salt mixture. Set aside while you make the margarita.
Tip all the cocktail ingredients into a large cocktail shaker or blender and shake until the outside of the shaker feels cold, or pulse three times to combine.
You want to chill & dilute the drink, but not completely crush the ice.
Fill a large jug and the prepared glasses with ice cubes, then strain the cocktail into the jug and stir well before pouring in.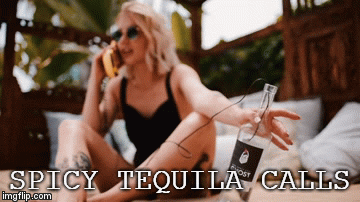 SAGITTARIUS (NOVEMBER 22-DECEMBER 21)
Blueberry Mojito
A fun take on the classic Mojito. Delish!
• 100g blueberries
• 3 lemons , chopped
• 2 tbsp granulated sugar
• 2 mint sprigs , leaves picked
• 350ml white rum
• 600ml sparkling water
Put the blueberries, lemons and sugar in a jug and muddle.
Bruise the mint leaves and add them to the jug with lots of ice.
Pour over the rum and sparkling water and stir together.
CAPRICORN (DECEMBER 22-JANUARY 19)
Mango Mimosa
We know you're all about the hustle Capricorn but take a step back and simply sip in style.
• ½ a very ripe mango
• champagne
Peel and chop the mango and put it into a blender with 100ml champagne.
Blend to a smooth purée, then divide between two champagne flutes.
Top with more chilled champagne, pouring it slowly to avoid overflowing, then simply serve.
AQUARIUS (JANUARY 20-FEBRUARY 18)
White Wine Sangria
Add your own Aquarius flair with a floral twist. Perfect for sharing with the girls!
• 2 bottles white wine
• 300ml ginger wine
• 80ml elderflower cordial
• 4 limes , thinly sliced into rounds
• 3 peaches , sliced
• large handful raspberries
• ice
• 1l sparkling water
• edible flowers (optional)
Put all the ingredients (except the ice, water and flowers) into two large jugs and put in the fridge for at least 1 hr to chill.
Just before serving, top up with the ice and water. Add a few edible flowers in the jug for major Insta goals.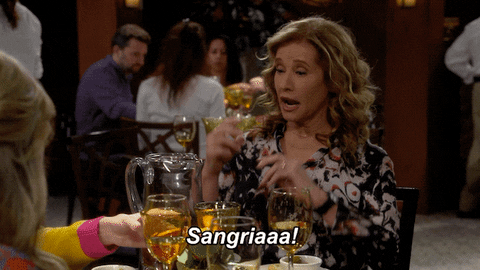 PISCES (FEBRUARY 19-MARCH 20)
Cherry Bakewell Crush
Something a little more imaginative, kitsch and cute!
• ice
• 100ml amaretto
• 50ml cherry cordial
• 1 tbsp lemon juice
• 300ml good-quality lemonade, (still or sparkling)
• maraschino cherries, to serve (optional)
Fill two tall glasses with ice cubes. Combine the amaretto, cordial and lemon juice in a small jug, then divide between the glasses.
Top with lemonade, then stir well. Garnish with a maraschino cherry.
ARIES (MARCH 21-APRIL19)
French Martini
You like what you like and we get it, Aries.
French Martini's are such a vibe, classic yet iconic!
• 40ml vodka
• 20ml Chambord liqueur
• 60ml pressed pineapple juice
• pineapple wedge, to serve
Shake the vodka, Chambord and pineapple juice with ice really hard until the pineapple juice froths up a bit, then strain into the glass.
Garnish with the pineapple wedge.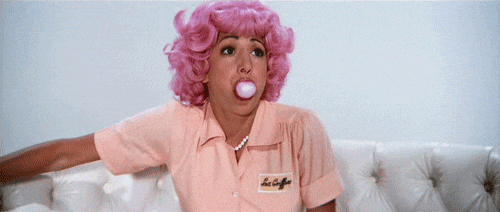 TAURUS (APRIL 20-MAY20)
Frosé
Named as the most chic drink of the summer..
Not only stunning but all about the aesthetic, meaning it's perfect for your Insta feed too – cheers to having it all, Taurus!
• 1 bottle dry rosé
• 300g strawberries , hulled and halved
• 50g caster sugar
• juice of 1 lemon
Pour the bottle of rosé into a deep roasting tin and carefully put it in the freezer overnight.
The next day, mix the strawberries with the sugar and leave to sit for 30 mins until the strawberries begin to release their juices.
Blend the frozen rosé, strawberries, sugar and lemon juice together, then divide between glasses for the ultimate refreshing summer Frosé.
GEMINI (MAY 21-JUNE 20)
Peachy Summer Punch 
You're a social butterfly and this playful take on summer punch is going to level up your dinner party plans Gemini.
It's confirmed, host with the most!
• 4 tbsp caster sugar
• zest and juice 1½ lemon
• 750ml bottle rosé wine
• 150ml peach schnapps
• 1 peach , sliced
• 1⁄2 lemon , sliced
• ice cubes
• 1l bottle of soda water or tonic
Heat the sugar with the lemon zest and 100ml water until the sugar dissolves.
Cool, pour into a jug and add the wine, lemon juice and schnapps.
When ready to serve add plenty of ice and the fruit and top up with the soda or tonic to taste.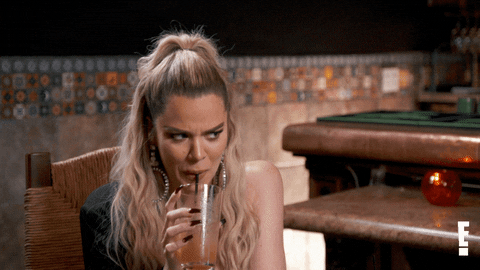 CANCER (JUNE 21-JULY 22)
Strawberry Gin 
We know you love a challenge, Cancer!
DIY your own gin to make for the perfect cocktail ingredient. Time is key on this one.
• 700ml bottle of gin
• 400g punnet of strawberries, sliced
• 100g caster sugar
Mix the gin with the strawberries and caster sugar in a large bowl and pour into a 1.5-litre sterilised Kilner jar.
Store in the fridge and stir every two days for three weeks. Strain though coffee filters or muslin cloth to serve.
LEO (JULY 23-AUGUST 22)
Frozen Margarita
Did someone say Tequila?
You bring the energy, always! Seriously Leo, we don't think any other drink would do…
• 50ml tequila
• 25ml triple sec
• 25ml lime juice
• 15ml sugar syrup
• large handful of ice
• wedge of lime , to garnish
Put all the ingredients except the lime wedge in a blender and blitz until smooth.
Tip into a cocktail glass, garnish and serve.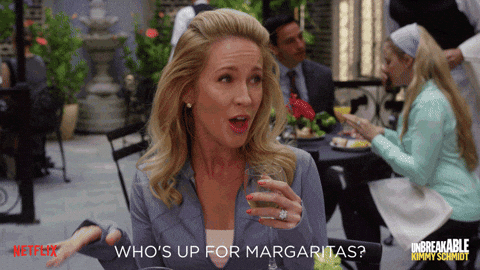 All cocktail recipes originally scoured from BBC Good Food.
However you're spending bank holiday, have the best time!
If having more of a chilled day (or are slightly hungover), why not spend it setting your monthly goals?