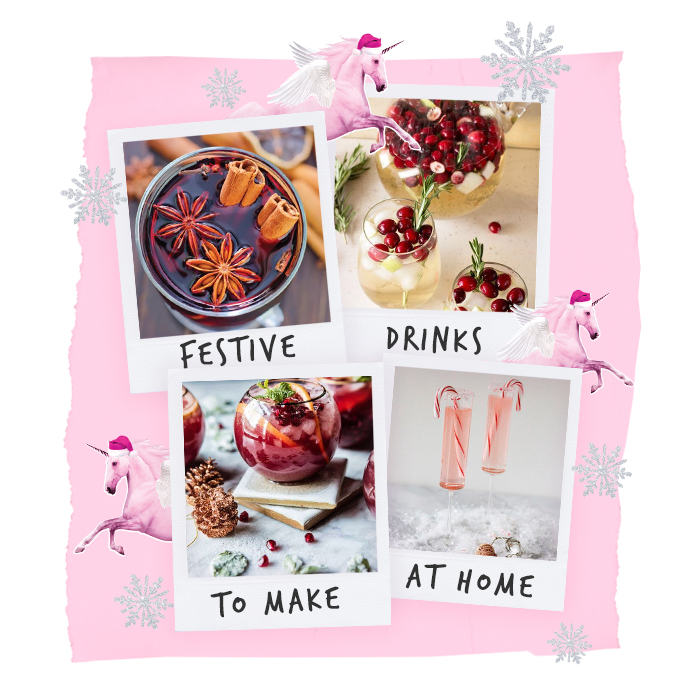 'Tis the season to be merry and here we bring you some festive Christmas cocktail ideas that will get those taste buds popping. Get ready to treat yourself this Christmas with some of our favourites.
Christmas Cocktails To Make At Home
Salted Caramel White Russians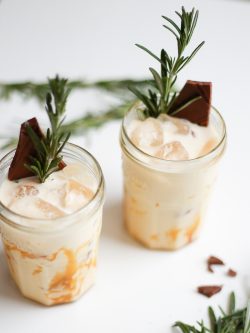 Ingredients
Salted caramel sauce
Ice
25ml (one shot) Salted Caramel Irish Cream
25ml Amaretto
75ml (3 shots) of half and half (milk and cream)
Method
Take the caramel sauce and use a teaspoon to slightly drizzle it in the glass, whilst slowly turning the glass so you get a nice swirled effect. Fill the glass with ice and then add your liquid ingredients to your cocktail shaker, along with a few cubes of ice. Shake well and strain into glass. Garnish with some chocolate, mint or even a candy cane! Yum.
The North Pole Cocktail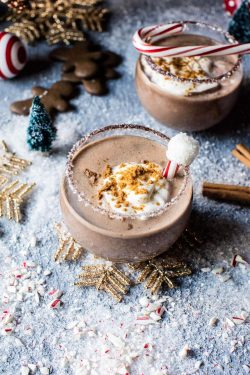 Ingredients
4 ounces vodka
2 ounces Kahl or more to taste
4 tablespoons chocolate syrup
1 teaspoon vanilla extract
3 teaspoons molasses
1/8 teaspoon ginger
1/2 cup heavy cream or whole milk
candy canes and gingerbread cookies, for serving
Method
In a cocktail shaker combine the vodka, Kahl, chocolate syrup, vanilla, molasses, and ginger. Shake until well combined. Add ice and shake again. Strain into 4 glasses. Top off each glass with heavy cream and garnish as desired. Perfection.
Pomegranate Ginger Paloma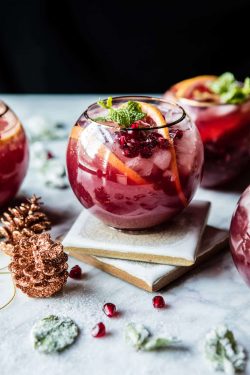 Ingredients
2 cups grapefruit juice
1/2 cup lime juice
1/2 cup ginger syrup or to taste, recipe above
1 1/2 cups silver tequila or to your liking
4 cup pomegranate juice
ginger beer for topping
Method
In a large pitcher, combine the grapefruit juice, lime juice, ginger syrup, tequila, and pomegranate juice. Chill until ready to serve. Pour over ice and top with ginger beer. Yes please!
White Christmas Margarita Punch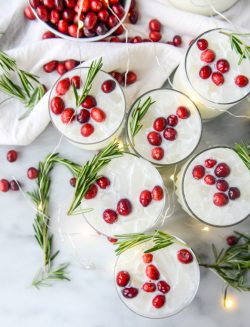 Ingredients
10 ounces silver tequila
8 ounces grand marnier, 8 ounces lime juice
8 ounces coconut water, 8 ounces canned coconut milk
6 ounces coconut cream, 6 ounces coconut rum
6 ounces simple syrup
1 teaspoon coconut extract, if desired
for garnish: sprigs of rosemary and fresh cranberries
Method
Mix all ingredients together in a large measuring glass or bowl and whisk it as opposed to shaking it. If desired, you can add 1 to 2 teaspoons of coconut extract for more islandy coconut flavour! Taste and add more syrup if you'd like more sweetness. A perfect Christmas drink.
Holiday Mule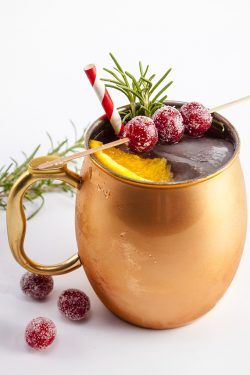 Ingredients
1/2 oz simple syrup
1/2 oz unsweetened cranberry juice
1 1/2 oz gin or vodka
2 oz chilled ginger beer
1 rosemary sprig
orange slice, for garnish
sugared cranberries, for garnish
Method
Combine simple syrup, cranberry juice, and gin. Pour over ice and top with ginger beer. Serve garnished with rosemary, orange wedge, and sugared cranberries, if desired.
Enjoy
x