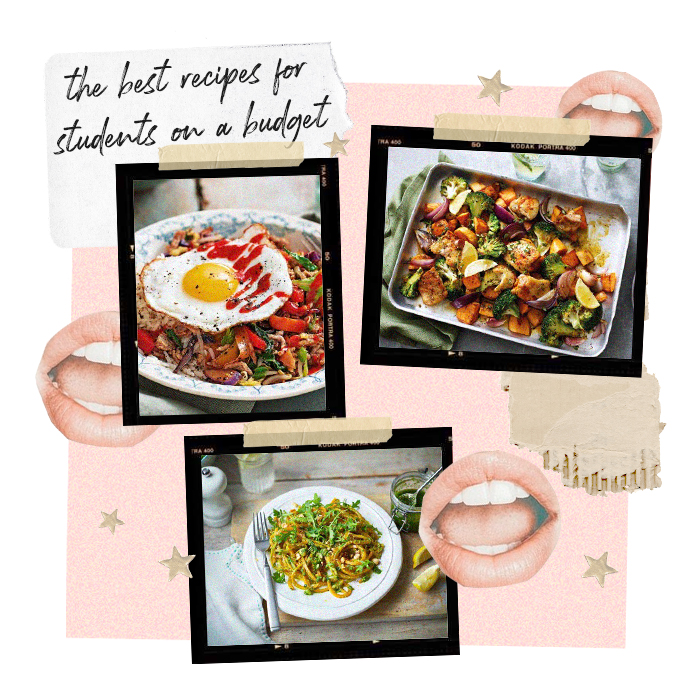 Whether you're a fresher or heading back to uni for another year, getting that work play balance ain't easy. That's why it's important to fuel up right for those long mornings in lectures and those long nights at the club.
The Best Recipes for Students on a Budget
Eating right and maintaining those energy levels doesn't have to break the bank, so here are the best recipes for student babes on a budget.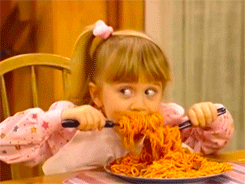 #1 Korean-style rice bowl
Top up on your veggies this brightly coloured chilli stir-fried pork dish. All you need in pork mince, a handful of your favourite veg, some long grain rice and chilli sauce to drizzle.
Here's how to whip it up:
#1 Cook your rice according to packet instructions and in a large wok, heat 1tbsp of oil and stir-fry the mince for between 5 and 7 minutes, until crisp and golden.
#2 Add your veggies to the wok with a splash of water and cook for a further 5 minutes until the pork is tender.
#3 Stir in your chilli sauce and season!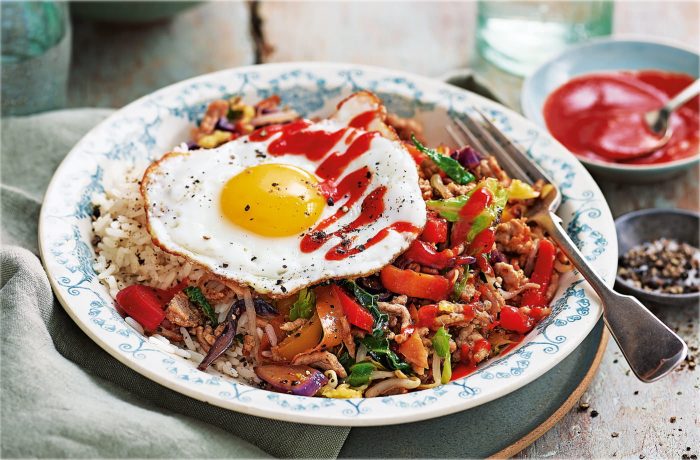 #2 Sweet potato and chicken traybake
Traybakes are super easy to make and require less washing up, big bonus. Here's how to make a delicious sweet potato and chicken traybake that'll feed you and all your uni pals.
#1 Preheat your oven to 200C. Add chopped sweet potato chunks, red onions, broccoli and garlic to a roasting tray and season as you wish. Drizzle with a tablespoon of oil then toss everything together.
#2 Roast for approx. 15 minutes.
#3 Remove the tray from the oven and give your veg a good stir around. Add chopped chicken thigh fillets and drizzle with a tablespoon of oil. Squeeze over some lemon juice and sprinkle with dried herbs and paprika.
#4 Cook for a further 15 mins.
#5 Pour over 150ml of chicken stock and roast for another 15-20 minutes until the chicken is cooked and the veg is tender and has soaked up the stock.
Voila!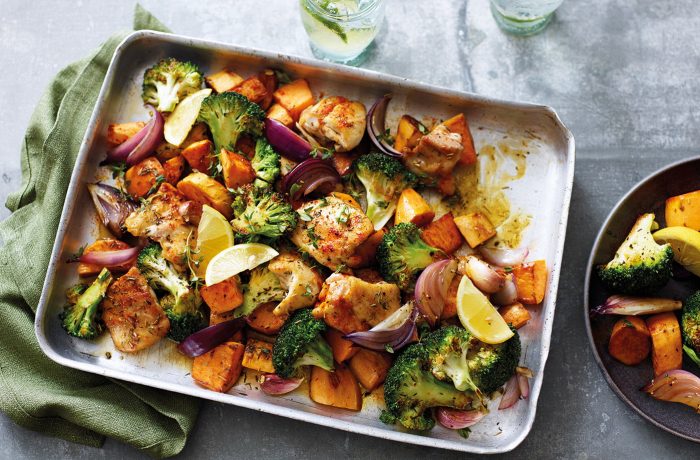 #3 Vegan butternut squash spaghetti
This dish is a quick and easy vegan taste sensation that you rustle up in minutes! You'll need: 2 garlic cloves, a bag of wild rocket, extra virgin olive oil, half a lemon and 1 butternut squash peeled and cut into quarters lengthways (and be sure to toss out the seeds!).
#1 Put your garlic and 50g rocket in a food processor and pulse until roughly chopped. Add 125ml oil and the lemon juice then blend but not until it's too smooth. Season your mix.
#2 Use a spiralizer to chop your butternut squash quarters into spaghetti ribbons.
#3 Heat some oil in a pan then add your squash ribbons and cook for 2-3 minutes. Add garlic and a splash of water to steam the squash ribbons. Cook for another 2 mins and try not to stir too much.
#4 Stir in your blended rocket pesto into the pan and heat through.
#5 Drizzle the remaining pesto and serve with a zesty lemon wedge!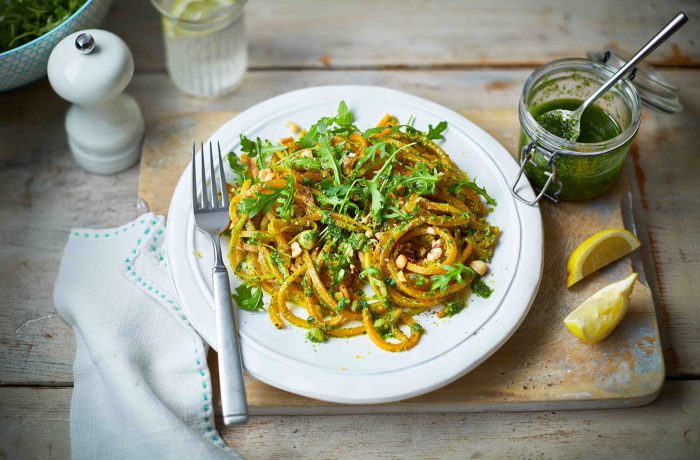 Bon Appetit!