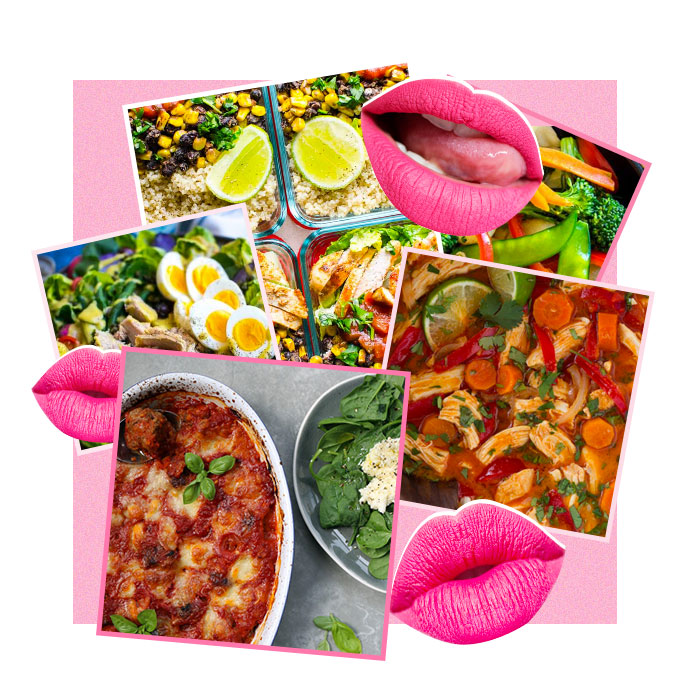 Meal prep: the myth the all follow 100+ Instagram account on but none of us can get our heads around. But why? It is actually SO easy! Get organised, healthy and enjoy all your meals with the below guide to Food Prep!
Healthy Meal Preps To Get You Through The Week
We have broken down 3 super easy Meal Prep plans you can follow to ensure you're smashing all your goals! Whether that is weight loss/gain, weight maintenance, or just trying to improve your eating habits – the below is the perfect way to start and feel GOOD!
#1 Burrito Bowls
Burrito bowls are the ultimate go-to for meal prepping.
They are so easy to make, taste lush & you can vary them MASSIVELY so your meals aren't tedious.
Below are the absolute essentials no matter what preference, plus some alternatives:
What you will need:
1 large red onion & 1 orange bell pepper
14 oz can of black beans, drained and rinsed
1 full cup of sweet corn
shredded lettuce
1 cup of quinoa
Salsa = 2 tomatoes, 3 spring onions, fresh coriander and lime
1 lime & fresh coriander for garnish
Greek yogurt for dressing
For protein, any of the following would work perfectly dependent on your dietary preferences: Chicken, Beef mince, Haloumi or Tofu – season with Cajun spices.
Distribute the cooked quinoa, sweet corn, black beans, and lettuce evenly between 4 food containers. Add your protein option, 1 large chopped onion and bell paper to a baking tray, add your spices and cook for 25 mins at 180°C. Once cooked thoroughly, distribute to food containers evenly. Finally, garnish with fresh coriander, salsa, yogurt and a wedge of lime and your taste buds will be thanking you later.
#2 Slow Cooker Curry
Slow cookers are perfect for lazy cookers that still want unreal food. They are a throw it together kind of meal and you can leave to bubble alllllll day for maximum flavour (you'll thank us later). There are so many curries you can do in the slow cooker – our pick is going to be Thai style.  Below is the breakdown:
What you will need:
3 large tbsp's of Red Thai Curry Paste
1 crushed garlic clove
1 large chopped white onion
300g trimmed green beans
1 large chopped red bell pepper
200g of chopped butternut squash
1 can of low-fat coconut milk
Fresh lime, red chillis, and coriander to garnish
1.5 cups of basmati rice
For additional protein: Add either chicken or tofu
ADD TO SLOW COOKER: Protein, onion, pepper, garlic, curry paste, butternut squash, and coconut milk. Let this bubble away for 3 hrs at high heat. For the final hour, add the green beans. Then, add all rice to a pan, bring to a boil, and leave on a medium heat until cooked through. Then, distribute rice between 4 food containers and add curry from the slow cooker. Final step: GARNISH and enjoy.
Images source: Cooking classy.
3# Italian Meatball Bake
A comfort meal that can be made healthy and is great for dreamy lunches.
This home comfort is again SUPER easy to prepare, is almost like a fakeaway so will cure all bad cravings and is simply LOVED by all.
What you will need:
2 large white onions
2 cans of chopped tomatoes or passata
4 cloves of garlic
3 large fresh tomatoes
1 beef stock cube
1 tbsp of each of the following: oregano, basil, thyme, and pepper
2 tbsp of tomato paste
3 cups of cooked whole wheat pasta
Mozzarella
For the meatballs: 500g Lean Beef Mince, 1/2 a grated onion and 3 grated garlic cloves.
To make this meal: bring the pasta to a boil and leave on a medium heat until cooked through. Add the passata. fresh tomatoes, crushed garlic, stock cube, and spices to one pan to create the sauce – leave this to simmer whilst the pasta is cooking. Form the meatballs: add the grated onion and garlic to the beef mince, and form the meatballs to your size preference. Once these are formed, seal them in a frying pan before adding to the baking tray. Finally, add everything to a tray, add as much or as little Mozzarella as you want and leave to bubble for 30 mins. YASSS.