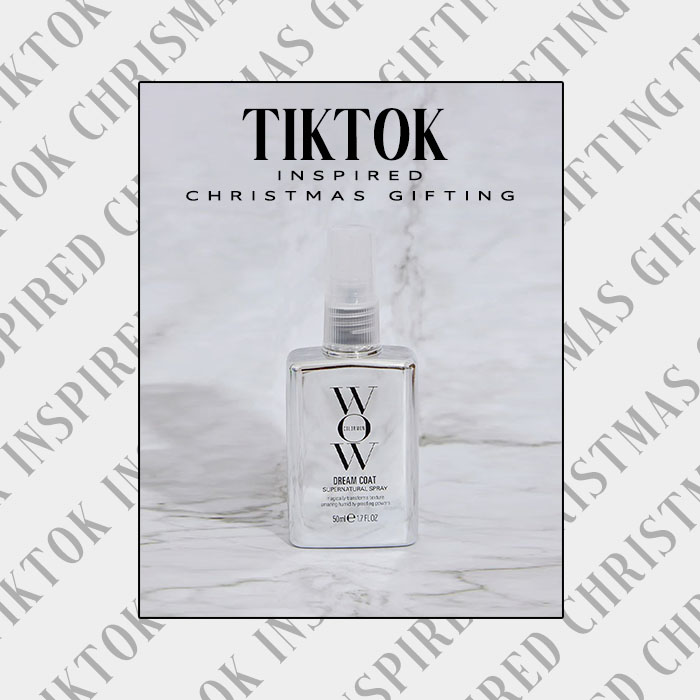 Live through the TikTok for you page? Then you won't want to miss these TikTok Christmas gift ideas.
Whether you want to send this post to your loved ones or have a bestie who is ALL about that TikTok life.
We've rounded up the top TikTok approved presents for Christmas 2022.
The clean girl aesthetic hit new heights this year with 2.5 BILLION views on TikTok.
Think slicked-back bun, light dewy makeup, fresh scents, gold hoops and easy to wear staples.
Effortless coffee run vibes done right.
You can check out this PLT post if wanting to achieve the full clean girl aesthetic.
Cropped Blazer | Jeans | Blazer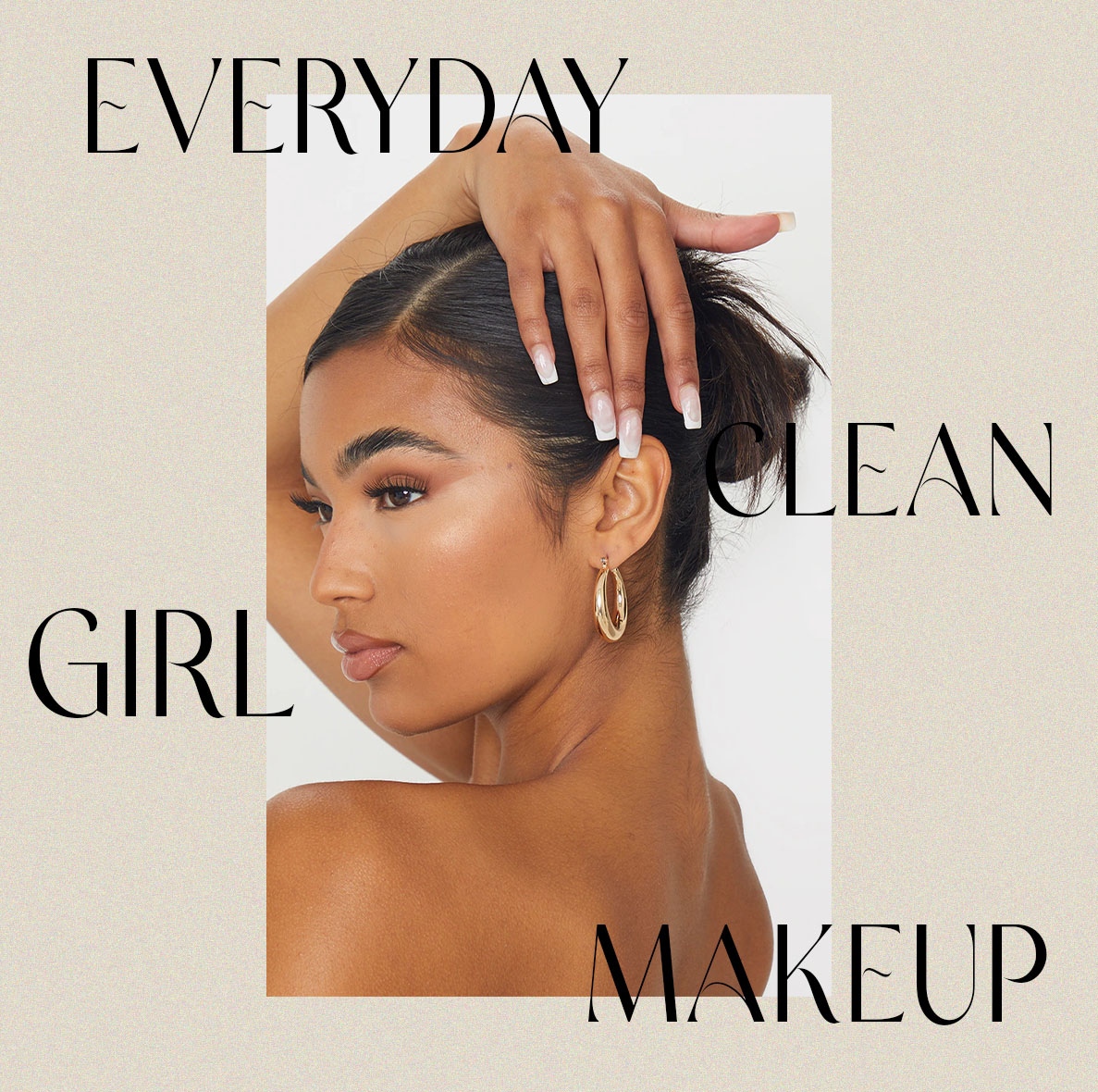 Two words, glass hair.
The viral Colorwow Dream Coat is THE ONE when it comes to frizz free hair.
Give them the gift of hair goals this festive season.
Super-shiny, ultra-smooth hair that almost resembles glass – obsessed!
Color Wow Dream Coat Travel Anti-Frizz Hair Treatment 50ml
Color Wow Color Security Hair Shampoo 75ml
Color Wow Dream Filter Travel 50ml
You guessed it, the TikTok leggings are continuing to soar.
Best believe these next level leggings will be sticking around for 2023.
After all, leggings that highlight and enhance your booty – what's not to love?
You can read more about the rise of TikTok leggings here.
Stone Jersey Ruched Split Hem Leggings
Black Crinkle Rib High Rise Leggings
Olive Basic High Waisted Leggings
A more recent TikTok trend is Balletcore.
With 81 million views on TikTok so far, its easy to see why the trend is everywhere ATM.
If you love Hailey Bieber & Bella Hadid's style then be sure to bag your ballet pumps and unitards quickkkkk.
Think clean girl attending pilates after work – Instagram goals achieved.
Grey Crop Sweatshirt | Black Unitard | Cream Sweat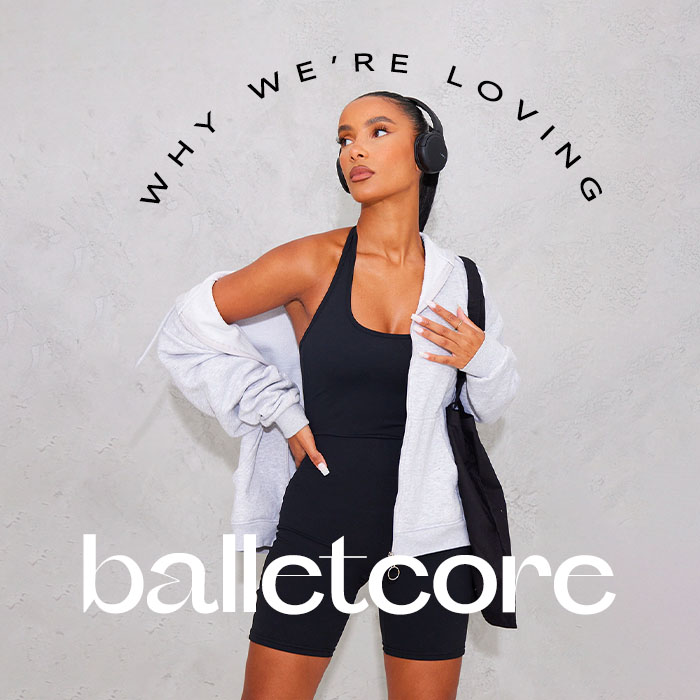 One of the many TikTok skincare sensations we're now obsessed with!
TikTok quite literally made us buy it but we couldn't be more grateful.
We're loving these satin sleep mask and pillow case sets for a dreamy Christmas gift.
PRETTYLITTLETHING Pink Facial Roller with Sleep Mask & Satin Pillow Case Set
PRETTYLITTLETHING Grey Facial Roller with Sleep Mask & Satin Pillow Case Set
The hype around corset tops isn't going anywhere!
During March 2022 searches for corset tops were up by 1328% and you guessed it, they are still a must-have product for party season.
No matter your plans, a corset top will never let you down.
We all love a nice top & jeans combo but with corsets and cargos becoming a firm fave – outfit dilemmas are a thing of the past.
Did we mention THE viral PLT corset top is restocked andddd has new colourways? Unreal!
Cream Bandage Hook And Eye Structured Corset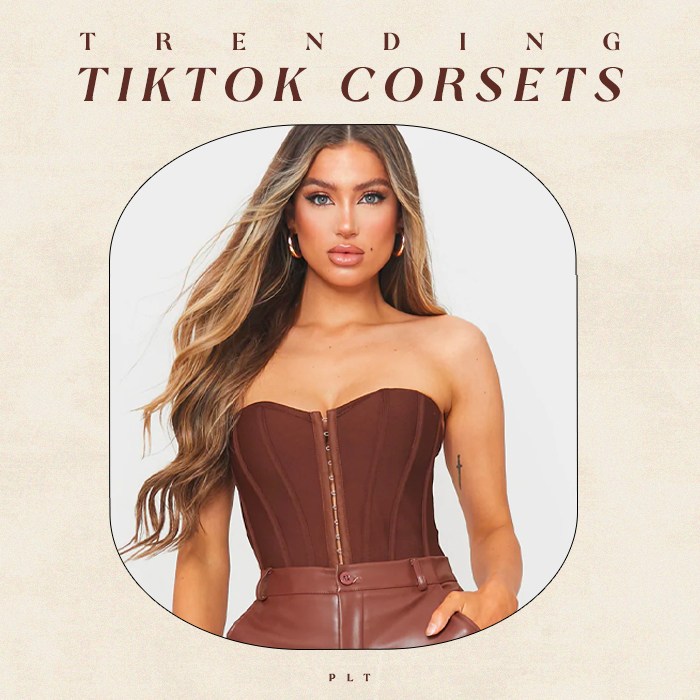 As we all know (thanks to TikTok's skincare gurus), hydration is key!
With slogan sippy cups and Molly-Mae approved water bottles, IT girl era has just been unlocked.
Say yes to securing your daily water intake more aesthetically than ever.
Mercury Retrograde Slogan Sippy Cup
Pink Blame It On My Star Sign Sippy Cup
Filter By Molly-Mae Refillable Drinks Cup
Filter By Molly-Mae Water Bottle
After all things Y2K making a major comeback earlier this year, hair wavers were a go-to.
Thankfully we're still all just obsessed with beachy waves now as we were then.
Prep for party season with the Beauty Works Waver – effortless!
For making the most iconic TikTok videos of course!
Be sure to follow us on TikTok!